The first two rounds of the new Canadian Bracket Super Tour were presented last weekend at ICAR Mirabel. Despite the announced forecasts a great number of racers were present and all the races were completed!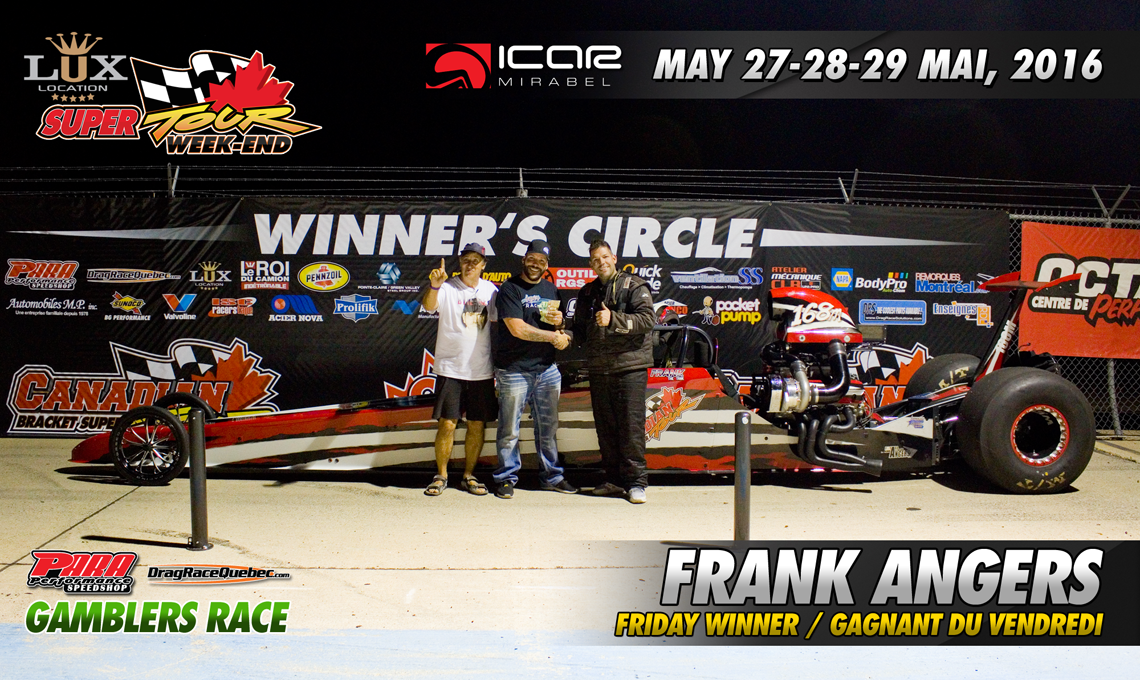 After a shower late Friday afternoon, the activities started with a test session and a Gamblers Race among the first 16 entries. Laval, Quebec racer and Super Tour co-promoter, Frank Angers went for the $800 pot with his Diamond Dragster by taking out Daniel Lanctot from St-Eustache with his American Dragster in the finals.
More than 120 racers were at ICAR Mirabel to race at the first Super Tour weekend. Under the supervision of Race Director Arnie Malcolm, all races were finished without delay and winners of the three categories in competition were crowned!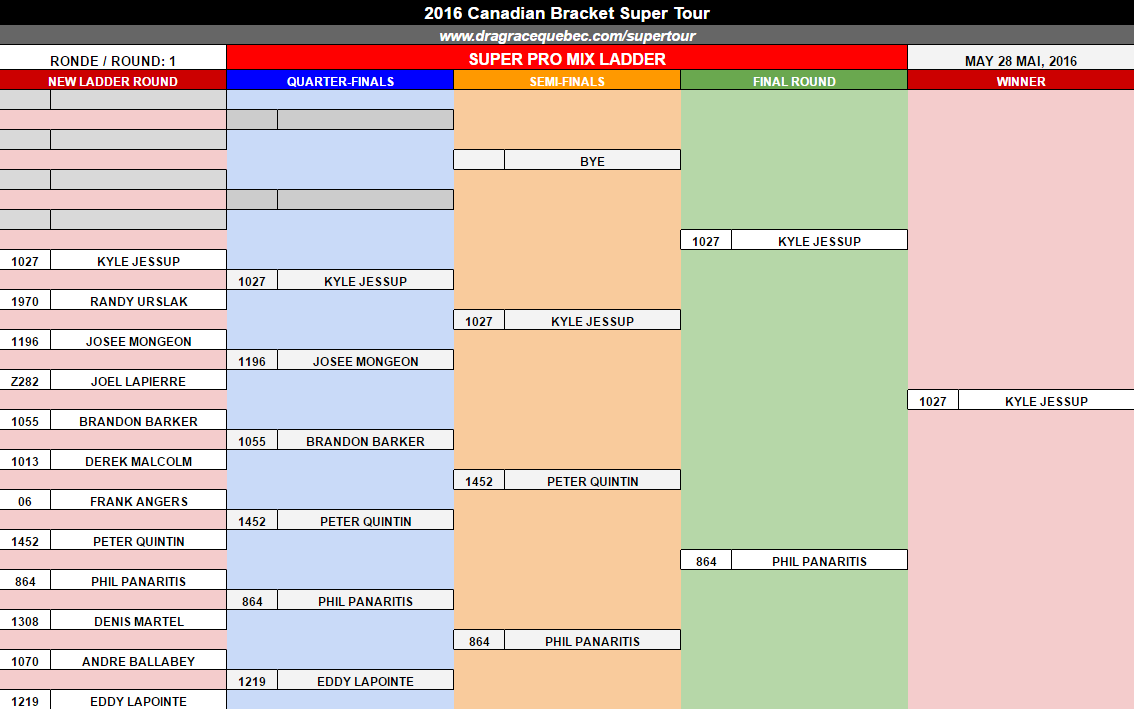 After 4 elimination rounds in the Lorenco Steel Super Pro class, six drivers were still on the list. Kyle Jessup won this round against Josée Mongeon and got the buy to the final. Peter Quintin won against Brandon Barker and Phil Panaritis did the same with Eddy Lapointe. Panaritis reached the finals by winning his semifinals against Quintin.
We got a final Ontario vs Quebec and Door Car vs Dragster with Phil Panaritis from Montreal with his Chevy Camaro taking on Kyle Jessup from Ottawa with his Undercover Dragster.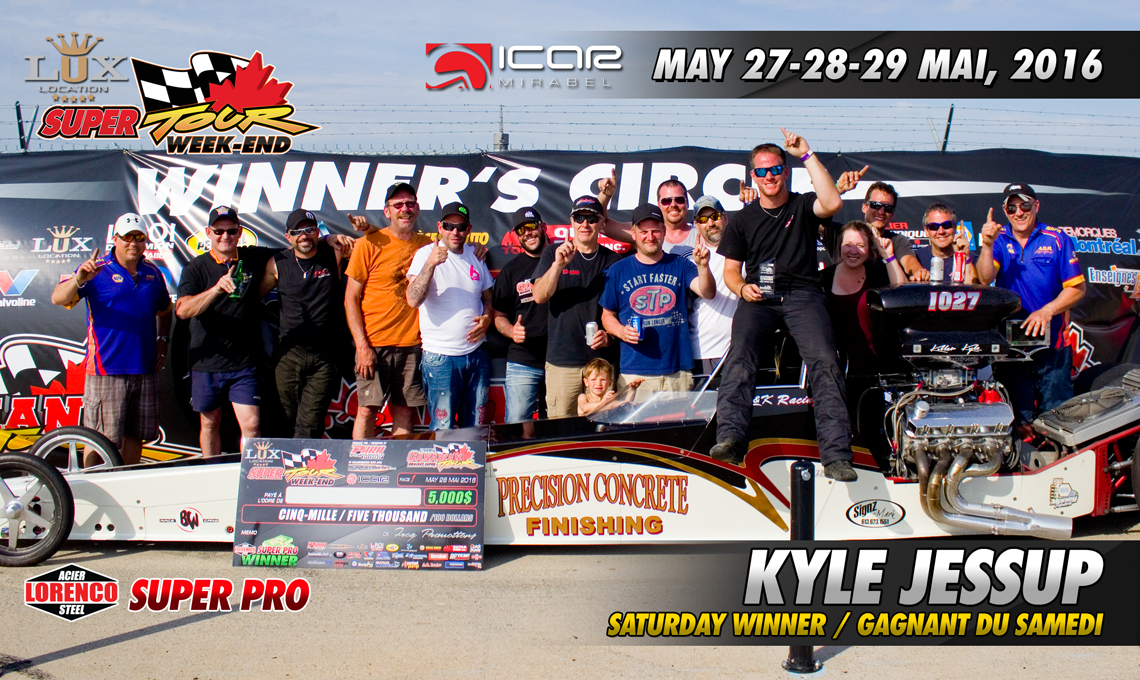 Kyle Jessup was crowned at the starting line when Panaritis redlighted by 5 thousands. Jessup cashed the $ 5,000 check and the winner trophy of the first round!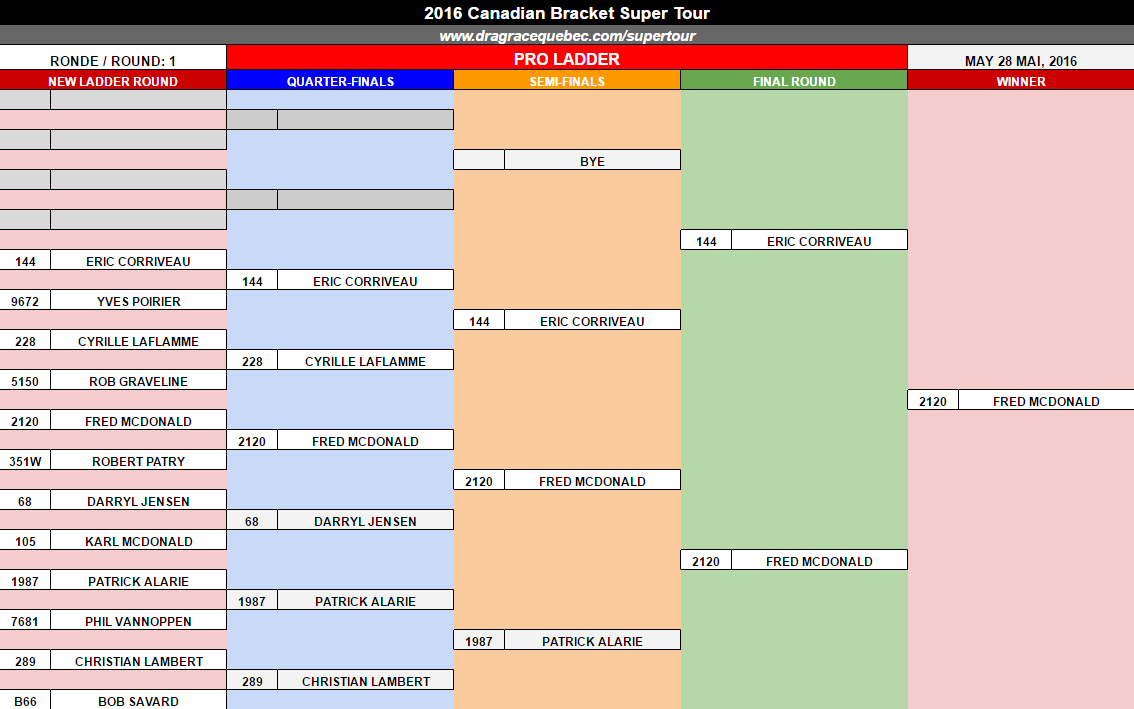 In the Autos MP Pro class, Eric Corriveau had Cyril Laflamme in the quarter-finals and went directly to the finals while Fred McDonald raced passed Darryl Jensen and Patrick Alarie to reach the final round. Alarie got the best of Christian Lambert in the previous round.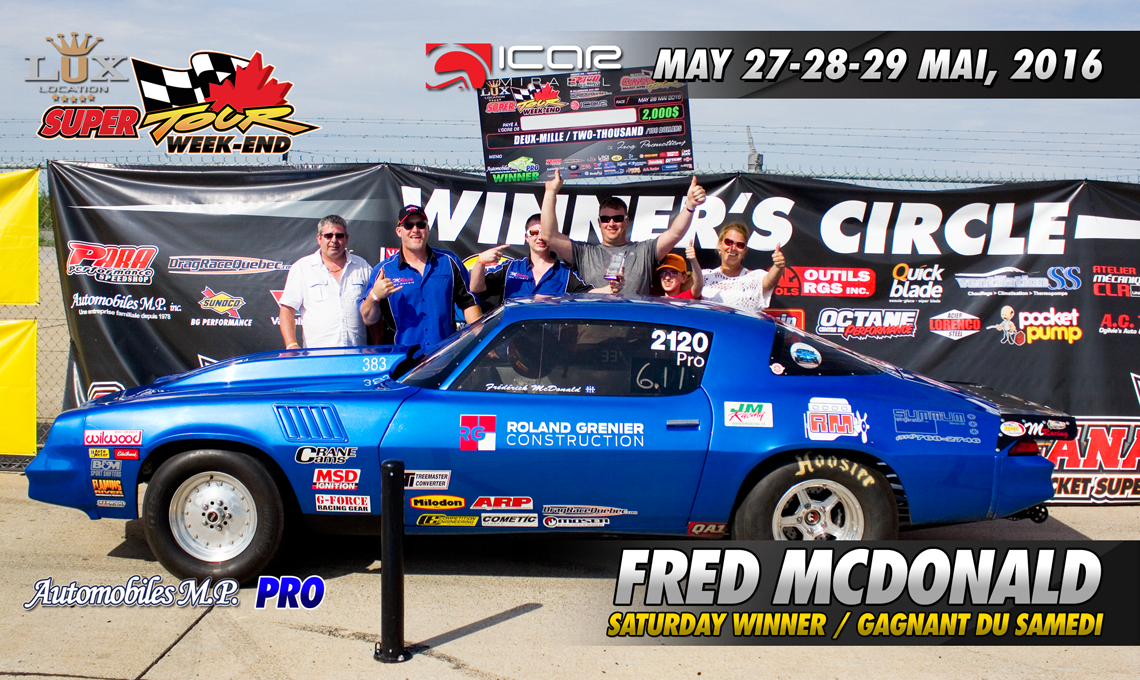 Two Montreal local drivers found themselves in the finals. Fred McDonald and his Chevy Camaro met his good friend Eric Corriveau on Chevy Nova. At the eight-mile stripe, Fred McDonald crossed the finish line first to win the first race of the year!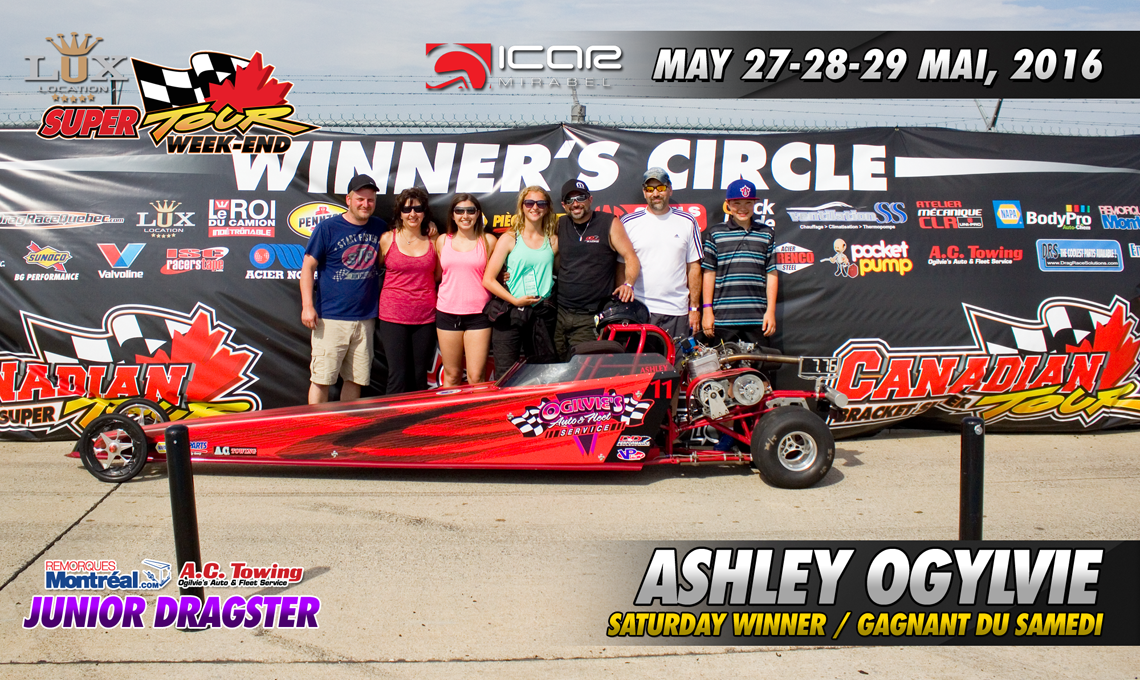 As for Junior Dragster, the winner was Ashley Ogilvie over Landyn Urslak in the finals.
Sunday's race was delayed by a slight rain shower early in the morning.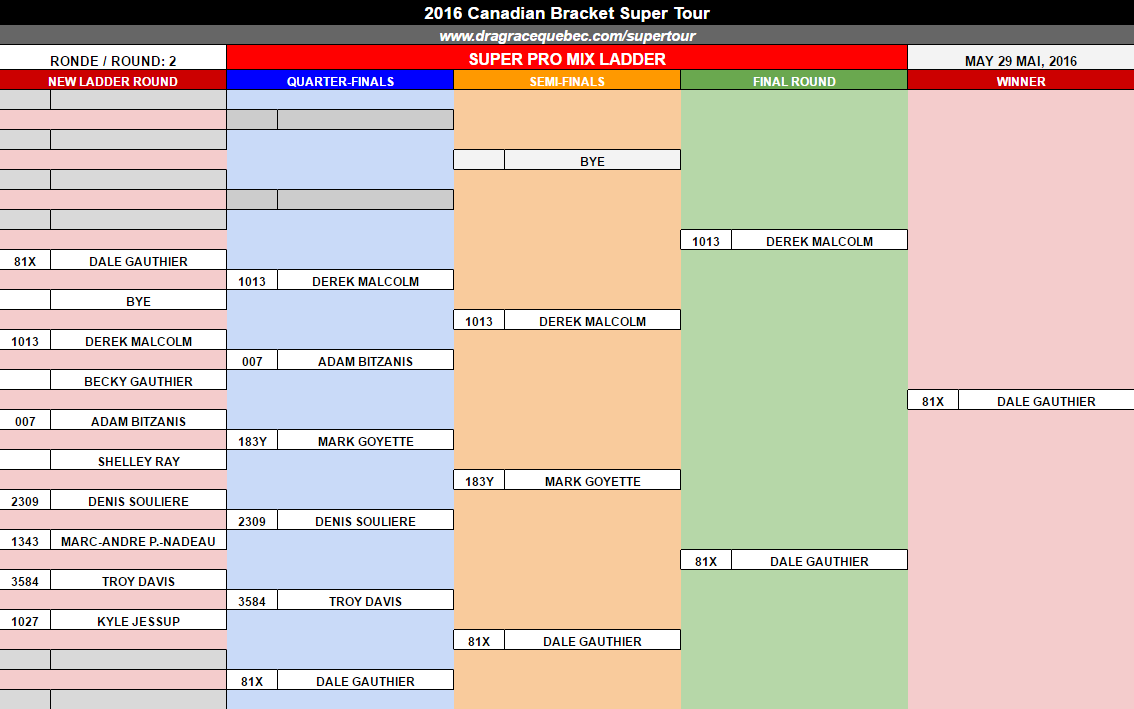 Quarter-finalists in Lorenco Stel Super Pro were Mark Goyette who had the better of Denis Soulière, Dale Gauthier took out Troy Davis and Derek Malcolm got passed Adam Bitzanis to earn the bye run to the finals. Gauthier had Goyette in the semis to reach ultimate round.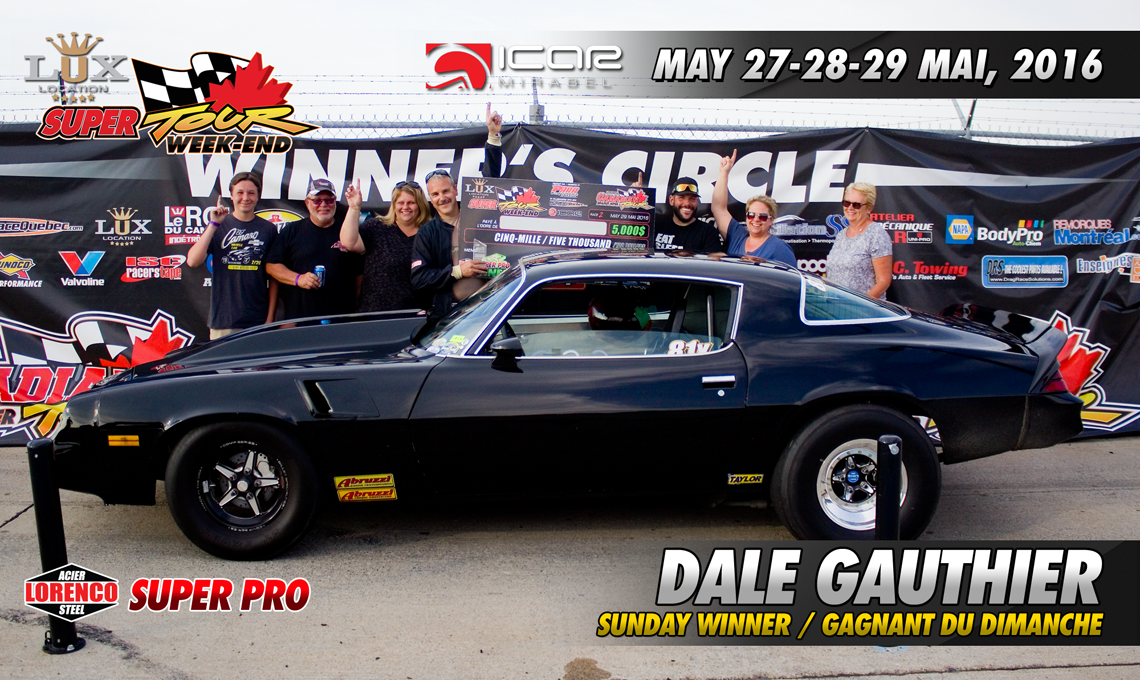 An all Ontario finals took place between Dale Gauthier on Chevy Camaro and Derek Malcolm on American Dragster both from the Ottawa region with the door car going home with the $5,000 check and the winner's trophy!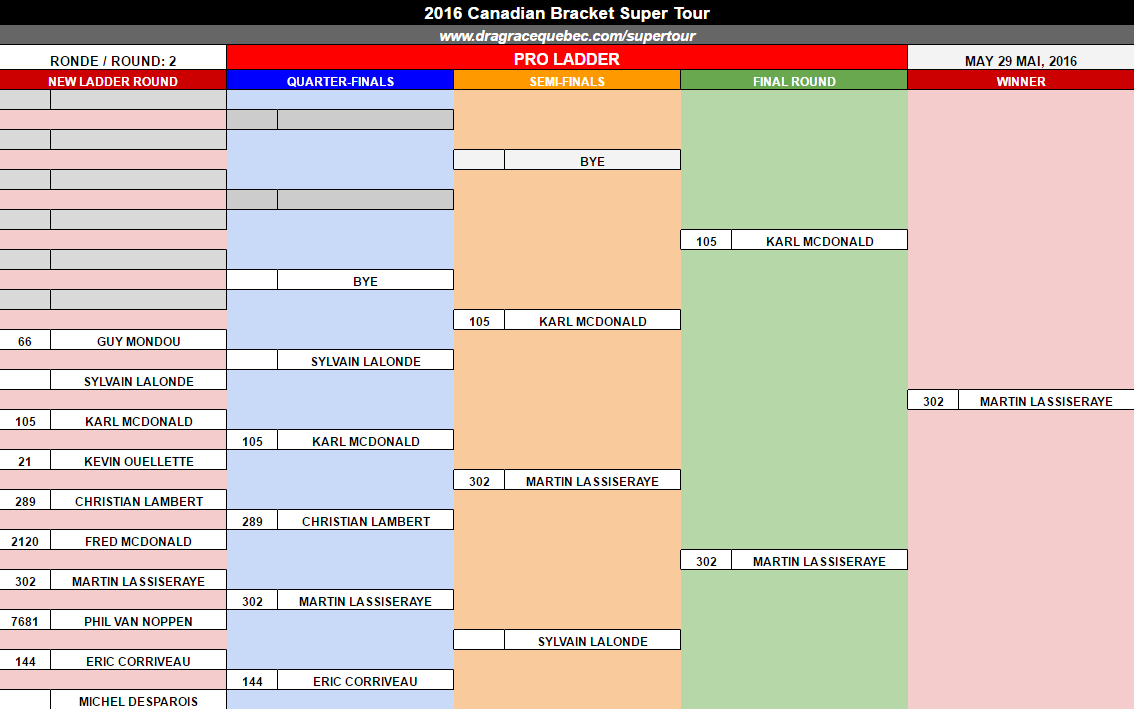 In the Autos MP Pro class, Martin Lassiseraye got passed previous race runner-up Eric Corriveau, Karl McDonald had the advantage over Christian Lambert while Sylvain Lalonde had the bye-run. Lassiseraye then got Lalonde and McDonald had the bye.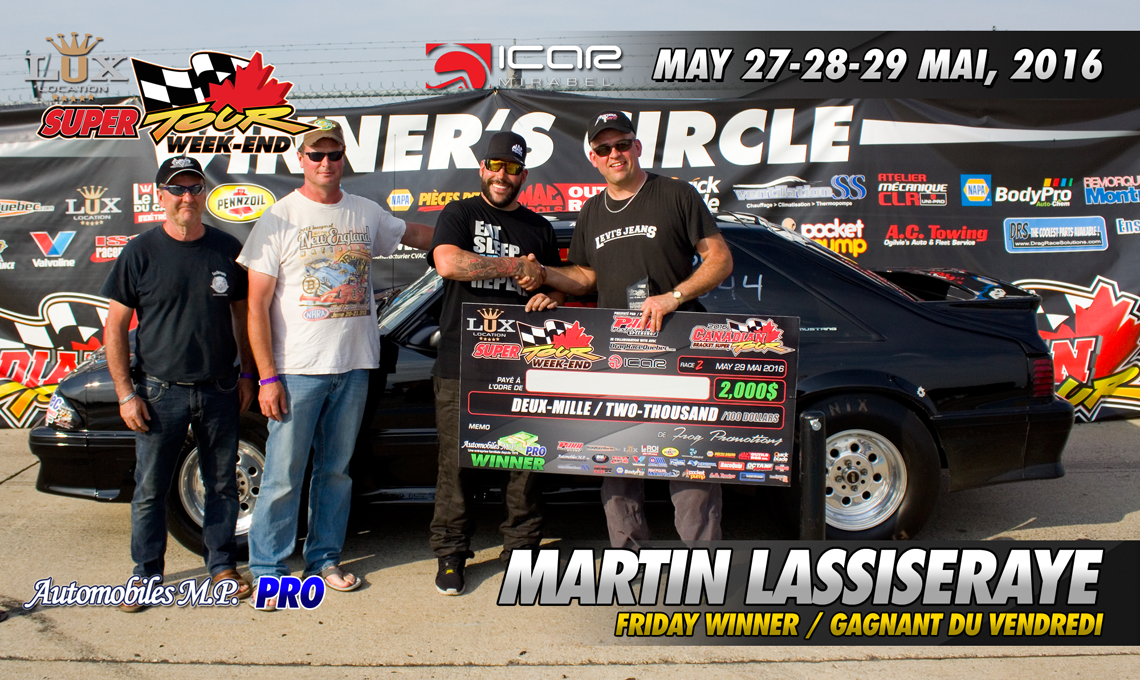 An all Quebec finals was disputed with Martin Lassiseraye with his Ford Mustang from Quebec City raced was taking on Karl McDonald and Chevy Camaro from Montreal. Lassieraye, a former Pont-Rouge track Champion drived to the the winner's circle with a better reaction time from his opponent!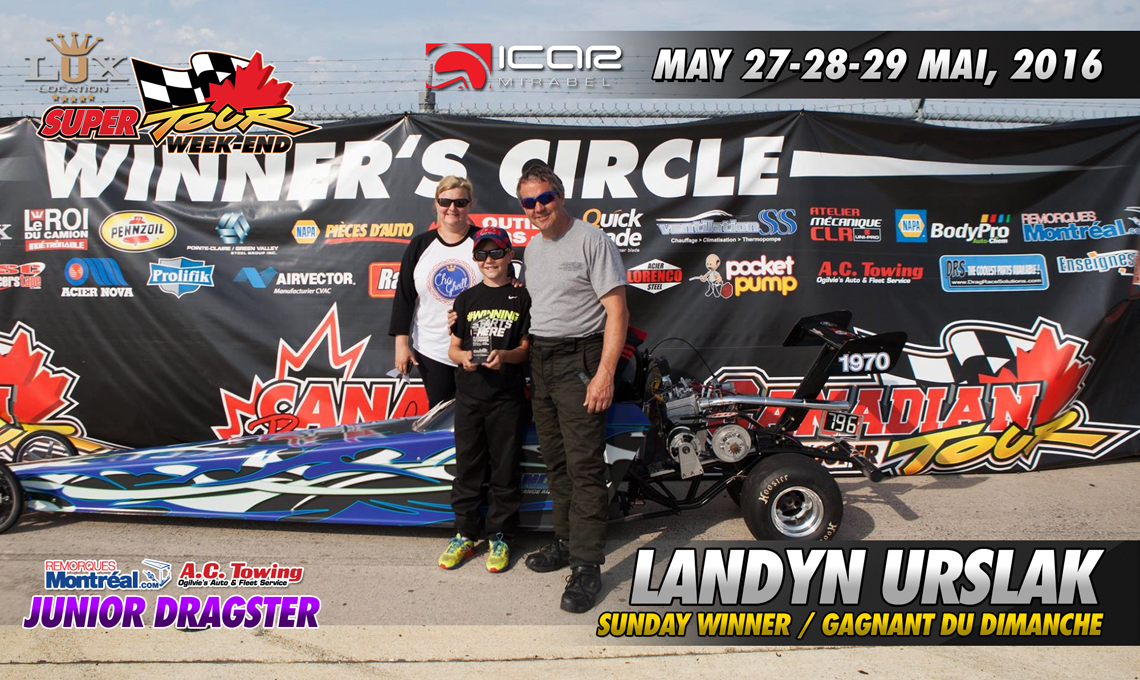 As for Junior Dragster, Landyn Urslak found himself in the final for a second time in as many days and this time won the honors facing Ryan Clarmo in the finals.
Racer Appreciation Giveaways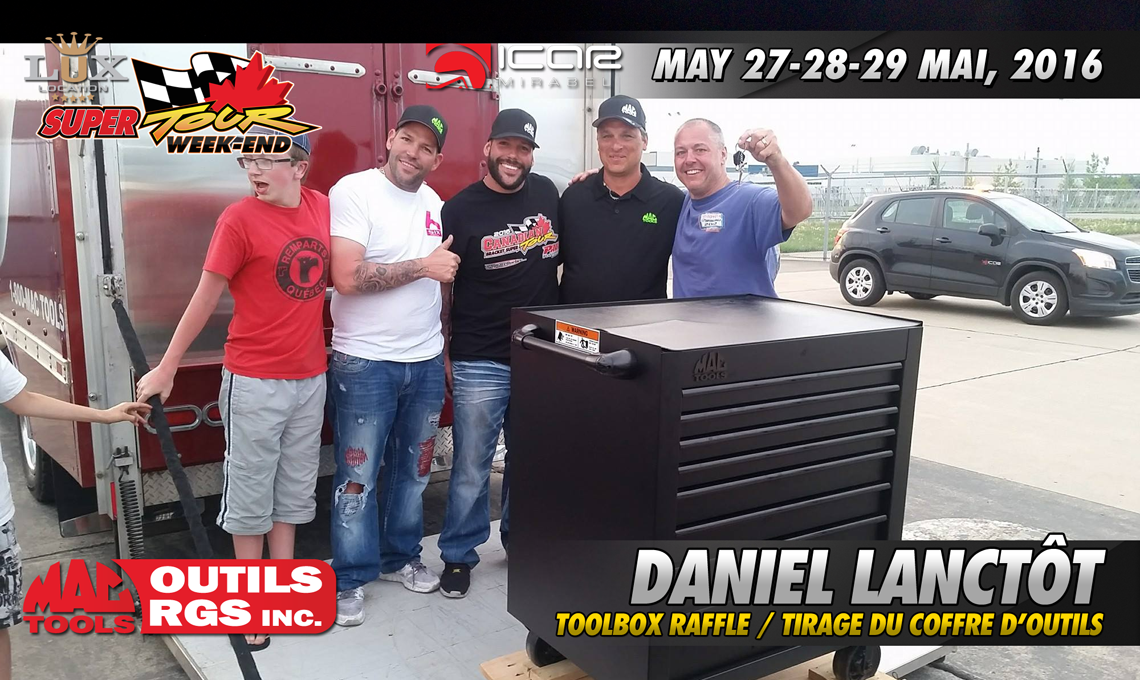 The MAC Tools Tools Toolbox from Outils RGS was drawn Saturday at the Racer's Party. Daniel Lanctot won the raffle among pre-registered championship members.

Jacques Lelièvre from Rimouski in Super Pro and Eric Monaghan from Quebec City in Pro won the Best Appearing Car Award in their categories. They each received a Car Care Package from NAPA BodyPro and a set of Quick Blade wipers.

Troy Davis and Christian Lambert won the Bounty Bonus for taking out the winners of the previous race in their categories. They each win a t-shirt and a gift certificate from Octane Performance Center.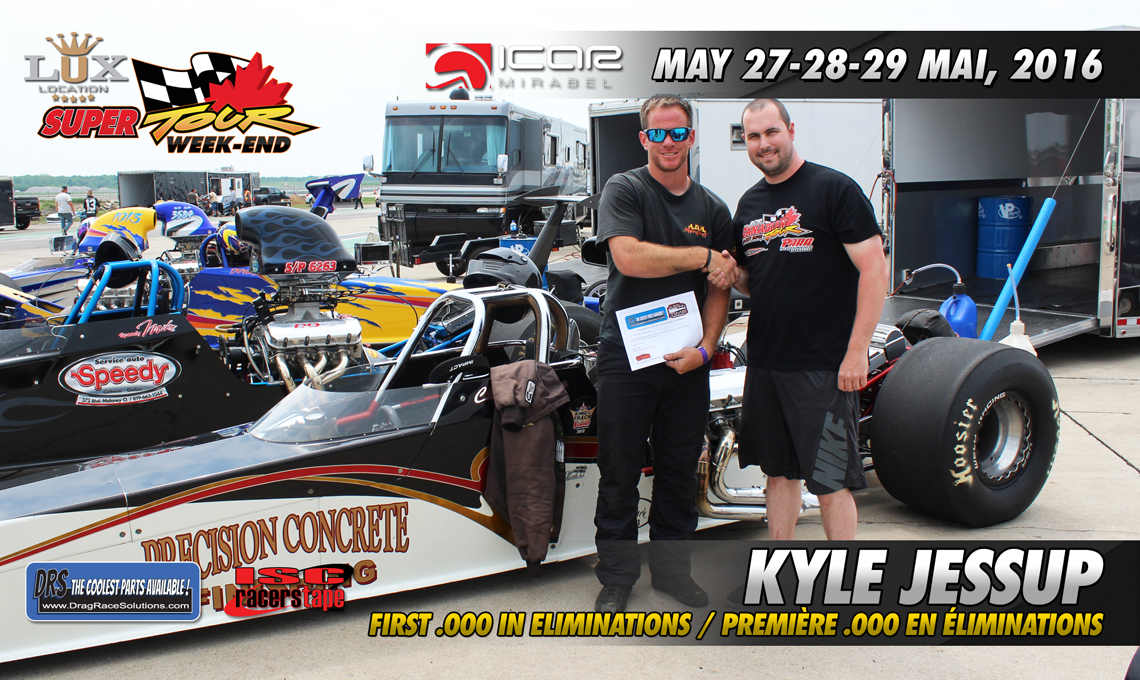 Kyle Jessup is the first racer to have go .000 in Sunday eliminations. He won a gift certificate from DragRaceSolutions.com

Joel Lapierre in Super Pro and Pro Jonathan Roy each won a free one day entry at the next Super Tour. The Hard Luck Raffle brought to you by Pocket Pump is a random draw among the riders who have unfortunately won any round.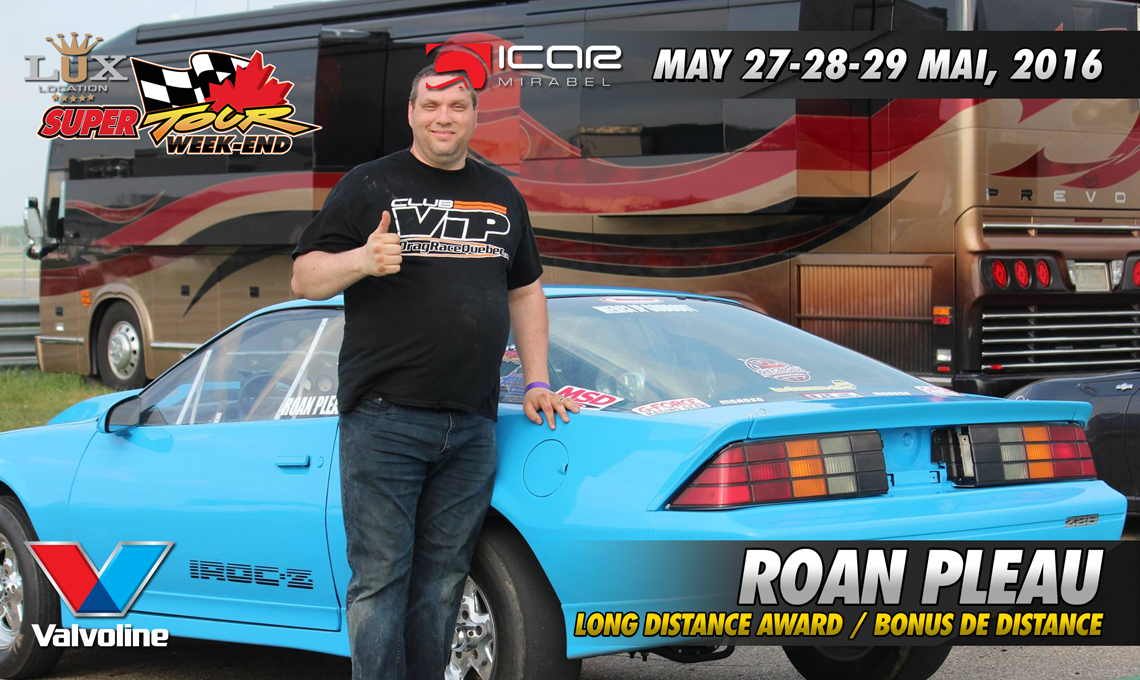 The winner of the Valvoline Long Distance Bonus was Roan Pleau from Fermont in Northern Quebec. He traveled 1,255km to get to ICAR. Thank you for your support! He gets two cases of Valvoline VR-1 20w50 motor oil.
The Racers Party sponsored by Montreal Trailers and Chef André has attracted a lot of people over Saturday night! Free Hot Dog, grills and drink, music and a festive atmosphere were there!
Points Standings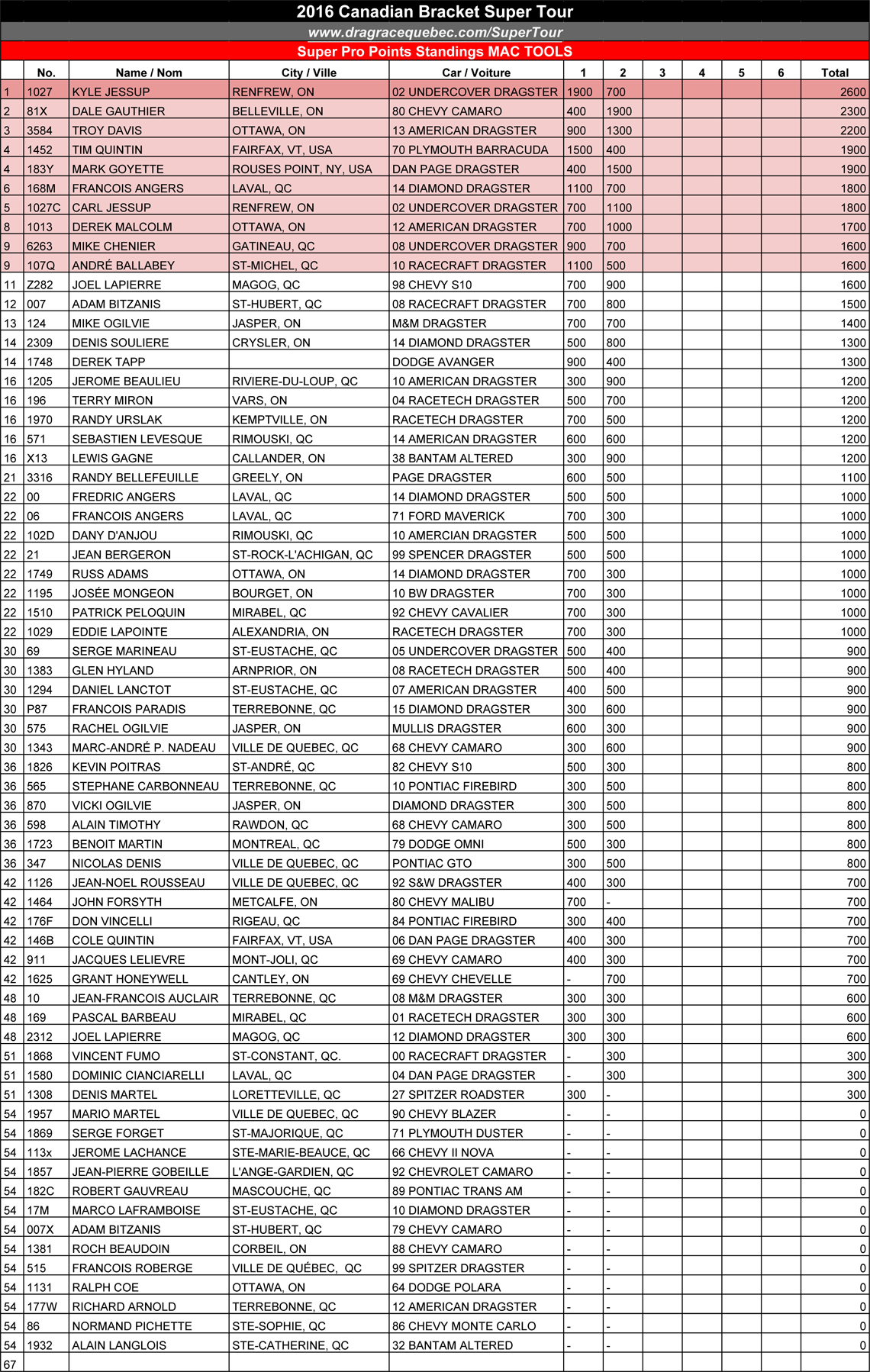 With his Saturday's win, Kyle Jessup is the first leader of the MAC Tools Super Pro Championship with 2,600 points. He beats Sunday's winner, Dale Gauthier by 300 points. Troy Davis who has performed well in both events is third, 100 points behind Gauthier. The fourth position is shared between Tim Quintin and Mark Goyette at 1,900 points. Frank Angers and Kyle Jessup second entry are tied for 6th position while Derek Malcolm, Mike Chenier and André Ballabey complete the Top 10.
In Pro, Eric Corriveau, the second race's runner-up figure at the top of Sunoco Race Fuels Pro Points Standing with 2,100 points. He's followed by Cyril Laflamme who cumulates 1,800 points. Kevin Ouellette, Guy Mondou and Bob Savard are equal in 3rd place at 1,600 points. First Race winner Fred McDonald sits in 6th place followed by Eric Monaghan, Christian Lambert, Yves Poirier and Martin Lassiseraye all at 1,400 points.
Next round in a few weeks
The next round of Super Tour will take place on June 18-19 at Napierville. The Pennzoil Super Tour Weekend is likely to attract a record number of racers while we will be in the middle of the racing season! Don't forget to visit the Canadian Bracket Super Tour on Facebook to view the photos from our photographers John Chambers, Solange Lefebvre and Dan Langevin!
Set your calendars! June 18-19 at Napierville for Pennzoil Super Tour Weekend!