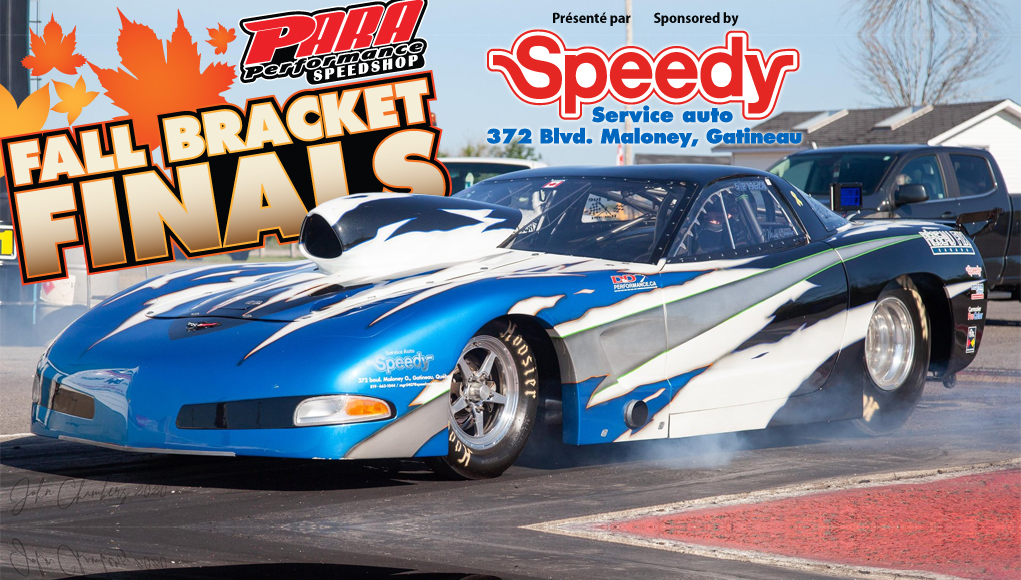 The PARA Performance Fall Bracket Finals presented by Service Auto Speedy Gatineau will take place from September 4 to 6 at Luskville Dragway, Quebec in the suburbs of Ottawa. This race weekend will decide the National Championship Titles in the Pro and Super Pro categories.
After being forced to cancel the event scheduled at the end of September, Super Tour promoters presents a final race weekend for this kinda ''special'' season. After having to postpone the season opener cancel the last event, promoters confronted the Weatherman by having to present single-day double header programs on all weekends.
8-Race championship
With the cancellation of the last weekend in September, the Super Tour National Championship is shortened by one race while the total points of the eight races that have taken place this season will count for points to decide the champions of the two categories. .
Three days of intense racing!
Racers will enjoy the long Labor Day weekend to participate in the 3-day event. Activities will begin on Friday with time runs at 1:00 p.m. followed by a Gambler's Race at 5:00 p.m. The last two races of the 2020 championship will take place on Saturday and Sunday.
Brian Acker in control of the Super Pros
Super Tour newcomer Brian Acker from Inverary, Ontario Leads the Super Pro class. He has 6,000 points and could become the first Doorcar champion for the combined Super Pro class Ranking. He is closely followed by 2017 class champion Fred Angers from Laval with his Dragster. Defending 2019 Champion Derek Malcolm from Ottawa is in an excellent position to win a second straight title but this time wheeling his new to him S10 pickup. Series Director Fred Angers is having an excellent season, positioning himself in fourth position with his Camaro, only 4 rounds behind the leader. Adam Bitzanis from Montreal, who led the way until the last race is in fifth position. Mike Chenier from Gatineau is also having an excellent season posting an excellent score with his two cars. He finds himself in sixth position with his Corvette and in ninth position with his dragster. 2016 Champ Kyle Jessup is in seventh position. The Lanctôt and Son duo took eighth place with their new roadster, while young Ashley Ogilvie closes the top 10 in the category, 7 rounds behind the leader.
Youth taking over the Pro category
With a runner-up finish at the last race, Noémie Ballabey from St-Michel is in first place for the Pro class Championship. Mike Reynolds from Ottawa is just behind with only one round behind! Éric Corriveau from St-Colomban and Patrick Alarie from Luskville follow closely behind, each only 2 rounds behind the leader. Daniel Ouellette from Laval, Dan Pillwein from Aylmer and Daniel Blouin from Quebec follow each other with 4,900 4,600 and 4,500 points respectively with four rounds from pole position. Stephen Ballantyne from Luskville, Yves Poirier from Laval and Felix Ballabey from St-Michel complete the leaders pack.
More infos
This weekend alone, more than $ 30,000 in payouts and giveaways will be distributed among the racers present. The Bracket Super Tour offers the best entry and payouts ratio in Canada as the top 16 racers from each race receive a 100% guaranteed payout regardless the number of entries!
Weekend entry is $ 350  for Super Pro and $ 175 for Pro for two races. No General Admission fees and free Camping for all racers.
General admission for team members and spectators is $ 60 for the weekend plus $ 50 if camp on site. Gate open at 7:00 a.m. each morning.
For more information, visit www.BracketSuperTour.ca or follow the Bracket Super Tour on Facebook.