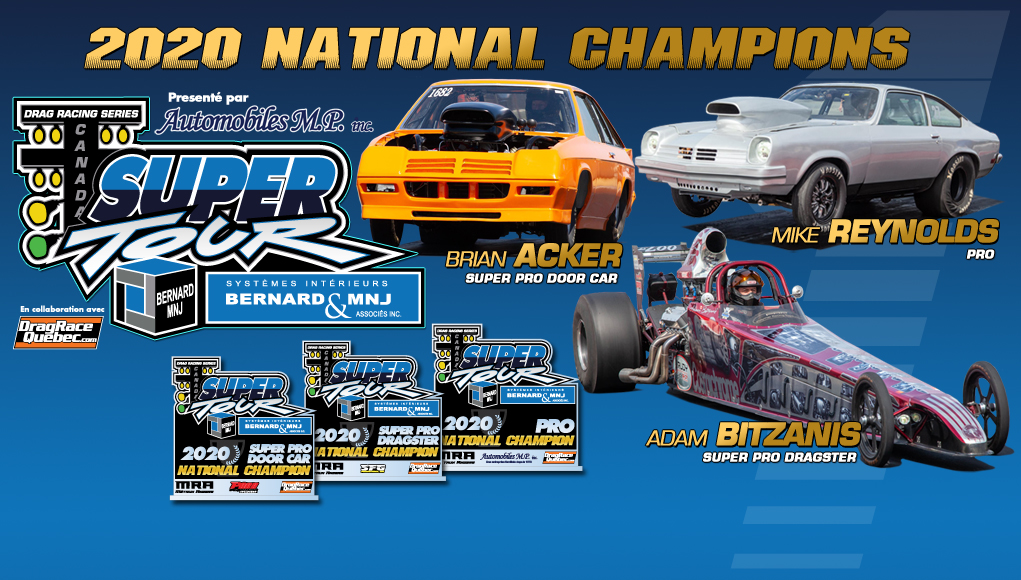 Despite an uncertain racing season due to the global pandemic, cancellations, postponements and rescheduling of several events, Bracket Super Tour promoters are dressing a positive record. In 2020, the Super Tour averaged 125 entries per event with a peak at 180, including 68 Super Pros and 102 Pros at the prestigious Bracket Bonanza.
DragRaceQuebec.com presents the National Champions in the Super Pro Door Car, Super Pro Dragster and Pro categories as well as the 10 best drivers in each category this season.
Super Pro Door Car #1 – Brian Acker, Kingston, ON
Our Super Pro Door Car National Champion Brian Acker from Kingston, Ontario surprised more than one at his first full season with the Super Tour! Acker wins the overall points championship with a total of 7,730 points thanks to back-to-back wins at the first two races of the season and two runner-up finishes one at the Bracket Bonanza and another the Fall Bracket Finals. The little Orange Omni will be one to watch as the Ontario driver just confirmed that he will be back to defend his title next year!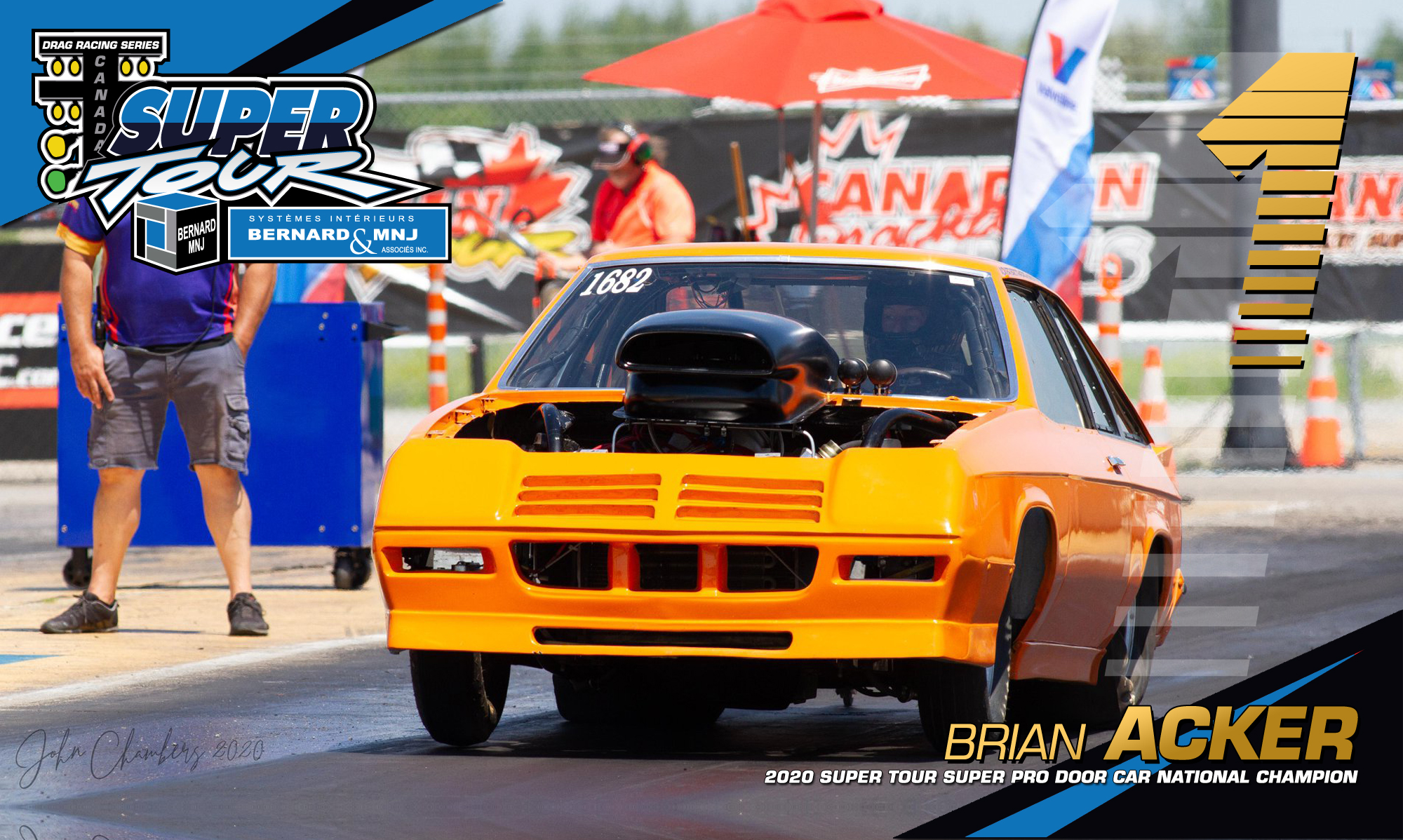 Super Pro Dragster #1 – Adam Bitzanis, Montreal, QC
Despite the fact that he did not win any race, our National Super Pro Dragster Champion Adam Bitzanis from Montreal had a really great season. Wheeling his Cosmichrome Racecraft Dragster, Bitzanis scores a total of 6,861 points thanks to a Runner-up finish in the second race of the season.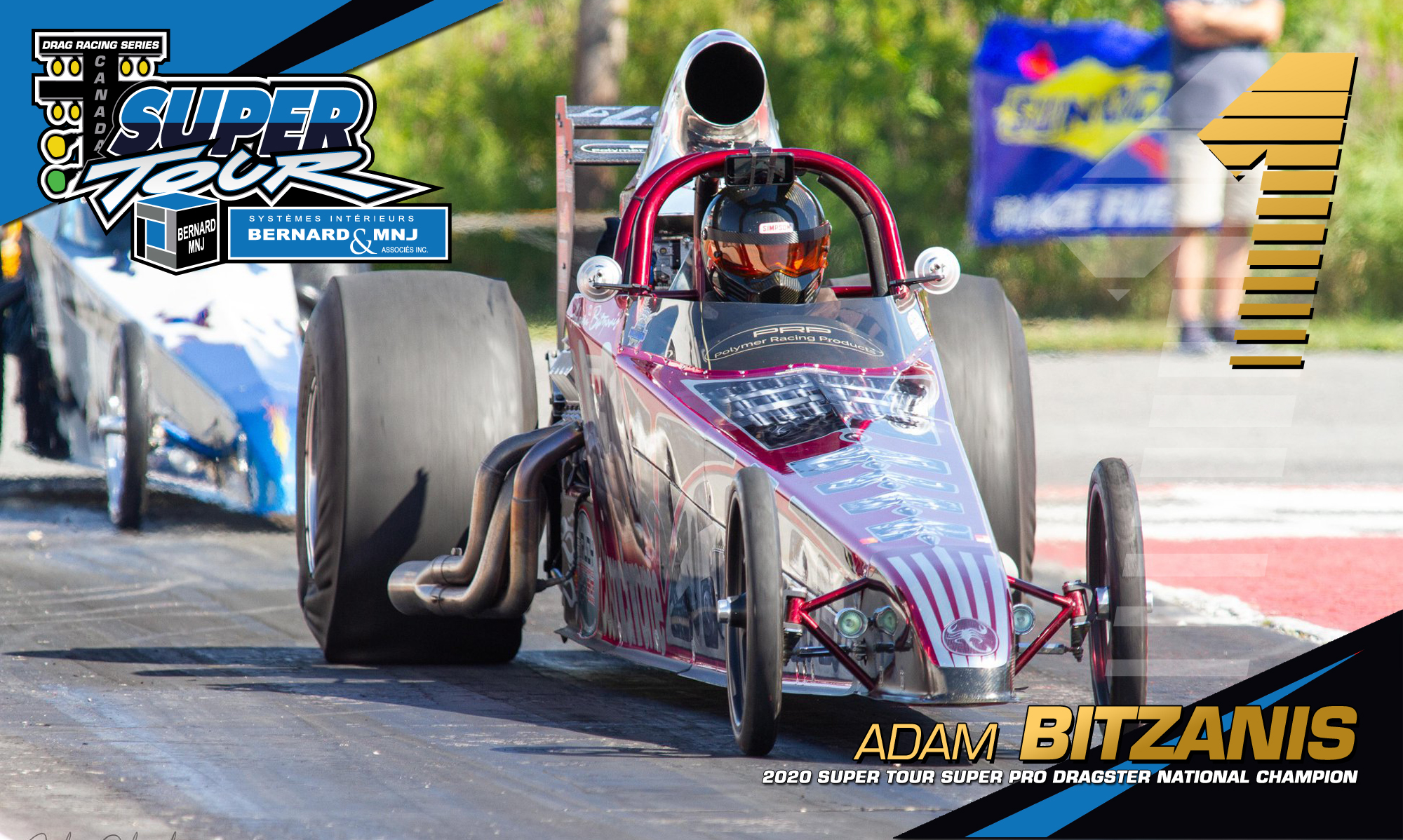 Pro #1 – Mike Reynolds, Ottawa, ON
Despite his young age, this season's National Champion in the Pro category this is no stranger to the Winner Circle! Mike Reynolds from Ottawa is a former NHRA Division 1 Junior Dragster Champion. Same as the Super Pro champion, Reynolds was in his first full Bracket Super Tour season. Thanks to two victories and one defeat in the final, he obtained 8,200 points to throne at the top of the final standings.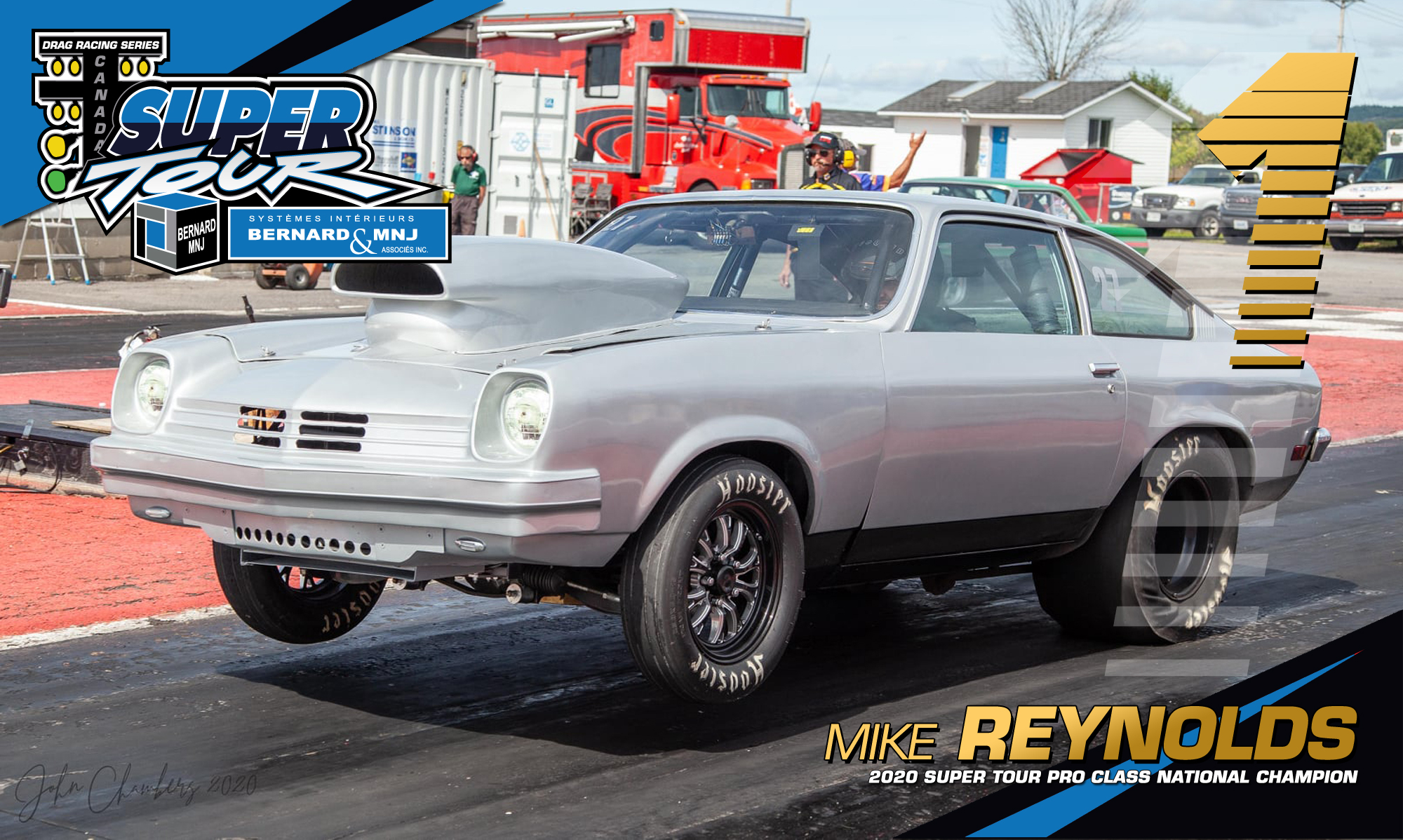 Pro #2 – Daniel Ouellette, Laval, QC
Daniel Ouellette scored his best performance yet on the Super Tour Circuit with a second place finish. Ouellette lost in the final of the seventh race and in the semifinals of the second race. He scores 7,300 points this season.

Super Pro #3 – Daniel & Alex Lanctôt, St-Eustache, QC
The father-son duo from St-Eustache had one of the best seasons on the Super Tour this year with a score of 6,860 points. On board their new-to-them 1938 Chevrolet Roadster, young Alex Lanctôt reached the final round twice, losing the first time to Eddie Lapointe in the main event at the Bracket Bonanza and a second time to Phil Harvey at the Fall Bracket Finals last month.
Pro #3 – Noémie Ballabey, St-Michel, QC
In third place we find this season's Most Improved Racer. Noémie Ballabey from St-Michel-de-Napierville scores 7,000 points thanks to a runner-up finish in the sixth race where she lost a close final to her little brother and a semifinals in the third race.

Super Pro #4 – Kyle Jessup, Renfrew, ON
Nice comeback to the top of the pack for the Former National Champion in 2016. Kyle Jessup from Renfrew, Ontario finish strong in fourth place with 6,700 points wheeling his trusty Undercover Dragster. Jessup won the 4th race and got to the semis twice at the 2nd and 8th championship races.
Pro #4 – Dan Pillwein, Luskville, QC
After finishing sixth last year and third in 2018, Dan Pillwein from Luskville ranks fourth this season with a score of 6,800 points thanks to one win and on semifinals loss.

Super Pro #5 & #7 – Fred Angers, Laval, QC
A great season for Super Tour president and former class champion in 2017 Fred Angers from Laval. Angers finish in fifth place with his Diamond Dragster with 6,500 points and in seventh place with his magnificent Chevrolet Camaro with 6,101 points. The Lavalois performances this season include raunner-up in the 1st race, a semi-final finish in the 4th race in addition of reaching with both cars the semis and the final round at the 5th championship race at ICAR Mirabel.
Pro #5 – Patrick Alarie, Luskville, QC
Patrick Alarie from Luskville finish strong once again this year in fifth place with 6,600 points. This season, he won the seventh race and lost in the final of the fourth race.

Super Pro #6 – Dale Gauthier, Belleville, ON
Always a major player season after season is Dale Gauthier from Belleville, Ontario. ''Gauth'' finished sixth in 2018, third in 2017 and ninth in 2016, this year he scores 6,300 good points good for sixth place finish. Driving his 1981 Chevrolet Camaro, Gauthier lost in the semifinals at the last race of the season.
Pro #6 – Eric Corriveau, St-Colomban, QC
Eric Corriveau from St-Colomban is certainly the driver with the most consistency in the Pro category. He finish for a fifth straight year in the Top 10 in sixth place. Corriveau finished in 2nd place in 2018 and in 3rd place in 2016. This season he has cumulated 6,200 points with one win and one runner-up.

Pro #7 – Stephen Ballantyne, Gatineau, QC
A third top 10 in a row for Stephen Ballantyne from Gatineau. Ballantyne scores 6,030 points thanks to a win at the third race and a semifinal finish at the beginning of the year.

Super Pro #8 – Derek Malcolm, Ottawa, ON
Defending Super Pro Champion Derek Malcolm from Ottawa finishes for the fourth time in five years in the Top 10 of the Super Pro category. He scores 6,100 points with his new-to-him S10 Pickup truck acquired last winter. The best performance of the season for Malcolm was hands down at ICAR on August 23rd when he reached the final round with both of his cars! He also semied in the first race at ICAR.
Pro #8 – Daniel Blouin, Quebec, QC
Daniel Blouin is the best racer out of Eastern Quebec this season with a score of 5,300 points.

Super Pro #9 & #10 – Mike Chenier, Gatineau, QC
Another driver with an great season is Mike Chenier from Gatineau. Chenier finishes ninth with his Chevrolet Corvette and tenth with his Undercover Dragster. He scores 6,000 and 5,500 points which allows him to reach the Top 10 in the category after finishing in 12th place last year. He reached the semi-finals twice in the 6th and 7th races to get his way into the leaders board this year.
Pro #9 – Cyrille Laflamme, Terrebonne, QC
Cyrille Laflamme score 5,130 points this season with a semifinals finish in the fifth race. A third appearance in five years in the top 10 for the Terrebonne resident.

Pro #10 – Mark Thompson – Nepean, ON
Despite an absence at the first weekend this season, Mark Thompson from Nepean, Ontario made a solid comeback to finally finish in tenth place. Thompson lost three times in the semifinals and once in the final for a total of 4,900 points in just 6 races.

Here are the results of our next generation!
Trevor-James Monaghan from Valcartier wins the championship with three wins this season. Naomi Laflamme from Terrebonne finished in second position with good results throughout the season. Rookie Xavier Magny from Amos finish third with a double at ICAR last July. Lea Monaghan from Val Cartier finish in fourth position with one win. Annabelle Soucy from Gatineau finish fifth and Mavrick Angers from Laval finish sixth. Congratulations to all of our young racers!


Classements complets, saison 2020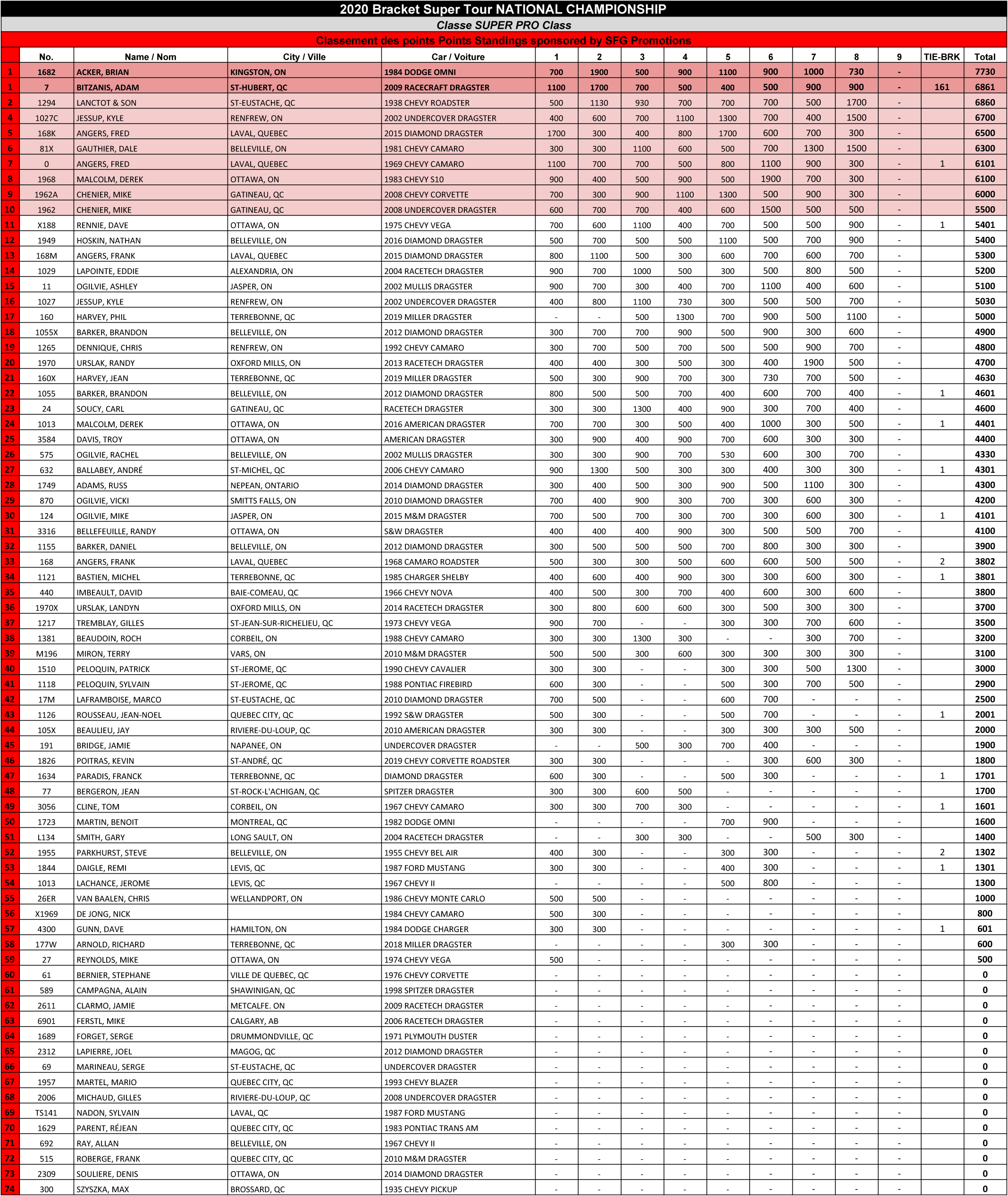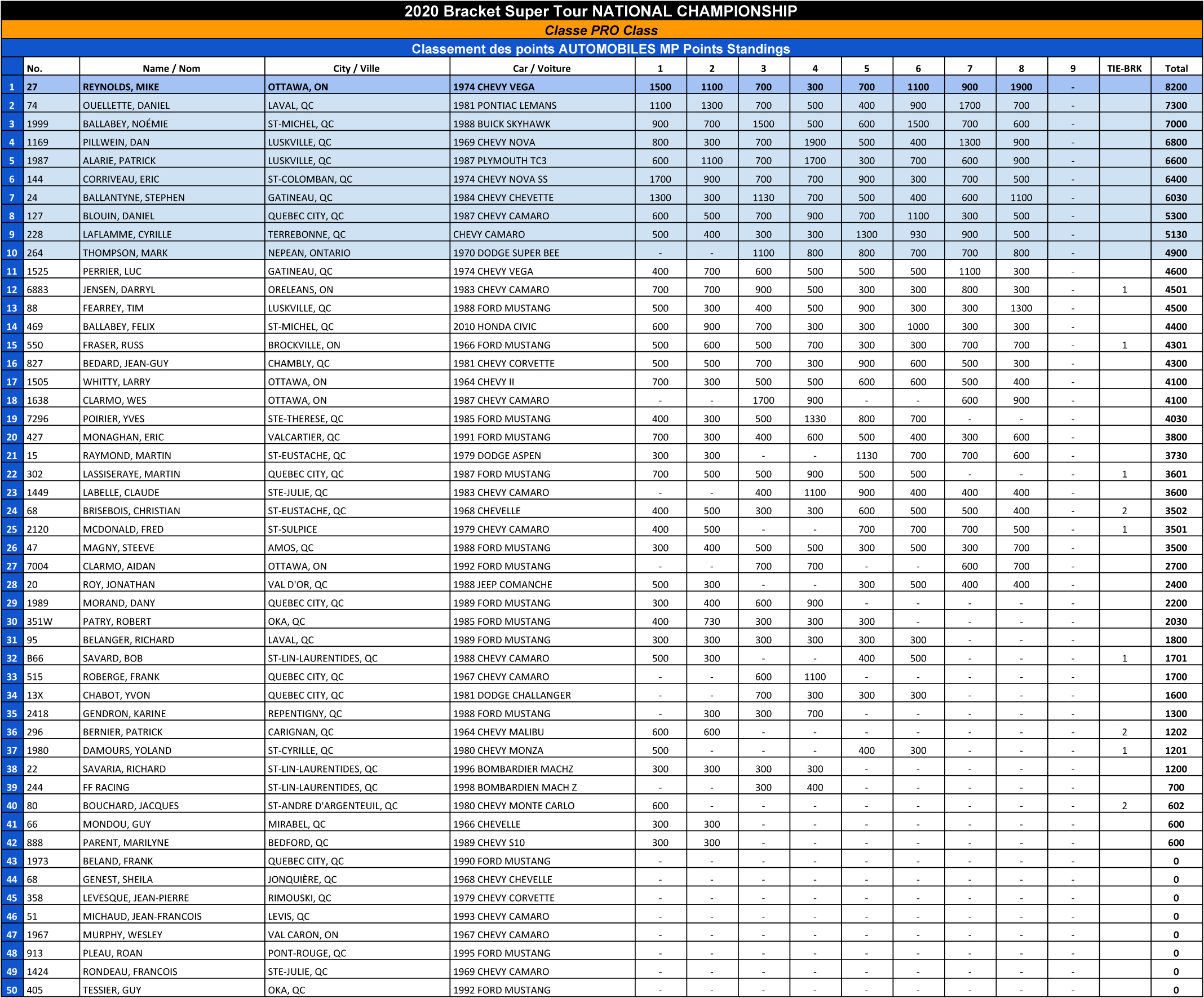 And the 2020 Pro1Safety.ca Most Improved Racer Award goes to…
The 2020 Bracket Super Tour Most Improved Racer is none other than PRO racer Noemie Ballabey! She gets a set PRO ELITE Seat belts thanks to the great folks at Pro 1 Racing & Safety Products Canada.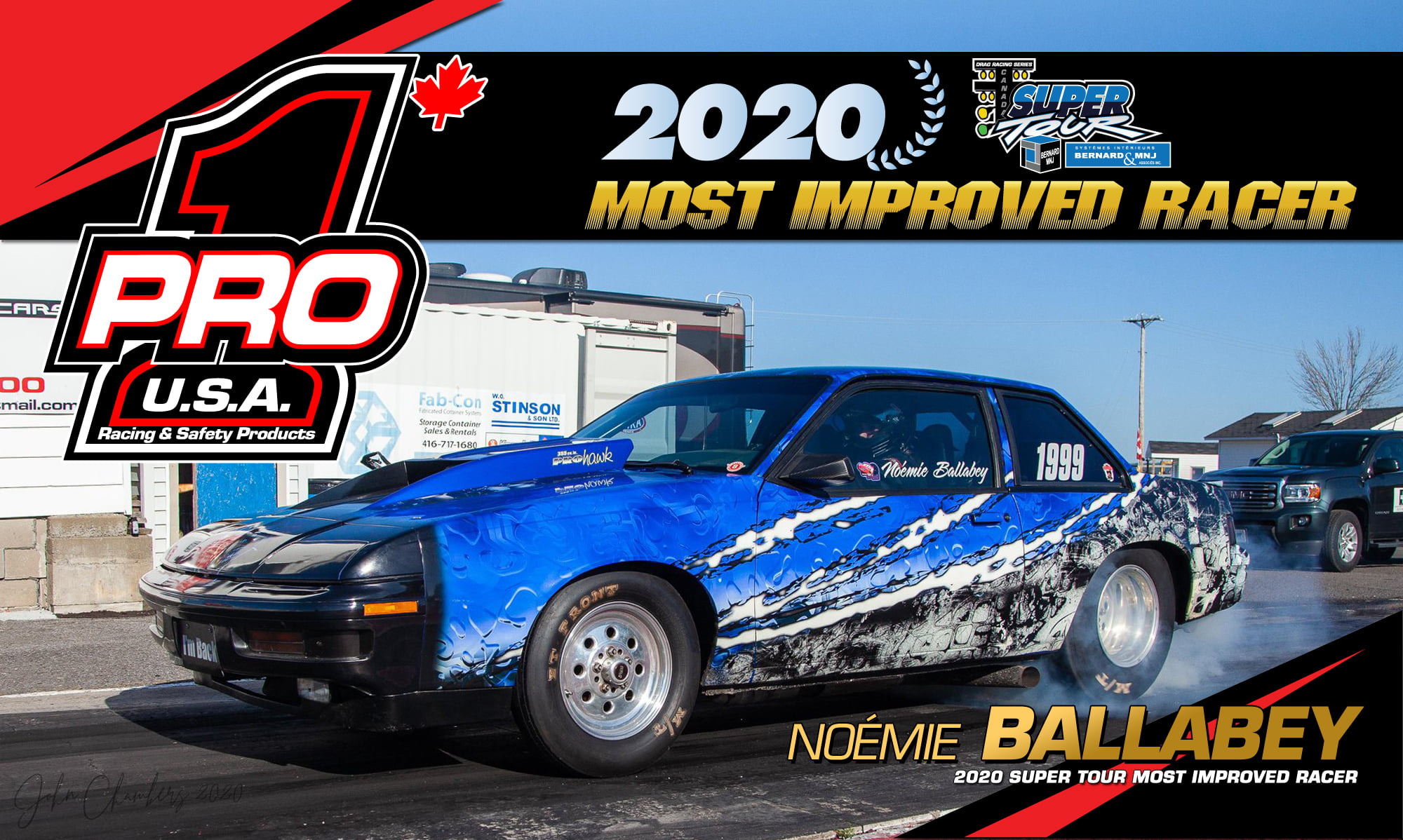 Résultats des courses, saison 2020
Super Tour ICAR #1 presented by Valvoline
Race #1 – Super Pro Winner Brian Acker over Fred Angers. Semifinals: Derek Malcolm and Brandon Barker
Race #1 – Pro Winner Eric Corriveau over Mike Reynolds. Semifinals: Dan Pillwein and Stephen Ballantyne
Race #1 – Junior Winner TJ Monaghan
Race #2 – Super Pro Winner Brian Acker over Adam Bitzanis. Demi-finaliste : Kyle Jessup
Race #2 – Pro Winner Mike Reynolds over Eric Corriveau. Semifinals: Daniel Ouellette
Race #2 – Junior Winner Lea Monaghan
Super Tour Bonanza presented by Ogilvie Auto & Fleet Service
Race #3 – Super Pro Winner Eddie Lapointe over Alex Lanctôt. Semifinals: Ashley Ogilvie
Race #3 – Pro Winner Stephen Ballantyne over Wes Clarmo. Semifinals: Gord Blackweel and Noemie Ballabey
Race #3 – Junior Winner TJ Monaghan
Race #4 – Super Pro Winner Kyle Jessup over Brian Acker. Semifinals: Fred Angers
Race #4 – Pro Winner Dan Pillwein over Patrick Alarie. Semifinals: Mark Thompson
Race #4 – Junior Winner Cole Krottner
Super Tour ICAR #2 presented by NAPA Pièces d'auto
Race #5 – Super Pro Winner Nathan Hoskin over Fred Angers. Semifinals: Fred Angers
Race #5 – Pro Winner Tim Fearrey over Mark Thompson. Semifinals: Cyrille Laflamme and Yves Poirier
Race #5 – Junior Winner Xavier Magny
Race #6 – Super Pro Winner Derek Malcolm over Derek Malcolm. Semifinals: Mike Chenier
Race #6 – Pro Winner Felix Ballabey over Noémie Ballabey. Semifinals: Mark Thompson and Sylvain Lalonde
Race #6 – Junior Winner Xavier Magny
Super Tour Fall Bracket presented by PARA Performance et Service Auto Speedy
Race #7 – Super Pro Winner Landyn Urslak over Brian Acker. Semifinals: Carl Soucy and Mike Chenier
Race #7 – Pro Winner Patrick Alarie over Daniel Ouellette. Semifinals: Doug Irvine
Race #7 – Junior Winner Parker Seguin
Race #8 – Super Pro Winner Phil Harvey over Alex Lanctot. Semifinals: Kyle Jessup and Dale Gauthier
Race #8 – Pro Winner Mike Reynolds over Claude Trudel. Semifinals: Mark Thompson
Race #8 – Junior Winner TJ Monaghan