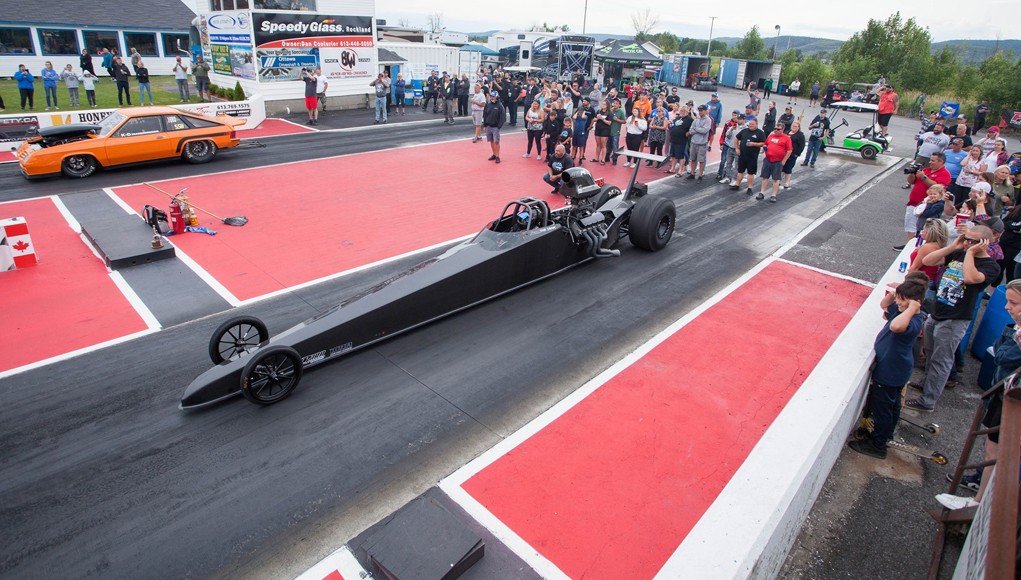 The 40th edition of the most prestigious bracket race in Canada took place a few weeks ago at Luskville Dragway. This race presented by W.O. Stinson in collaboration with Ogilvie Auto was to attract a large number of competitors from Quebec and Ontario. Despite the unfavorable weather for Sunday, more than 100 entries in the Super Pro category, 85 in the Pro category and 21 Juniors were registered. A record for the event!
In friday's Famous 10K Big Dog Shootout Jean Harvey from Terrebonne met his good friend Daniel Lanctot in the final. Harvey got the best of this final round. On the Pros side, it was Eric Monaghan from Quebec City who won against Jean-Guy Bedard from Chambly.
On Saturday, the big win went to Frank Angers from Laval who faced defending Super Tour Champion Brian Acker from Kingston, Ontario Acker knocked out Brandon Barker in the semifinals.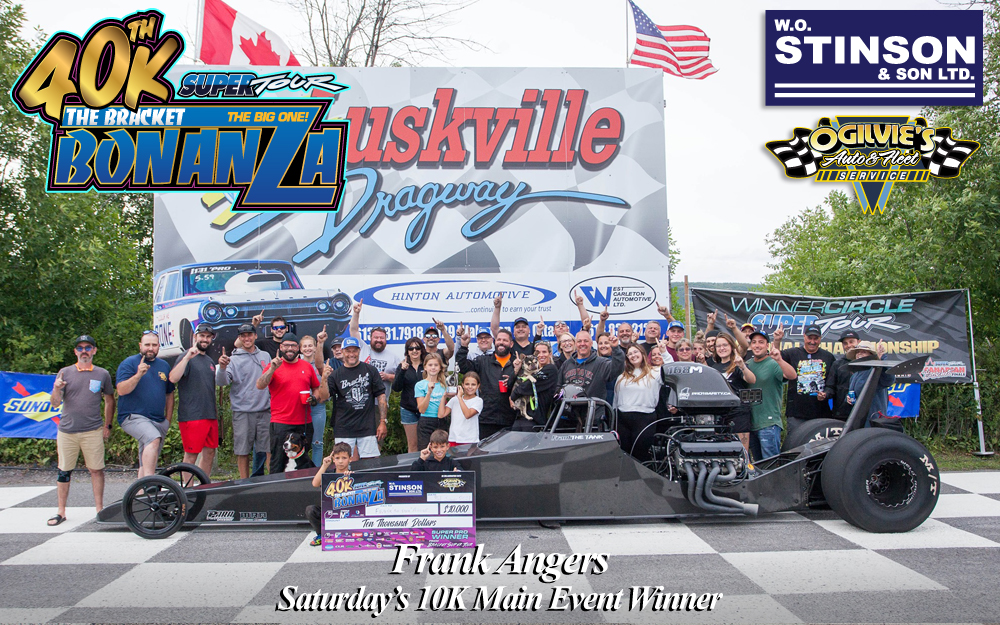 In the Pro category, Steven Clarmo from Metcalfe, Ontario won against Daniel Blouin from Quebec City. Blouin had the advantage over Claude Labelle from Sainte-Julie while Clarmo eliminated Denis Racine from Quebec City in the semifinals.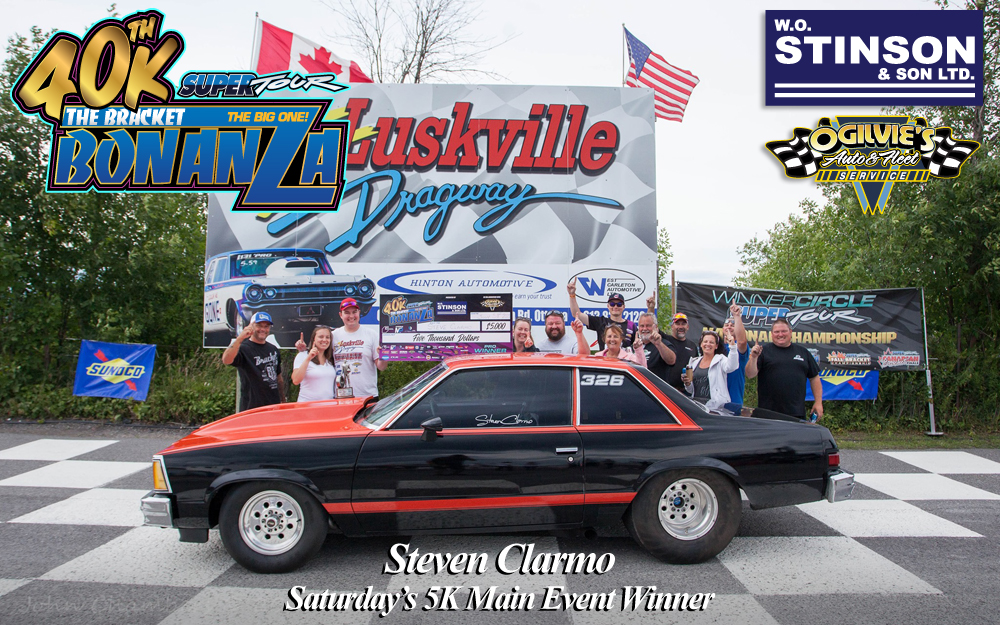 In the Junior category, Cole Krottner won the first race over Trevor Monaghan and Ryan Clarmo won the second face over Lea Monaghan.
Here are the Giveaways Winners for Saturday's race
The activities planned for Sunday unfortunately had to be postponed to Friday September 3rd.
After three races this year, we have a triple tie for the top of the national Super Pro standings. Defending Super Pro Door Car champion Brian Acker and Dragster Adam Bitzanis are well positioned to repeat their results from last year and Fred Angers from Laval is also tied for the top spot.
The top 5 is completed by Team Lanctot and son in 4th position as well as Terry Miron and Steve Peloquin tied for 5th.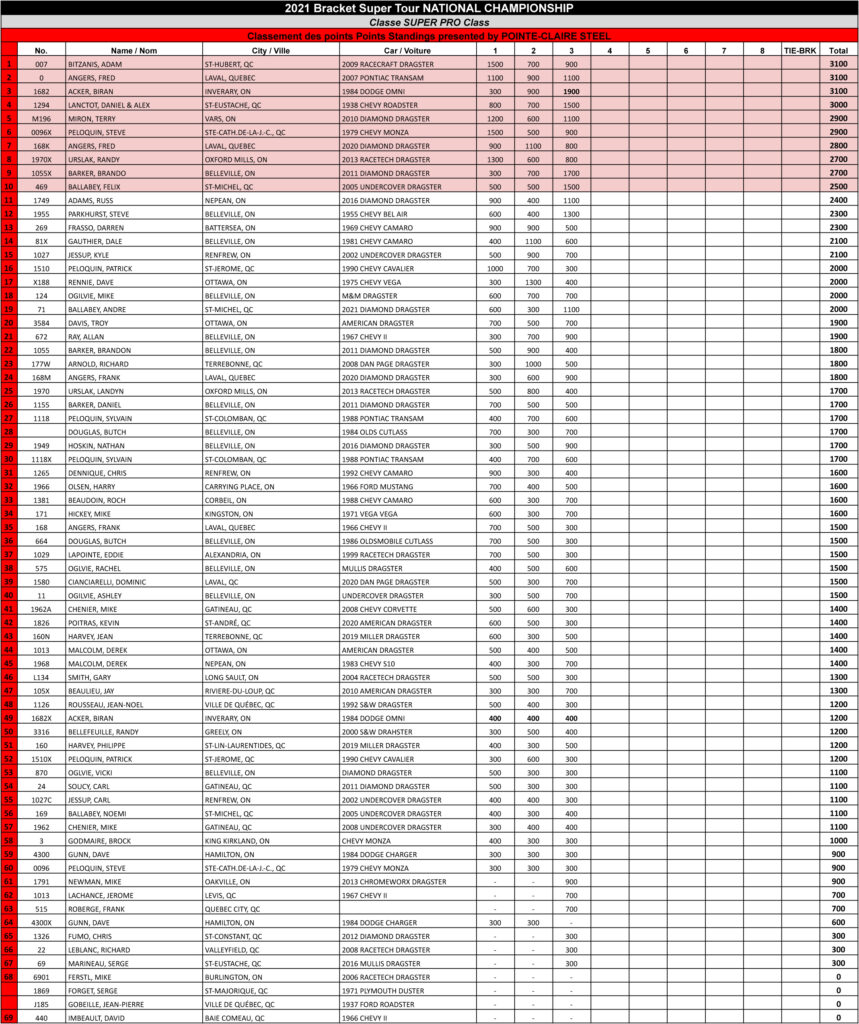 In the Pro category, former champion Fred McDonald from St-Sulpice is currently at the top of the standings. Claude Labelle is second, followed by Daniel Blouin and Russ Fraser tied in third position. Aiden Clarmo completes the top 5.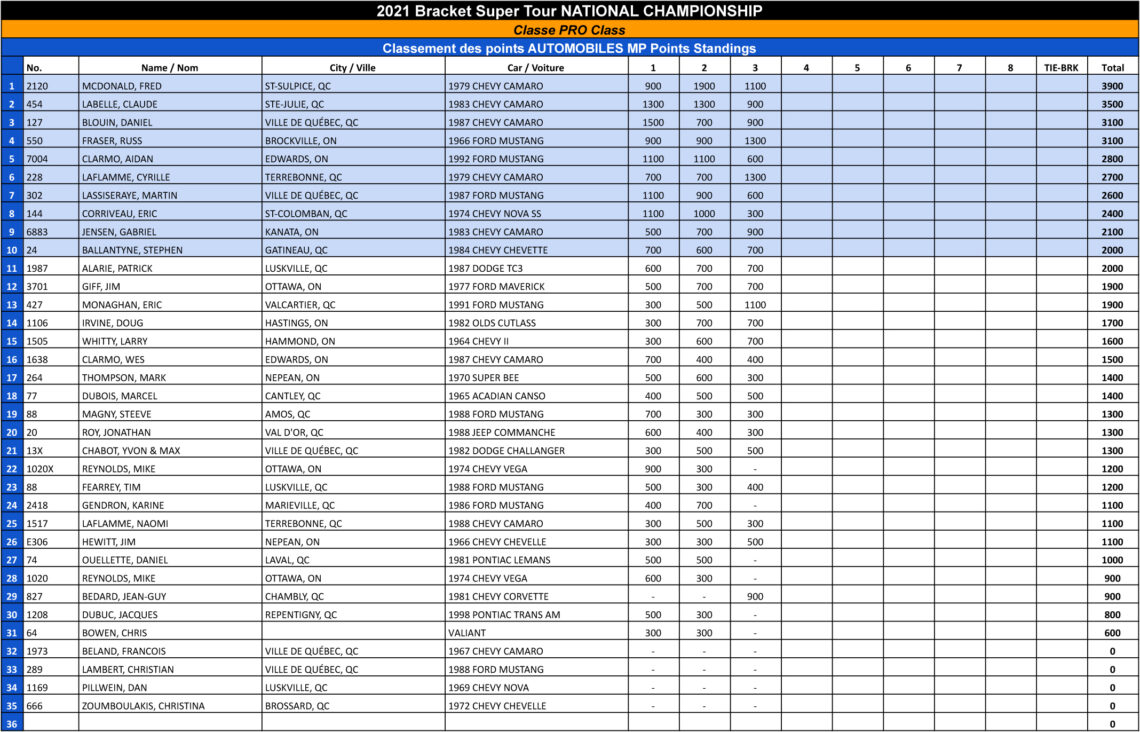 The next Bracket Super Tour weekend will take place September 3-5 at Luskville Dragway as part of the Fall Bracket Championship presented by NAPA Auto Parts in collaboration with with BW Race Cars and Get Quik Trailer Rentals.
The race weekend will start on Friday morning with the resumption of the last day of Bracket Bonanza competition. $ 10,000 will be at stake for the Super Pros and $ 5,000 for the Pros. Racers who were not present at Bracket Bonanza can register for this race!
For more info, visit www.BracketSuperTour.ca or follow the Bracket Super Tour on Facebook.