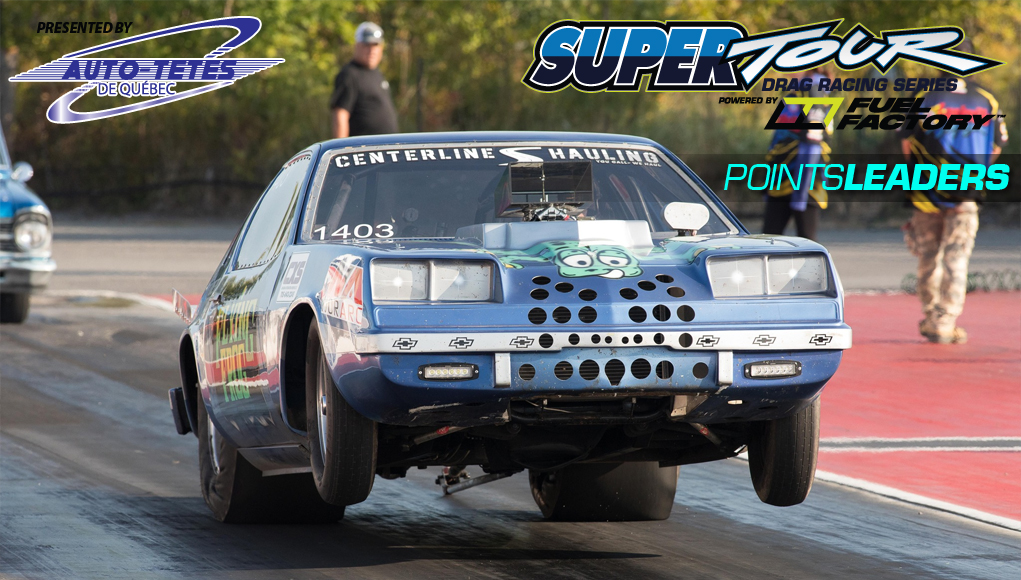 By securing Saturday's win at the Fall Bracket Championship, Brock Godmaire from Kirkland Lake, Ontario, climbs all the way up to the top of the Super Pro standings, driving his Monza 'Flying Frog'. Becky Gauthier, who led the standings before last weekend, is now in second place, trailing the leader by three rounds.
Raining Dragster Champion Phil Harvey from Saint-Calixte as well as Frank Angers from Laval both makes a jump to the third and fourth places, trailing the leader by four rounds.
Roch Beaudoin from Corbeil, Ontario, drops three positions to complete the Top 5.
Only two winning rounds separate positions 6 to 10, occupied respectively by Mike Chenier, Frank Roberge, Landyn Urslak, Jay Beaulieu, and Adam Bitzanis.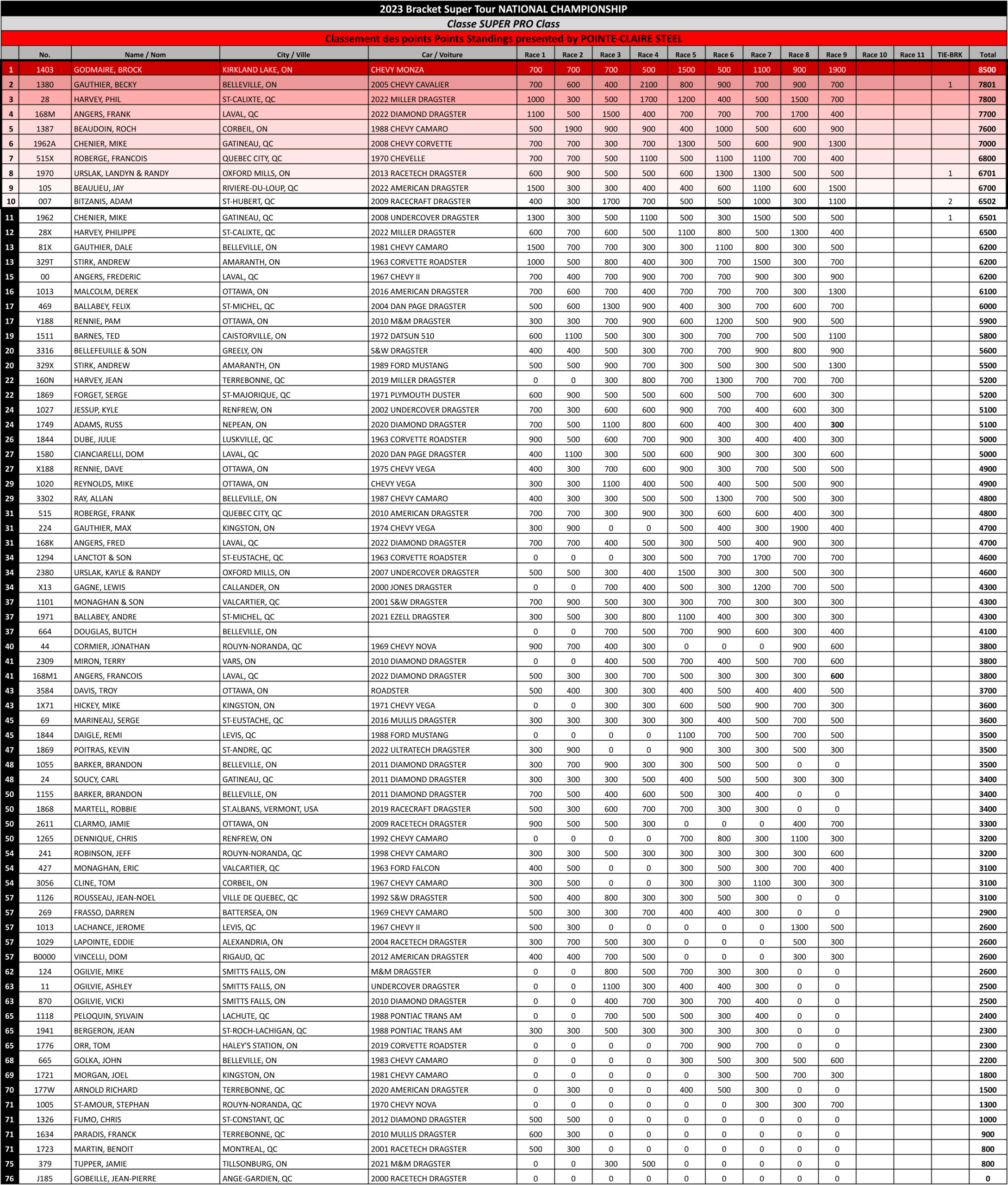 REYNOLDS CONTINUES HIS DREAM SEASON
Mike Reynolds now holds a massive lead of 19 rounds over his closest rival. A dream season for the Ontario driver who accumulates 11,300 points, the highest score ever achieved by a racer in Bracket Super Tour history.
Thanks to a win at the Fall Bracket Championship, Chantal Grenier from Terrebonne makes a leap of five positions and rises to second place. François Rondeau from Sainte-Julie drops one position. They are both 19 rounds behind the leader.
The fourth and fifth positions remain unchanged with Jean-Guy Bédard from Chambly and Larry Lepine Jr. from Gatineau. The Jensen and Sons team dropped from third to sixth place while Stephen Ballantyne makes a huge jump of eight positions to make the top 10 of the category.
Mark Thompson from Nepean and Keith White from Kahnawake complete the top 10.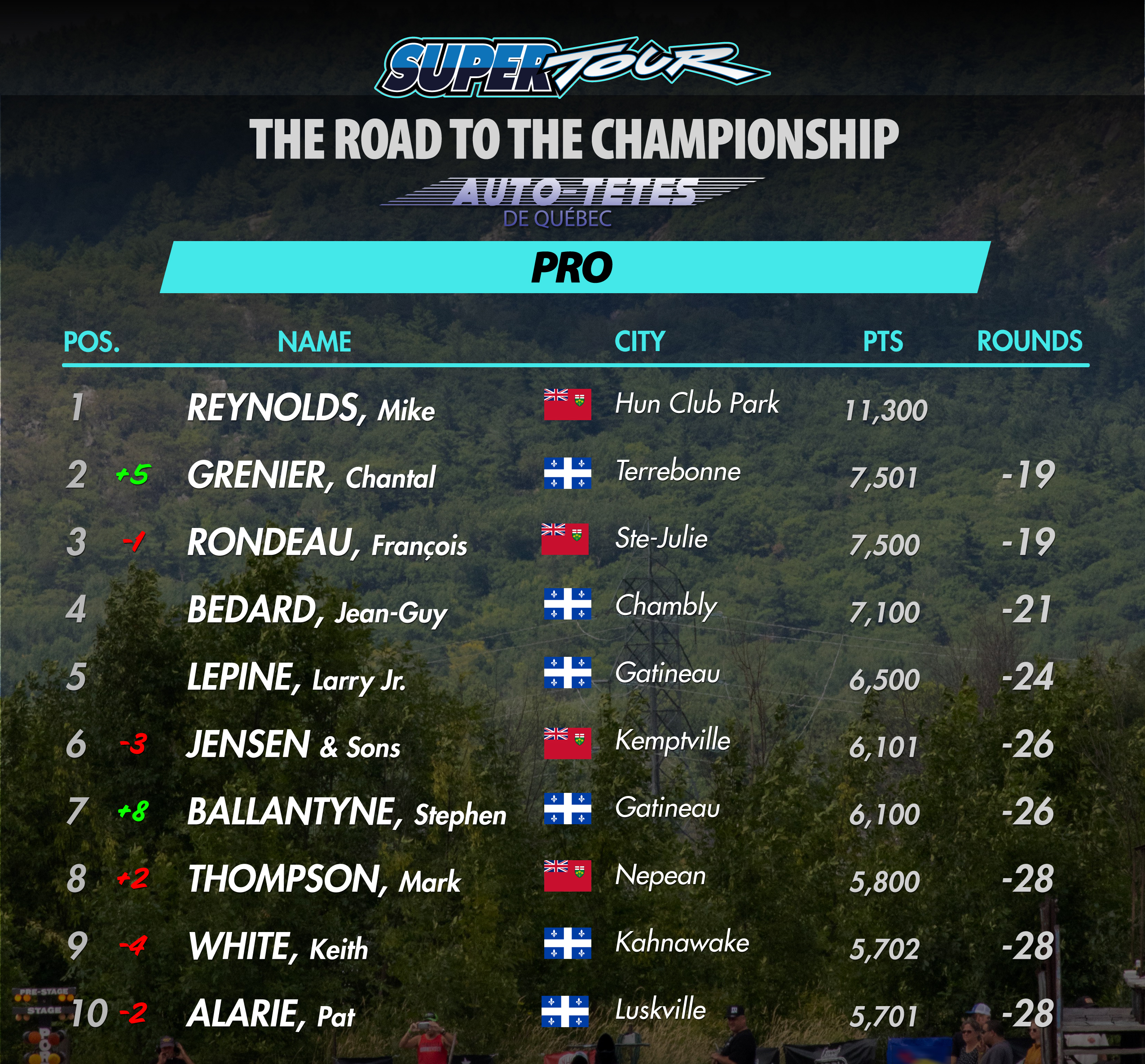 THE TOP 10 RESULTS OUT OF 11 RACES
As the last two races of the season will take place in a few weeks at Napierville as part of the Canadian Bracket Finals, it's important to note that the best 10 results out of eleven races will be cumulated for the national ranking.
When analyzing each racer's scores, it's crucial to specify the racers who have a score to improve by 300, which is the minimum when entering a race without any round win.
In the top 10 of Super Pro, only Phil Harvey, Jay Beaulieu, and Adam Bitzanis have scores of 300 to improve.
Super Pro leader, Brock Godmaire, needs to improve a score of 500 and one of 700. Becky Gauthier has a score of 400 and one of 600 to improve. Frank Angers and Roch Beaudoin each have a score of 400 to improve.
Among the Pros, Chantal Grenier, the Jensen & Sons team, Mark Thompson, Keith White, and Pat Alarie have scores of 300 or less to improve.
The national champions will be crowned during the Canadian Bracket Finals from October 6th to 8th at Napierville Dragway!
LEA MONAGHAN LEADS THE JUNIORS
Lea Monaghan from Valcartier leads the way in the Junior category ahead of Parker Seguin from North Bay and Katie Adams from Ottawa. The general ranking is also very tight in this class.