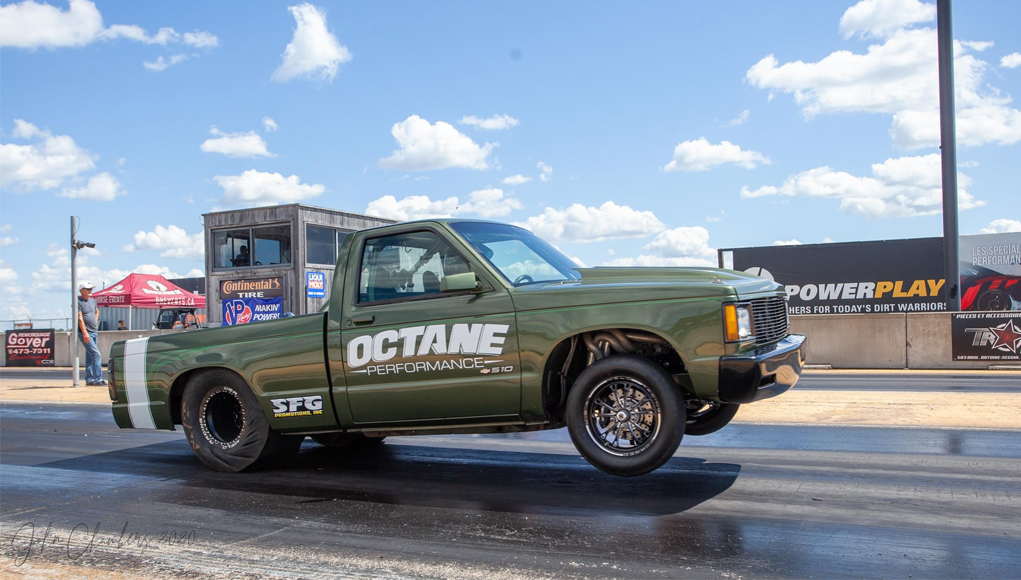 The second Super Tour Event of the season at ICAR Mirabel was held last weekend. The NAPA Auto Parts sponsored event changed from a two-day event to an all-in-one-day due to uncertain weather forecast for Sunday.
Two races with a total of 101 entries took place in record time on Saturday between 8:30 am and 7:00 pm, while another event was taking place at ICAR in the evening.
Young Nathan Hoskin won a first major Super Pro race after making the jump from the Juniors a few years ago. Hoskin won an automatic final as Fred Angers struggled with mechanical problems before staging in the finals. Angers was also the lone semi-finalist with his Camaro.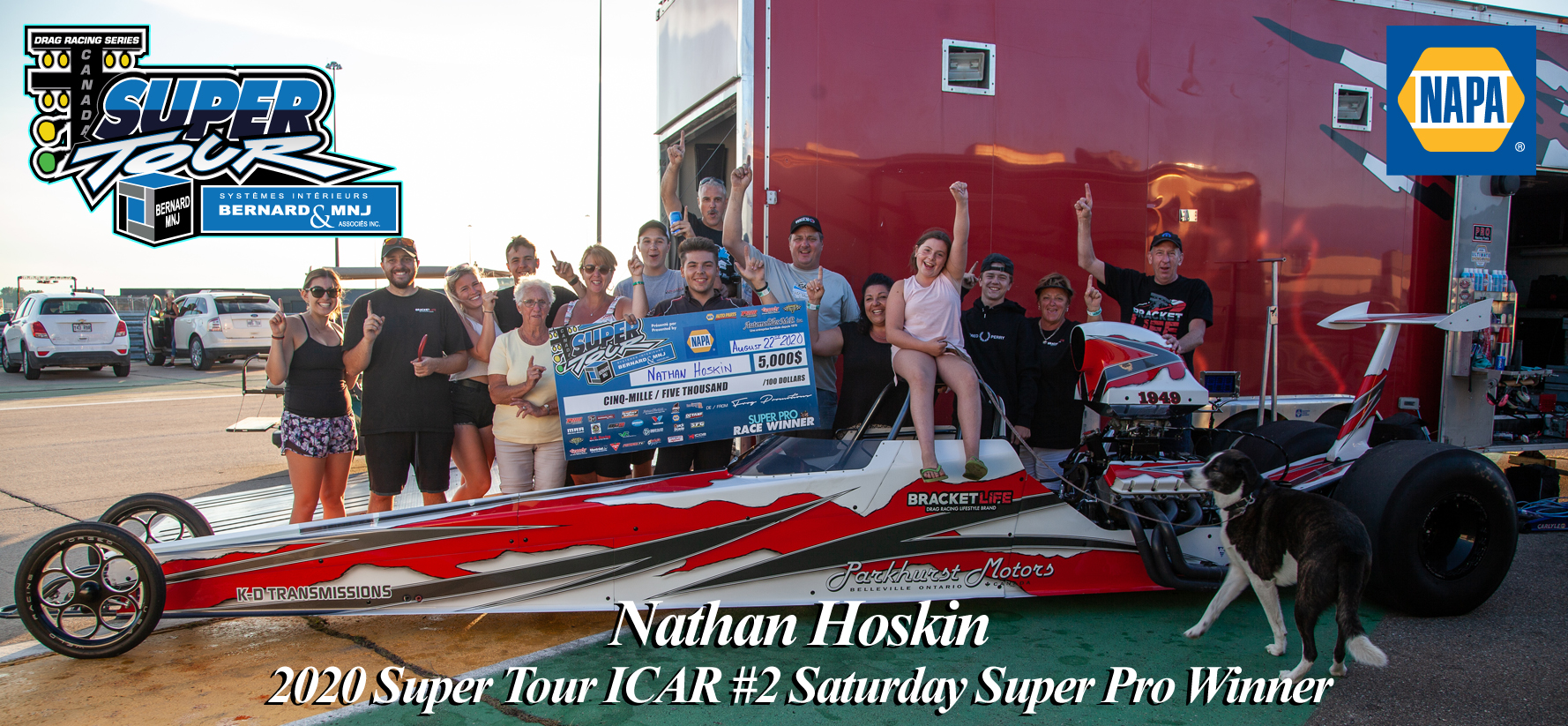 In the Pro class, Tim Fearrey from Luskville took the win over Mark Thompson from Neapan in a Ford versus Mopar final. Cyrille Laflamme from Terrebonne and Yves Poirier from Ste-Thérèse were the two semi-finalists.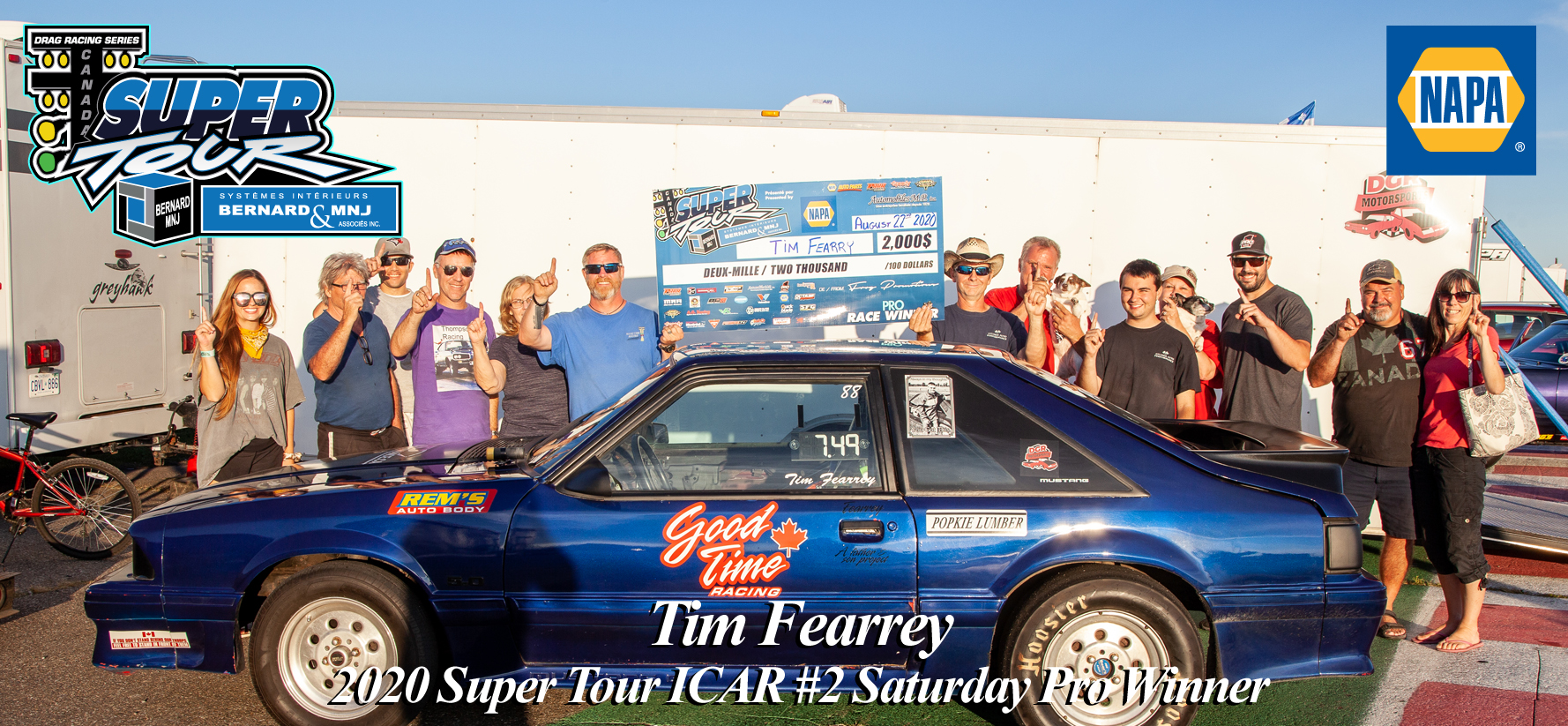 Racers immediately followed up with the second race originally scheduled for the next day. Defending Super Pro National Champion Derek Malcolm from Ottawa put on a show by reaching the final with his two entries! Malcolm had previously eliminated Mike Chenier in the semis with his Octane Performance S10 and got the bye run with his dragster.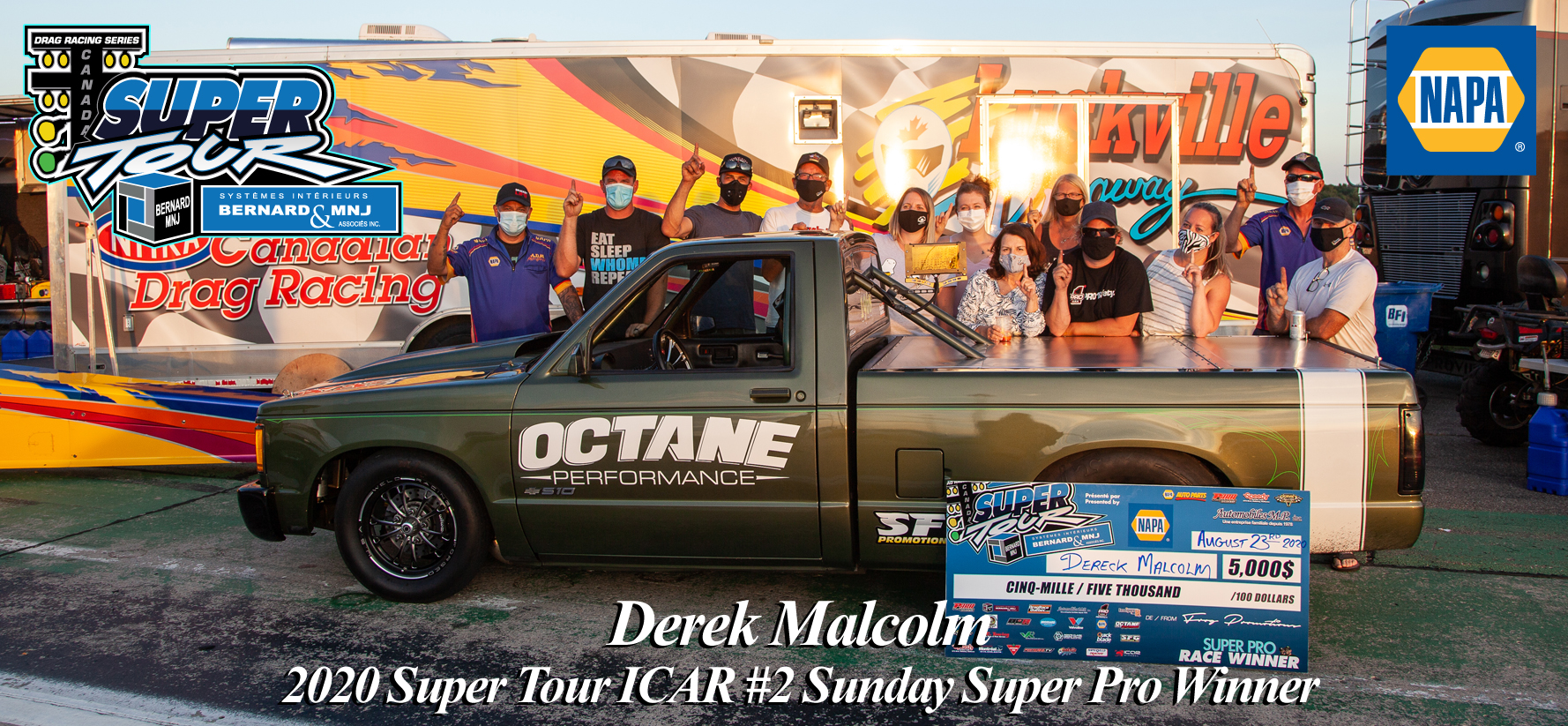 In the Pro category, we saw a very special final round between brother and sister while Félix Ballabey had the advantage over his older sister Noémie and got a first win in a Big Car! A solid performance from Mark Thompson who, after a runner-up finish in the first race, reached the semi-final this time. Sylvain Lalonde was the other semi-finalist.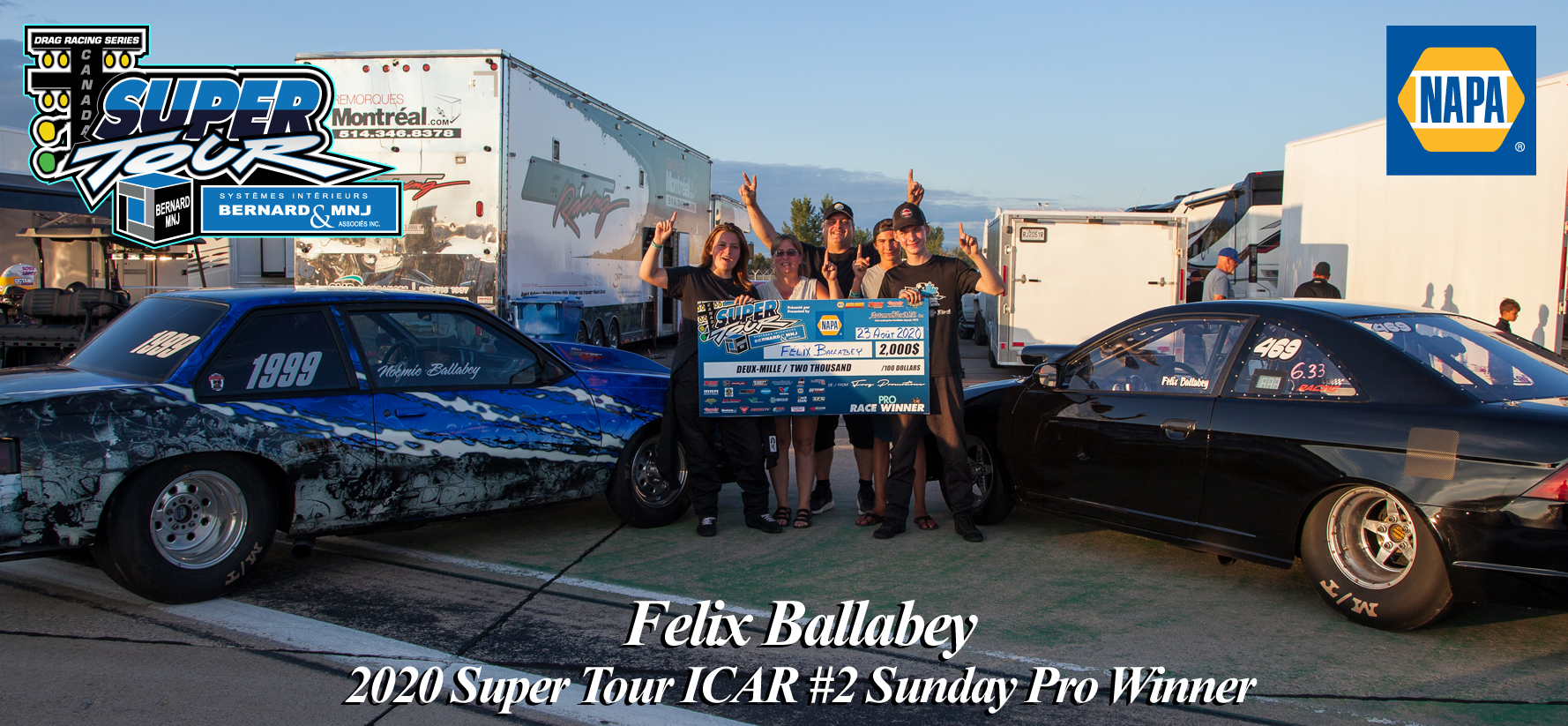 In the Junior class, Xavier Magny from Amos swiped the event taking home both wins!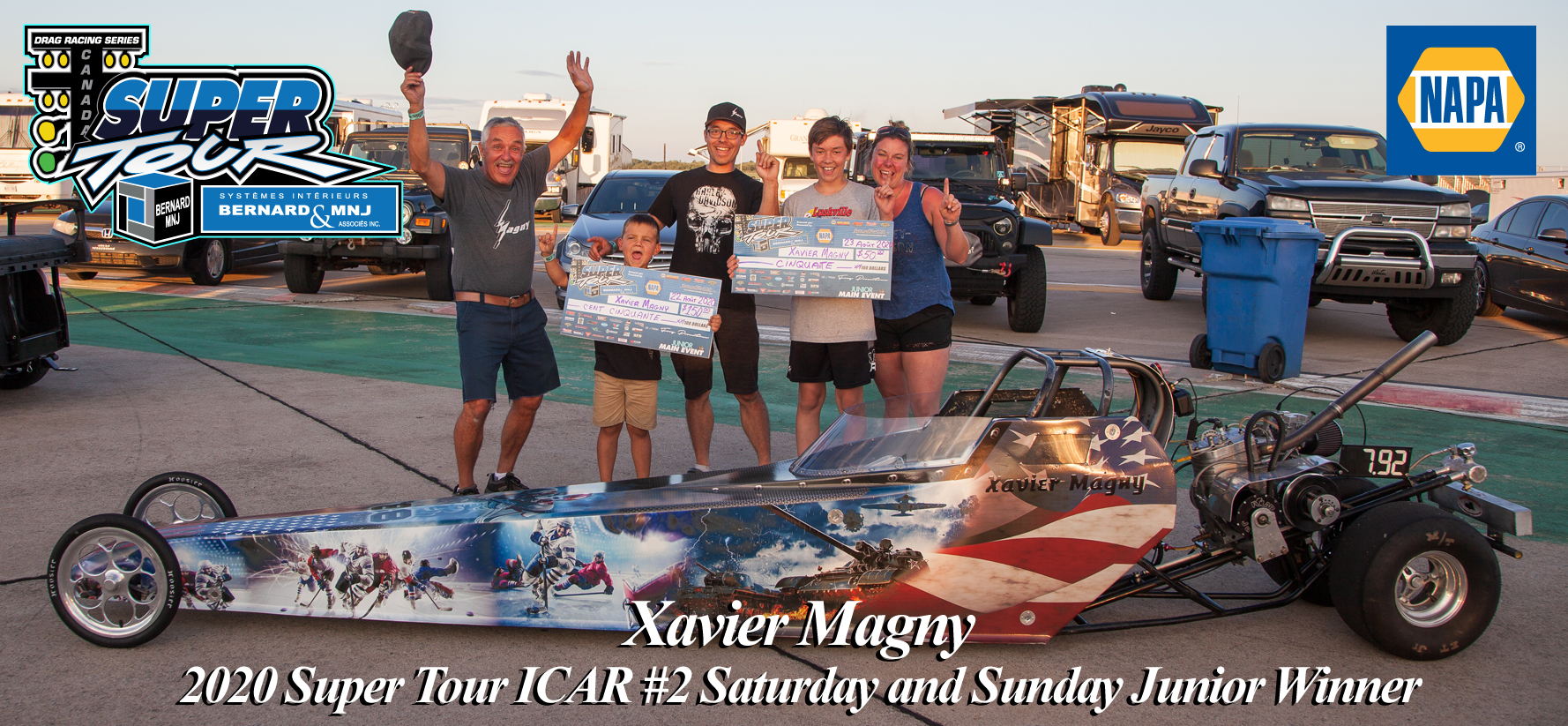 We now have two new leaders in the National Championships Chases!
After strong performances since the start of the season, Brian Acker finally reaches the top of the Super Pro rankings. Fred Angers is also in an excellent position and occupies the 2nd and 4th position with both of his entries. Defending champion Derek Malcolm is now 3rd while former points leader Adam Bitzanis closes the top 5.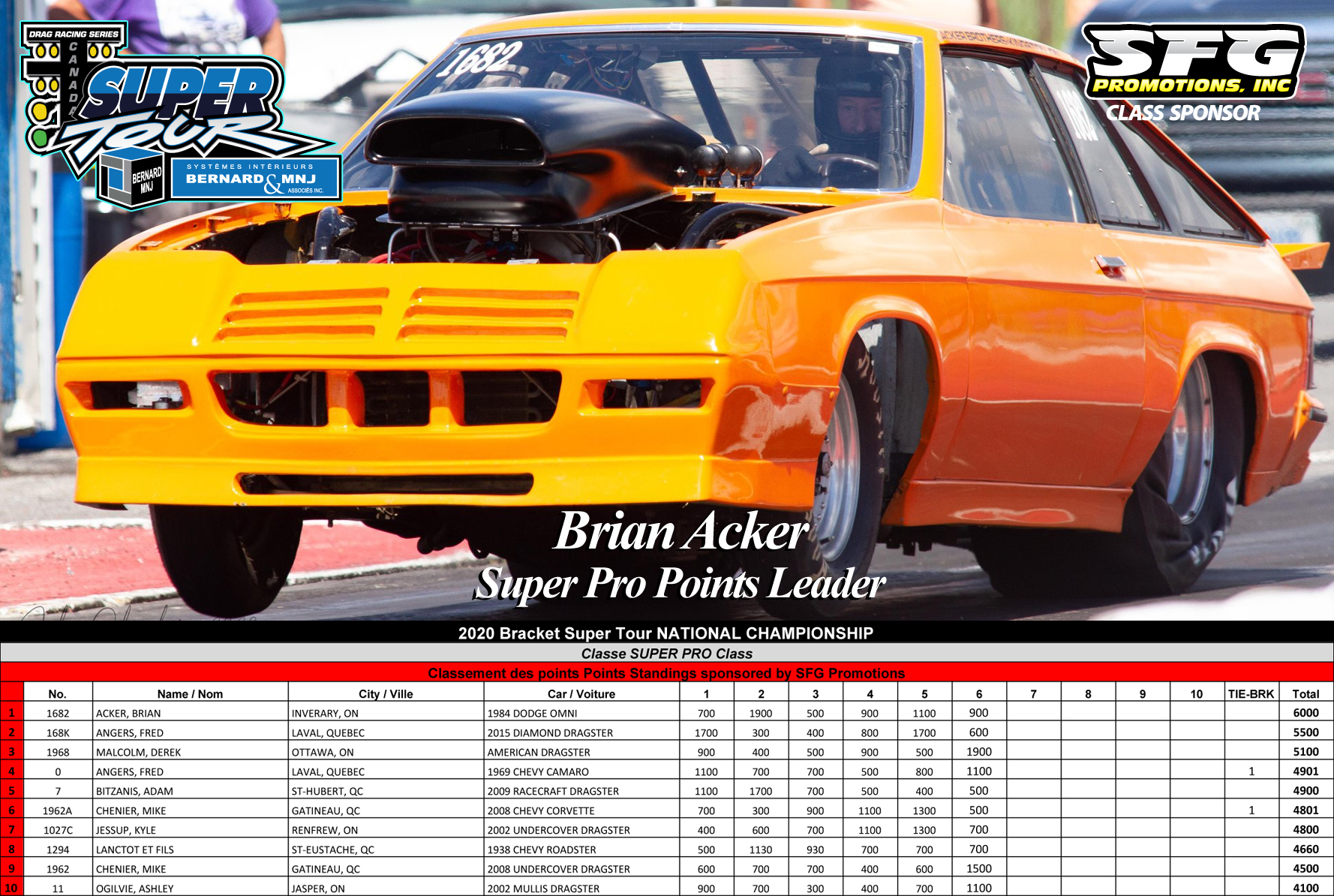 In the Pro category, the new leader is Noémie Ballabey from St-Michel. Mike Reynolds from Ottawa is now 2nd and Eric Corriveau is 3rd in front of Patrick Alarie. The top 5 is completed by Daniel Ouellette.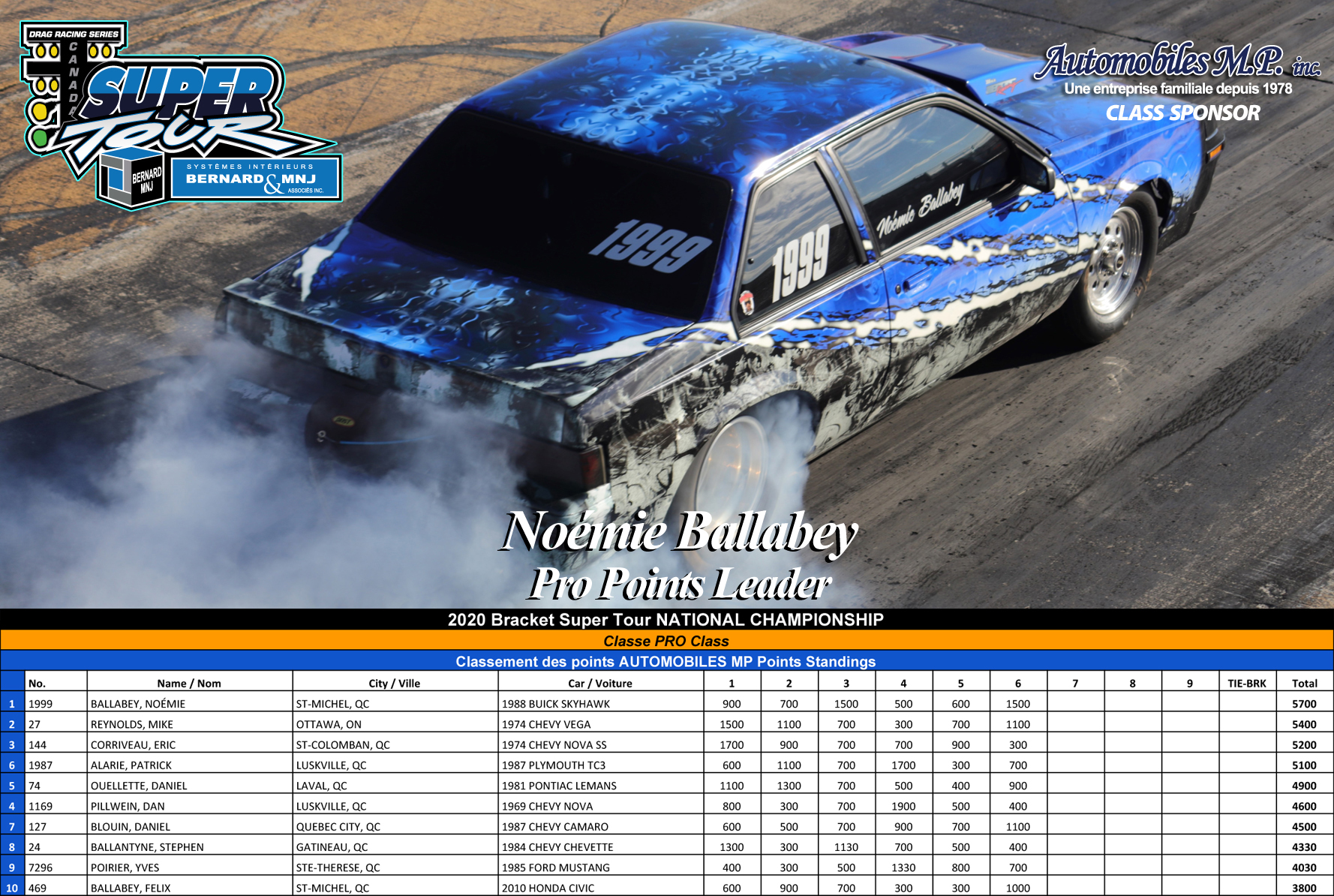 Super Tour bonuses
As always at Super Tour events, members are eligible for several giveaways distributed throughout the season. Here are the winners from last weekend at ICAR.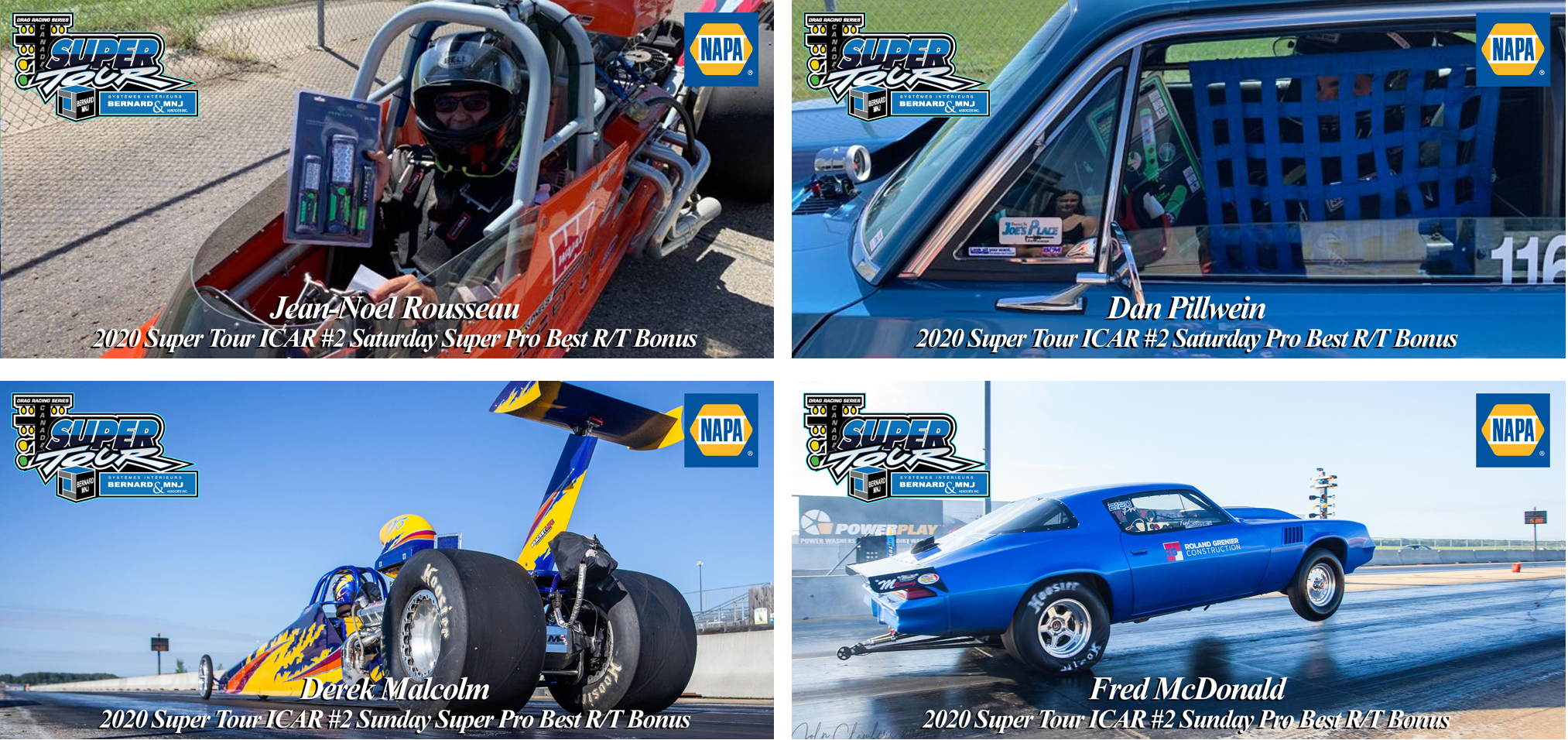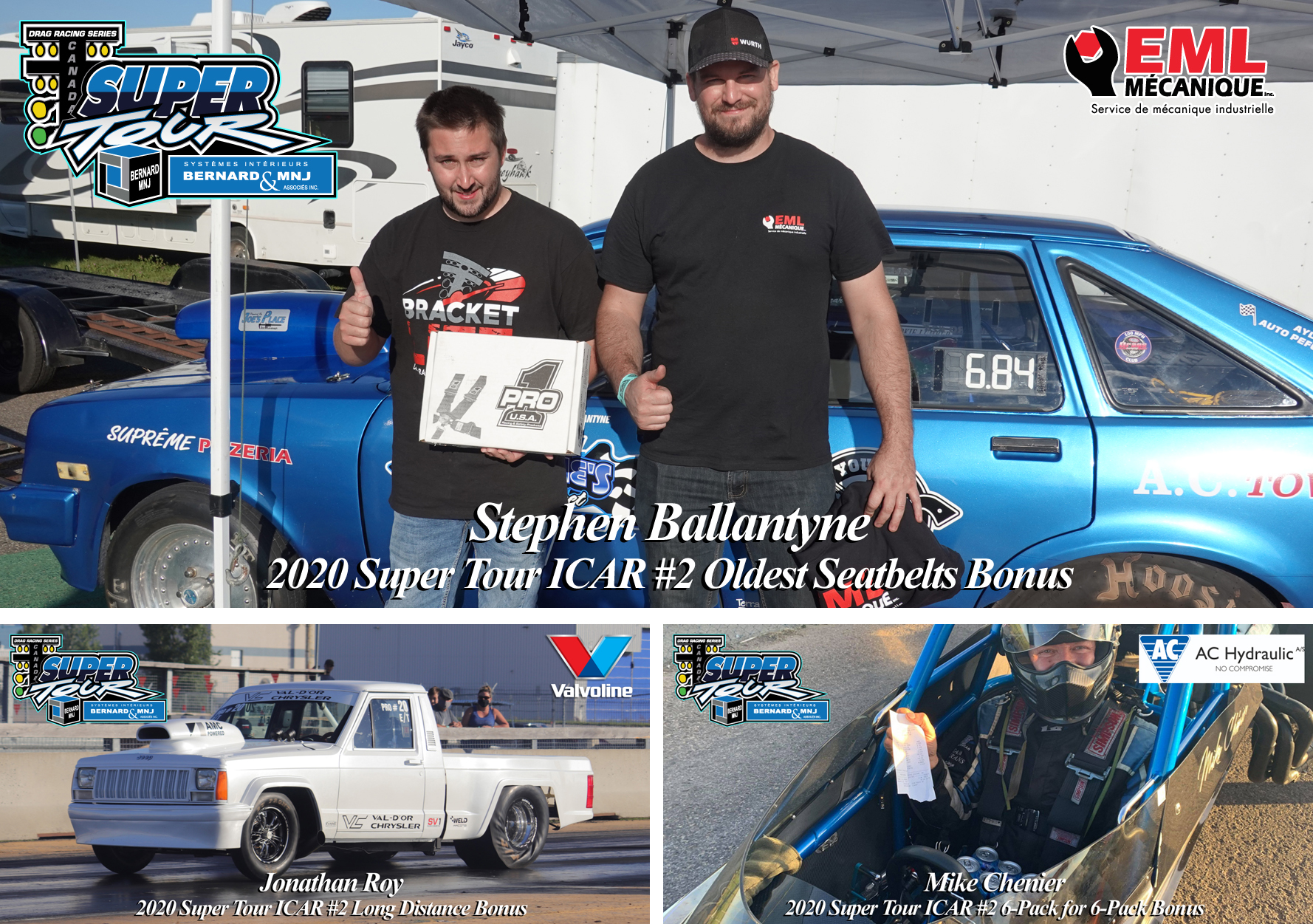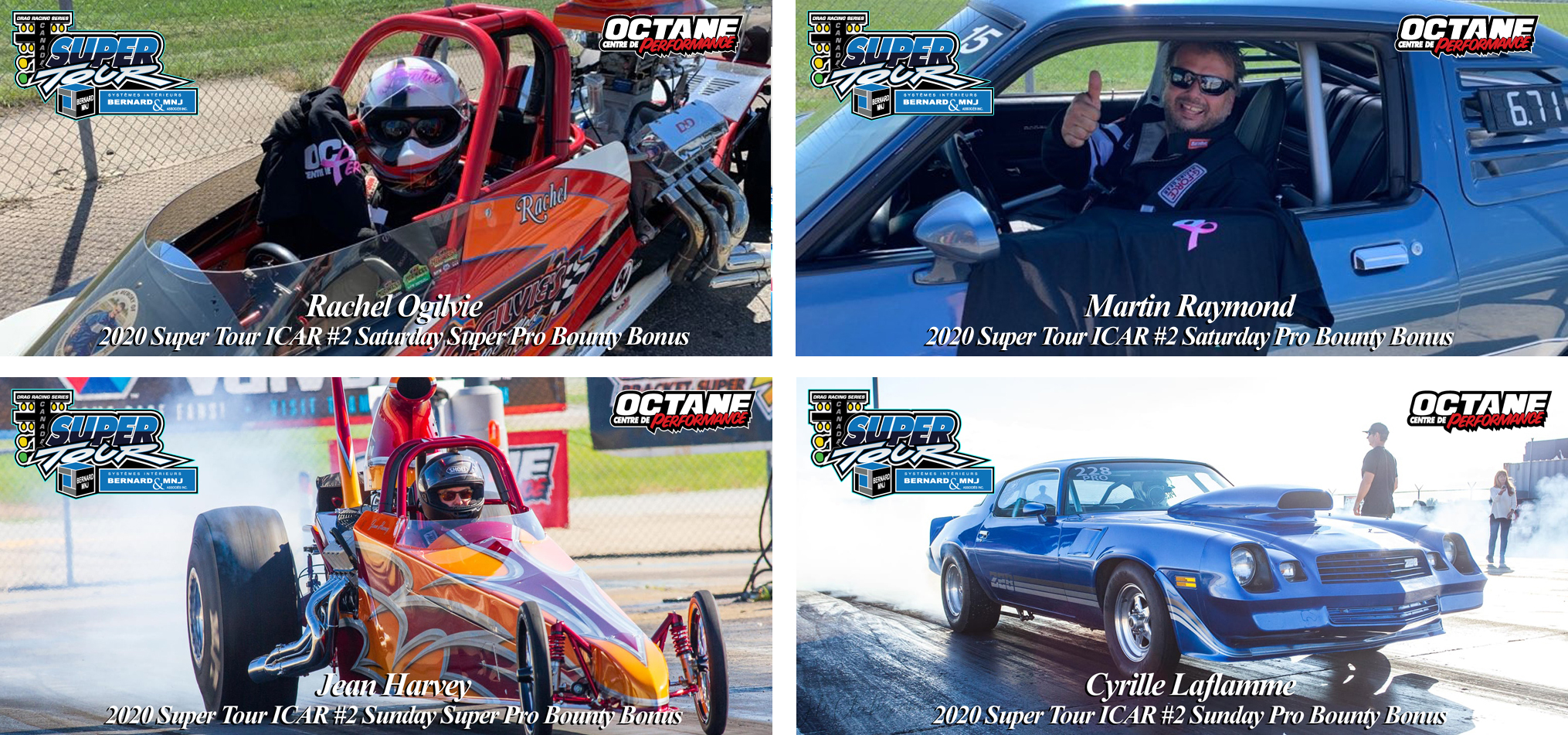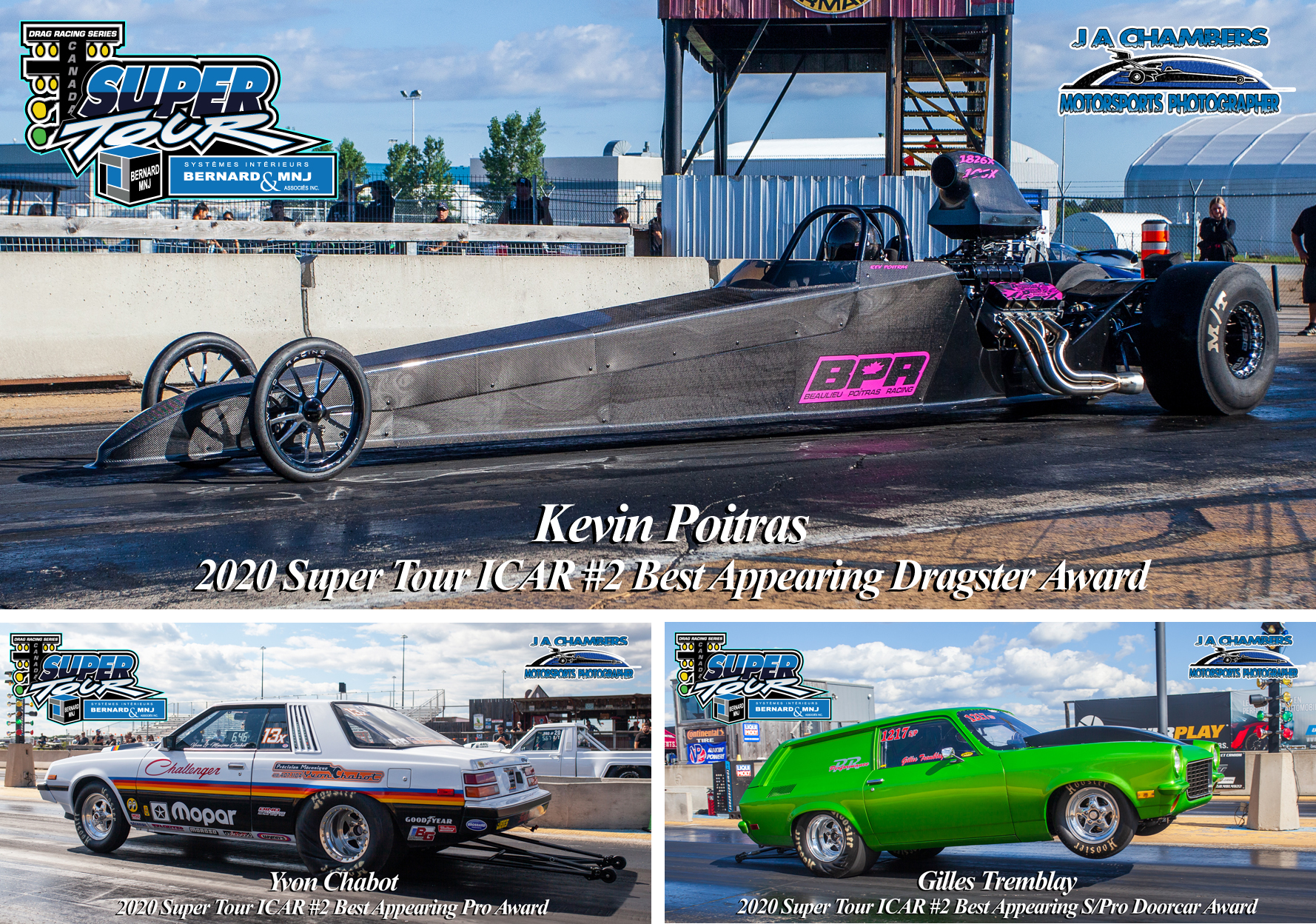 The next one
The next race will be in two weeks at Luskville Dragway. The seventh and eighth rounds of the National Championship will be presented by Service Auto Speedy Gatineau as part of the Super Tour Fall Bracket. For more info, follow the Bracket Super Tour on Facebook or visit www.BracketSuperTour.ca