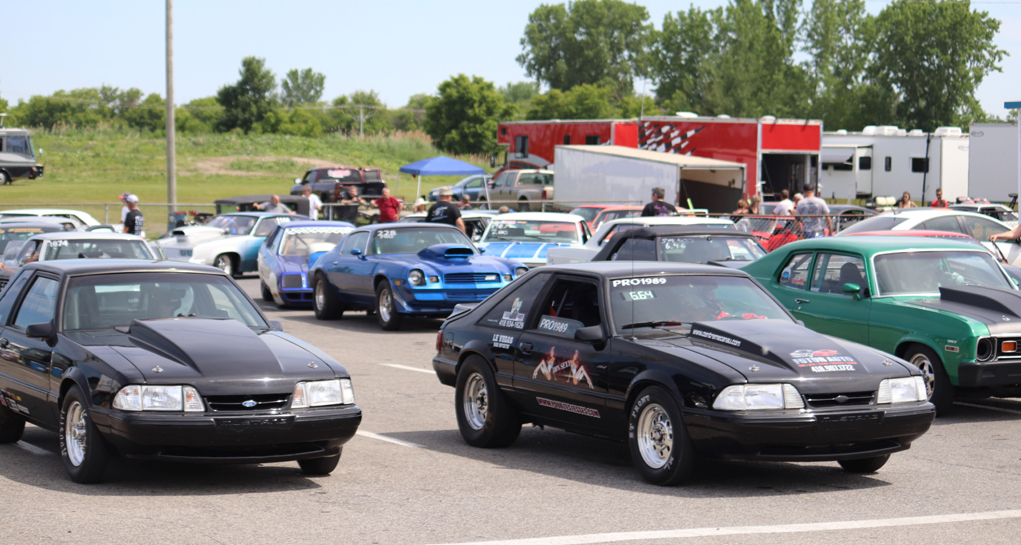 The 2018 season of the Bracket Super Tour was finally launched last weekend in Napierville. The sun and the racers were at the rendezvous with no less than 130 entries per day for this first weekend presented by Valvoline Canada in collaboration with Précision Mécanique Yvon Chabot and Rudy Performance Shop.
In the EML Mecanique Super Pro category, veteran racer and multi time champion Richard Arnold from Terrebonne, Quebec dominated by winning the Saturday's race and getting down to 3 cars on Sunday. In the first race, Arnold defeated Darren Frasso from Belleville, Ontario, in a Dragster versus Door Car final round. Arnold had the advantage over former Super Tour Champ Kyle Jessup while Frasso had the advantage over Roch Beaudoin.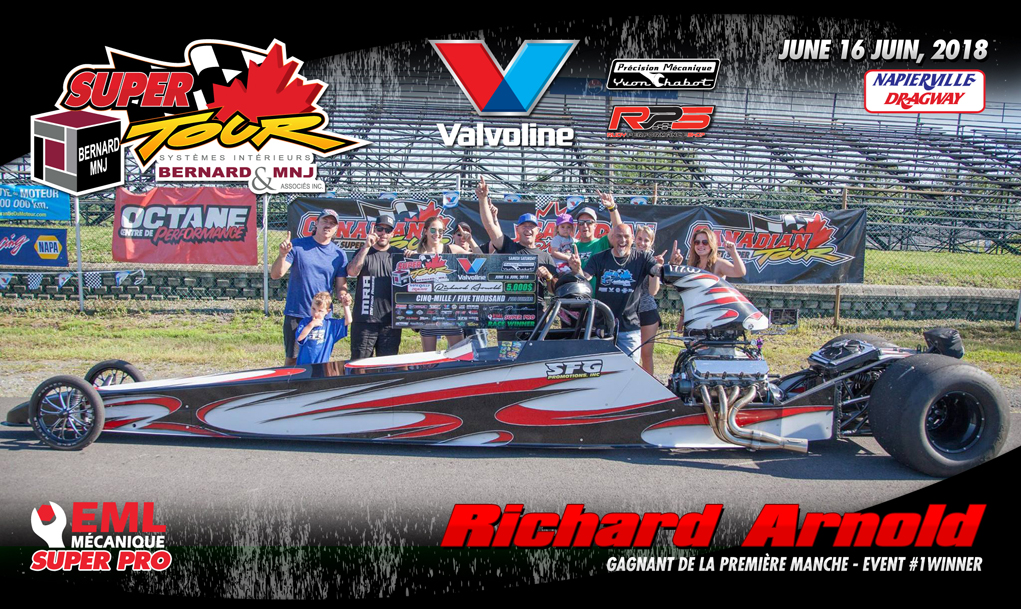 Joel Lapierre from Sherbrooke, Quebec took the win over fellow Quebec racer Frank Angers from Laval in the 32-car D&D Performance Gambler's race on Saturday night. Lapierre was driving his Procharged Diamond Dragster while Angers was wheeling the famous Super Tour Don Davis Roadster.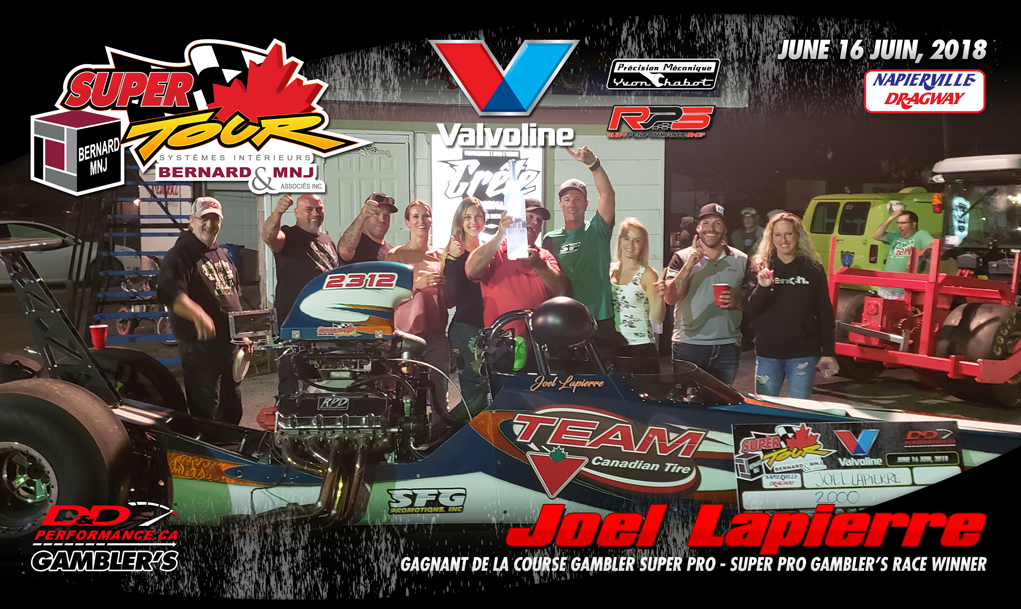 Angers was back in the final on Sunday as he faced Rouses Point, New York's Mark Goyette in this final round. Goyette won the race by getting past Saturday's winner Richard Arnold in the semis while Angers had the bye to the finals.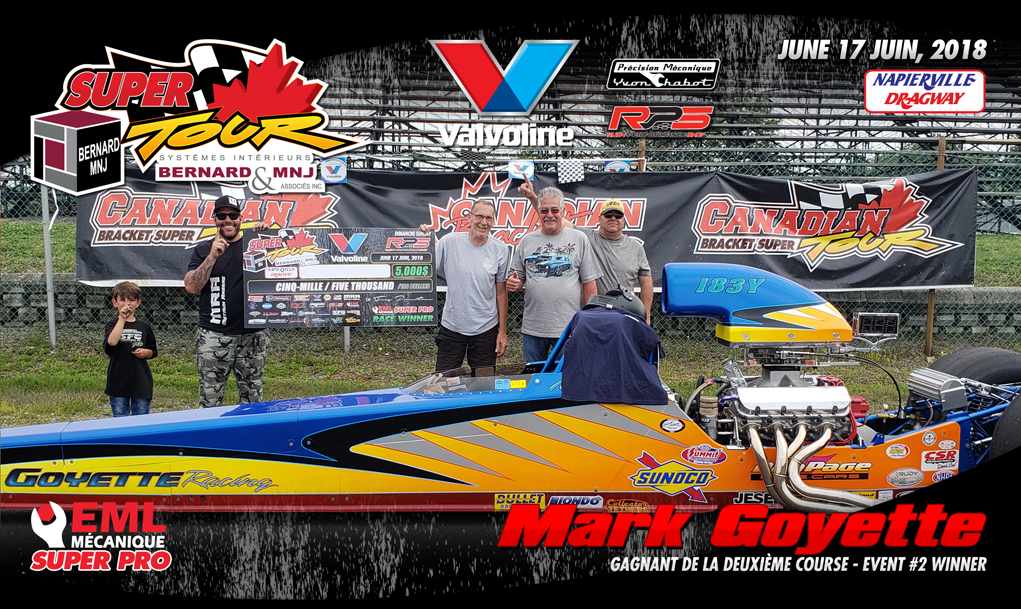 In the Quick Blade Wipers Pro class, Saturday's race win went to Mike Reynolds with his little Vega over rookie racer Albert Jerome in a Gatineau versus Ottawa matchup.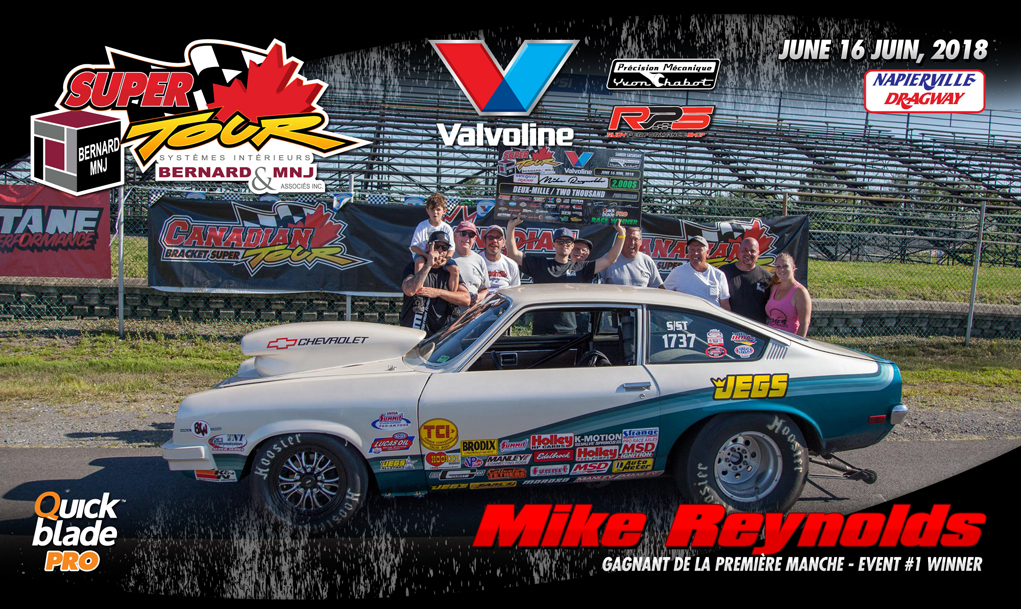 The Footbrake Gambler's Race presented Saturday night saw rookie Naomie Ballabey from St-Michel, Quebec getting pass Darryl Jensen from Orleans, Ontario.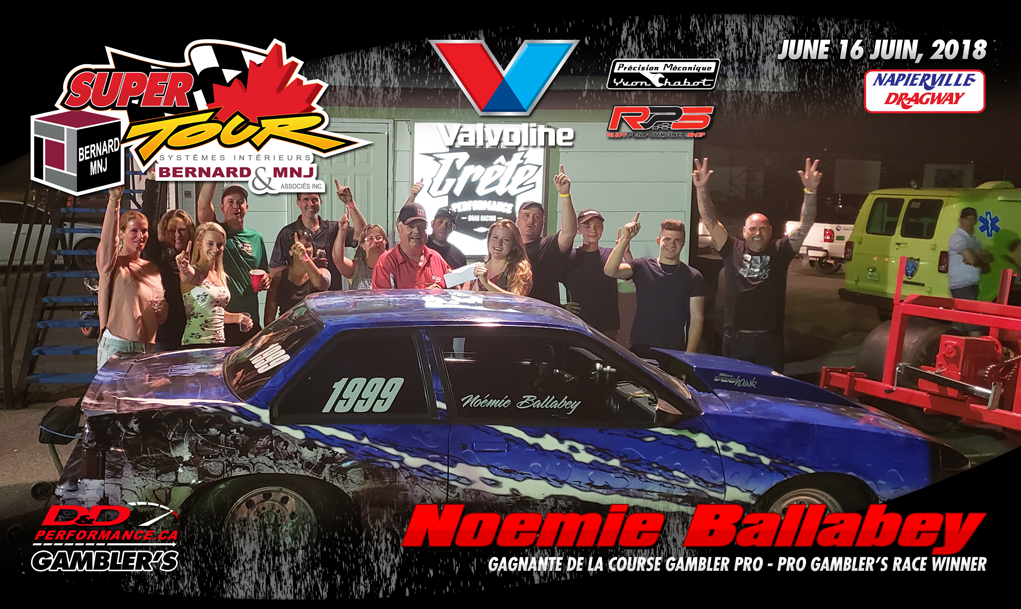 Sunday's race saw second generation racer Dan Pillwein from Ottawa with his Chevy II getting the win over Martin Racine from the Quebec City area with his Grand Prix.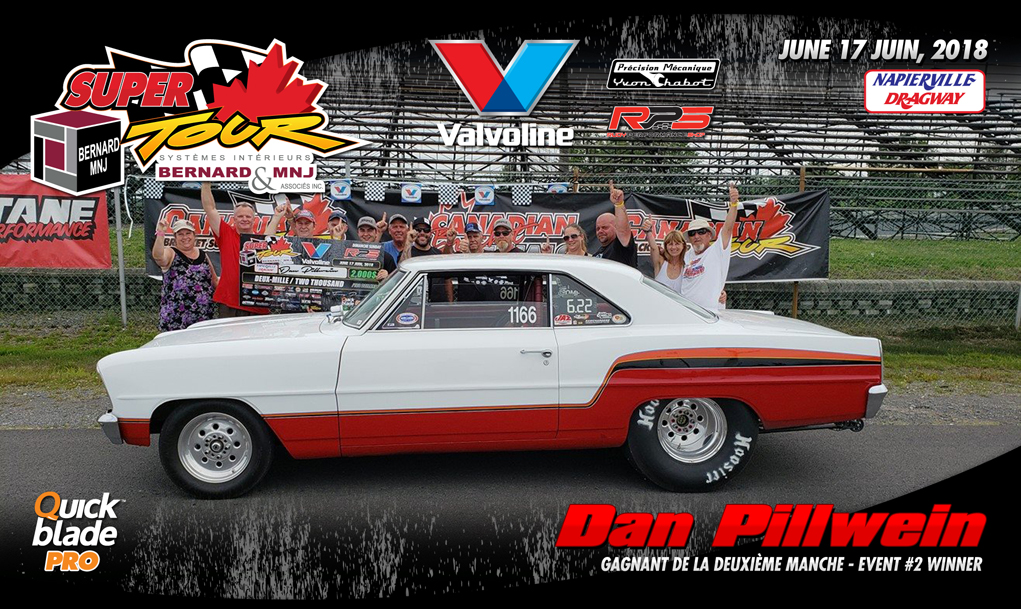 In the Ogilvie Auto Service Junior Dragster class, local driver Felix Ballabey from St-Michel joined his sister in the winner circle by dominating the entire weekend getting both Saturday's and Sunday's win. He defeated Naomi Laflamme on Saturday and got the past Dylan Lajeunesse on Sunday.
Arnold in control of the Super Pro points chase presented by SFG Promotions
With a win and a semifinal finish in the first two races of the season, veteran racer Richard Arnold from Terrebonne is leading the National Championship in the Super Pro category with a total of 2,800 points. He is followed by Saturday's runner-up Darren Frasso from Belleville and Roch Beaudoin from North Bay, Ontario who each have 2,200 points. Butch Douglas also from Belleville is in 4th place with 2,000 points while Daniel Lanctot from St-Eustache is tied with former national champion Kyle Jessup from Renfrew, Ontario with 1,600 points to close the top 5.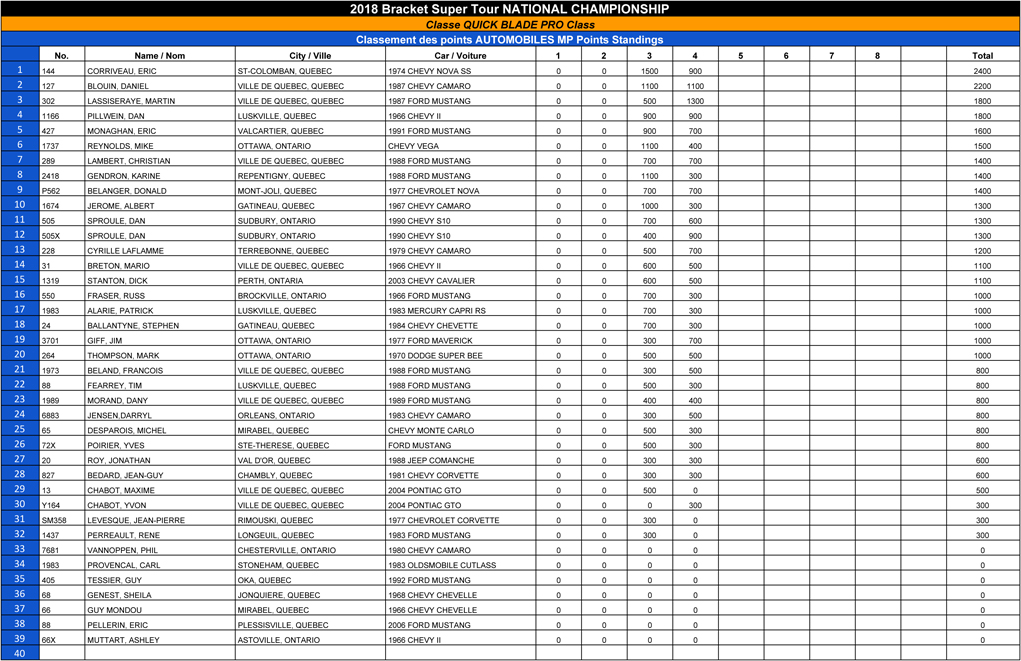 Quebec domination in the Pro National Ranking presented by Automobiles MP
Eric Corriveau from St-Colomban, Quebec was the best driver of this first weekend with a total score of 2,400 points to get the leading position in the national championship chase in the Pro category. He is followed by Daniel Blouin from Quebec City with a score of 2,200 points. Sunday's winner Dan Pillwein is the only Ontario driver to get into the top 5 while he is tied with Martin Lassiseraye also from Quebec City, the two drivers totaling 1,800 points. Eric Monaghan from Valcartier, Quebec completes the top 5 with a total of 1,600 points.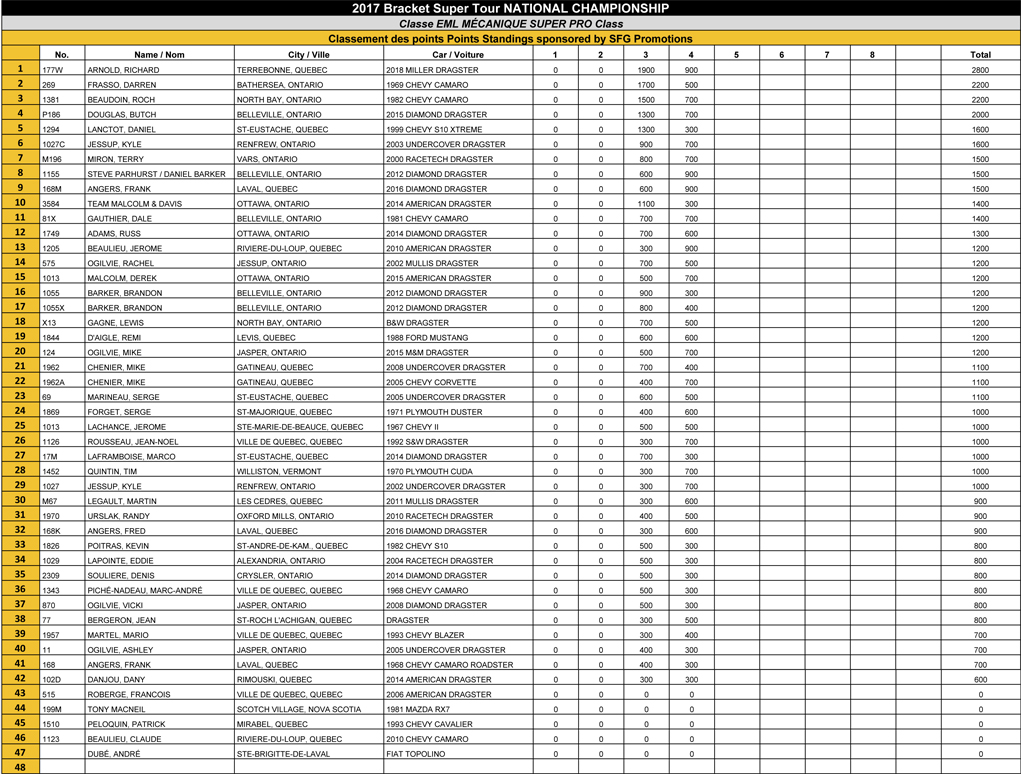 Felix Ballabey forging a strong lead in the Jr Dragster rankings presented by AC Towing
With two wins in as many races, the St-Michel, Quebec racer Felix Ballabey cumulates 2,600 points, a 1,200 points lead over his closest rival Nathan Hoskin. Naomi Laflamme, Maverick Angers, Trevor-James Monaghan and Landyn Urslak complete Jr. Dragster top 5.

Giveaways and raffles winners
Many giveaways and draws are awarded to members during Super Tour weekends. The Octane Performance Bounty Awards went to Kyle Jessup and Donald Bélanger for eliminating the Saturday's race winner on Sunday. Donald Belanger from Mont-Joli in Eastern Quebec also won the Valvoline Canada / Rudy Performance Shop Long Distance prize for his 600km ride to participate at this Super Tour event. NAPA BodyPro Best Appearing Car was awarded to Daniel Lanctot with his magnificent S10 Xtreme and the ThisisBracketRacing.com Elite Hard Luck Award went to Dany D'Anjou and Jean-Guy Bédard.



Next weekend Super Tour in August at Luskville Dragway
The next Super Tour weekend will take place from August 3-5 at Luskville Dragway and will be a presentation of Jérôme Landscapping in collaboration with Ogilvie Auto & Fleet Service. The event will be presented as part of the prestigious 37th annual W.O. Stinson Bracket Bonanza presented by Ottawa Driveshaft & Steering, 1000 Islands Center RV and Interstate Battery.
For more information, visit www.BracketSuperTour.ca or subscribe to the Bracket Super Tour Facebook page.