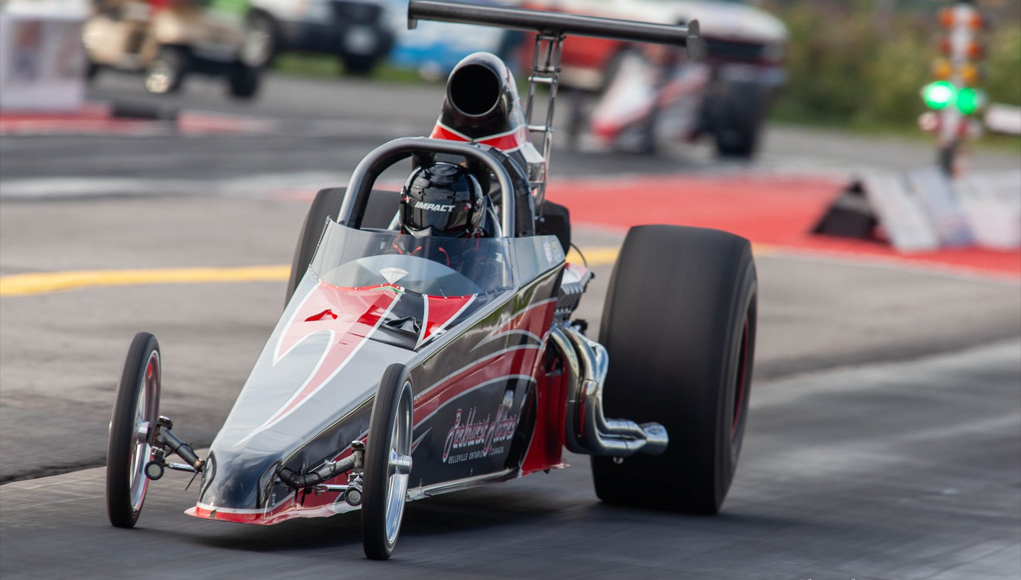 Ontario's Brandon Barker is having a dream season with nearly 10 wins in 2018. The Belleville racer won the last race of the Bernard MNJ Super Tour championship in Luskville last month and came back to win both races last week to make it 3 in a row.
The weather forecast seemed once again suspicious as thunderstorms were scheduled for Sunday. Just like last year, race director Arnie Malcolm made the decision to complete both races of the national championship on Saturday. A busy day was waiting for the track staff and racers while time runs started at 8am in the morning. Nearly 100 competitors were on site at Luskville Dragway and all the races were completed before 10:00pm.
The activities were launched with the traditional D&D Performance Gambler's Race on Friday night. Ex-National Super Pro Champion Kyle Jessup wins another one over Bill Harling.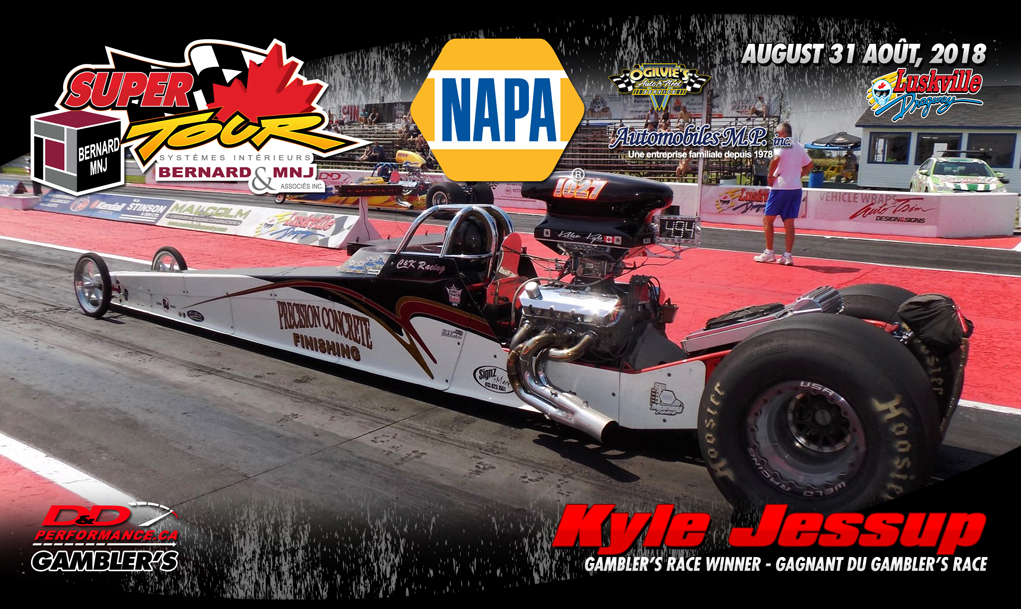 The final round in the EML Super Pro category was raced earlier than expected when Chris Dennique was the victim of a mechanic break during his semi-final by run. That's why, the result of the other semi-final between Kyle Jessup and Brandon Barker was to declare the winner of the event. It was Brandon Barker who won a second consecutive championship race.
In the Quick Blade Wipers Pro class, Dan Pillwein had the bye-run to go straight to the final while Jonathan Roy had the advantage over Martin Corneau. Jonathan Roy from Val d'Or then signed his first win ever against young Ottawa driver Dan Pillwein.
In the Juniors class presented by Ogivlie Auto & Fleet Service, Landyn Urslak took the win over Josh Rainville. Olivia VanNoppen was the semi-finalist.
Immediately after the finals of this race, a time run was allowed to everyone before eliminations.
In Super Pro, Brandon Barker had the bye while Dale Gauthier had the advantage over Terry Miron. In an all Belleville final round Brandon Barker did a great job by eliminating his good friend Dale Gauthier, for a third straight win and taking the lead in the drivers' championship.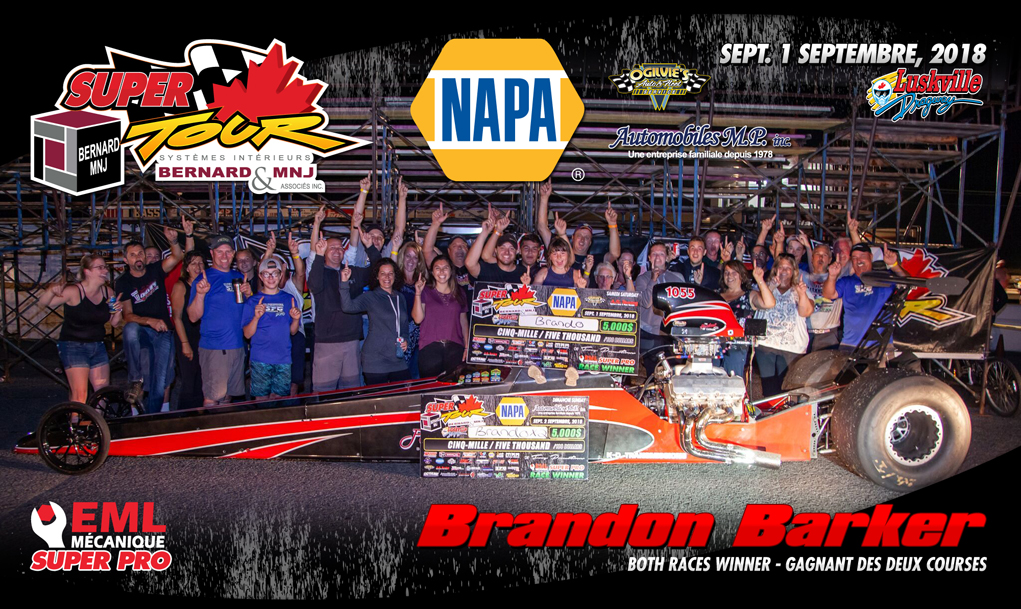 In Pros, Mike Belanger eliminated Eric Corriveau while Roland Lacroix had the advantage over Gord Harling. It was finally Mike Belanger who won the big win against Lacroix.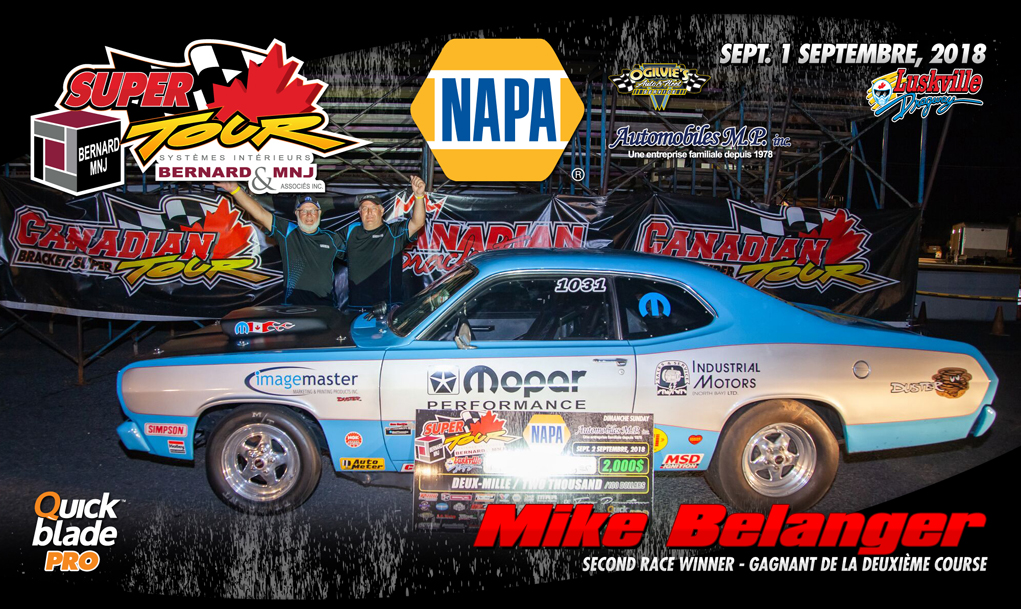 In the Junior class, it was Trevor-James Monaghan who signed the victory in front of Grace VanNoppen. VanNoppen eliminated Naomi Laflamme in the semifinals while Monaghan had the bye-run.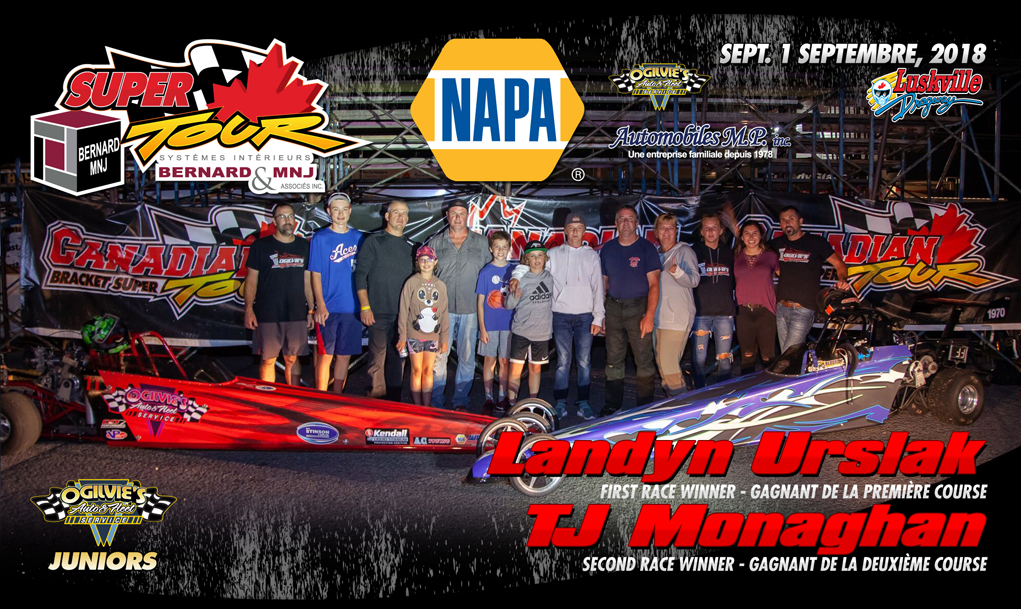 Barker takes control of Super Pro national championship
With three straight wins, Brandon Barker is now on top of the Super Pro standings with a cumulative of 5700 points. He jumped from 10th to 1st position and now has a 400 point lead over Butch Douglas. Barker, who had a great weekend with his second entry, is now in third place with this one. Last race's runner-up, Dale Gauthier, is in 4th place and Roch Beaudoin is tied with Frank Angers in 5th place.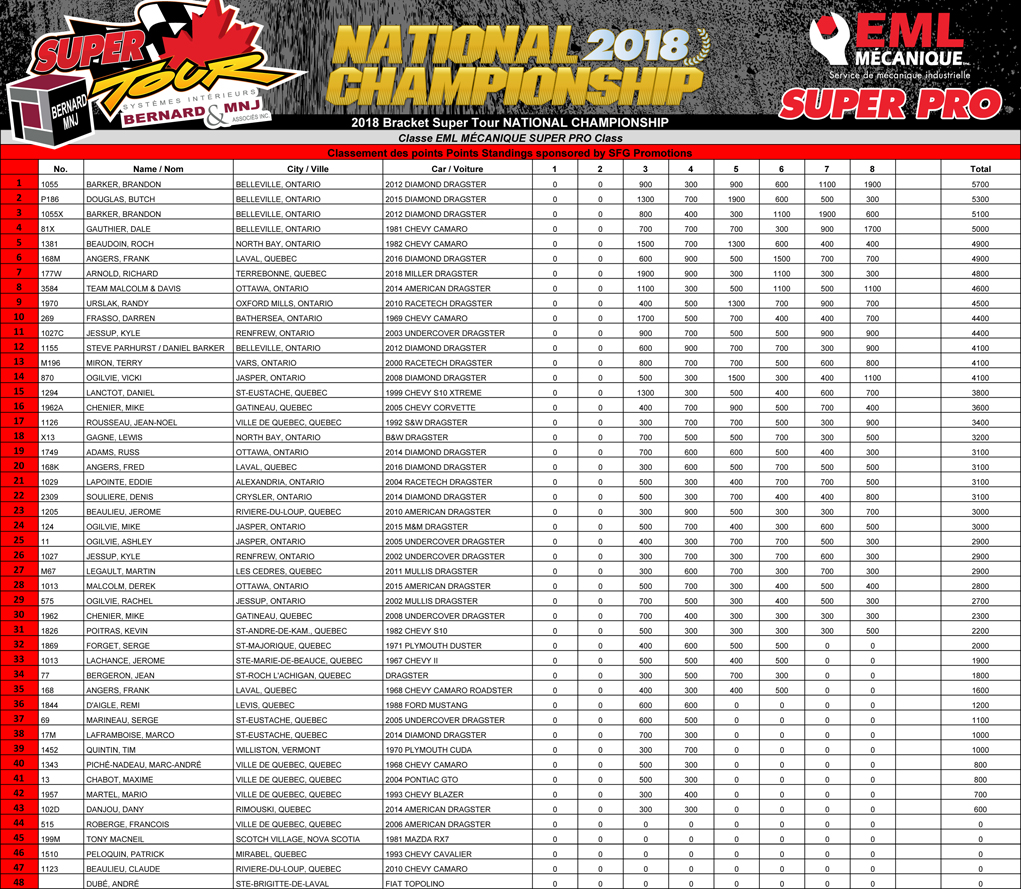 A presence in the semifinal allowed Éric Corriveau to equalize the score of the leader Martin Lassiseraye. Despite a runner-up finish, Dan Pillwein slipped one position and find himself 3rd while Daniel Blouin and Jim Griff are tied for 4th place.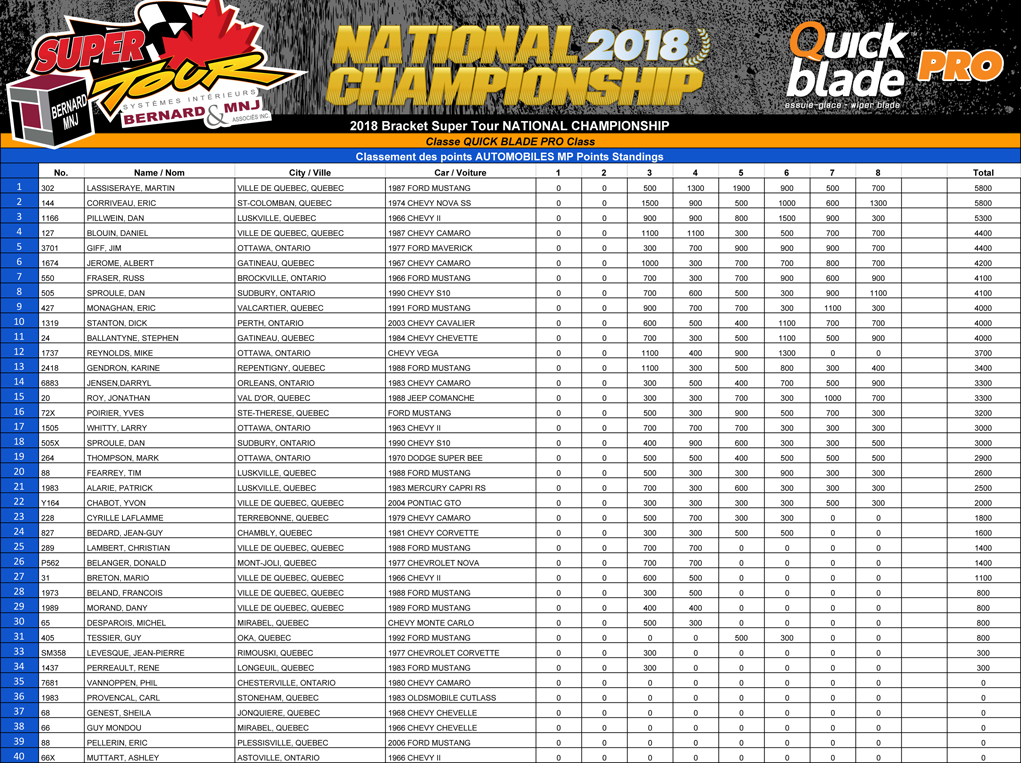 In Juniors, Landyn Urslak takes advantage of the absence of Felix Ballabey to take control of the championship.

The final race of the 2018 Super Tour National Championship will be held on September 22 at ICAR Mirabel as part of the Canadian Bracket Finals. An race not to be missed!
La dernière manche du championnat national Super Tour 2018 aura lieu le 22 septembre prochain à ICAR Mirabel dans le cadre des Canadian Bracket Finals. Un rendez-vous à ne pas manquer!