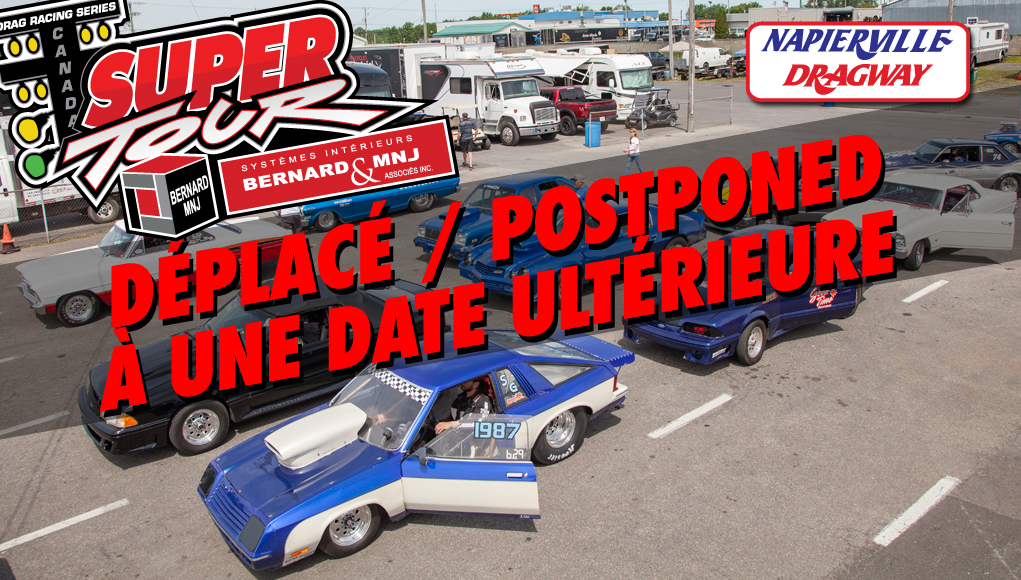 Due to poor weather forecasts announced for this Friday and Saturday, the Bernard MNJ Bracket Super Tour and Napierville Dragway are postponing the event presented by Valvoline in collaboration with Brossard Performance and B & G Performance Race Fuels to a later date that will be announced in the coming weeks.
"The forecast seemed to be changing for the better, unfortunately with almost 100% of rain for Friday and Saturday, we believe that postponing the event to a later date is the best decision to take" says Super Tour Race director, Arnie Malcolm.
Also joined this morning, Fred Angers confided that the decision was really not obvious since the sun should be there Sunday. He added that 75% of the Super Tour customers are traveling long distance to get to the events and that it was not in the interest of the racers to travel in the rain Friday and Saturday for a single day of competition on Sunday. " As a racer myself, I prefer to have races on Friday and condense two races on Saturdays to be able to travel on Sundays. The opposite is not really interesting" concluded the president of the Bracket Super Tour.
The Super Tour is taking a month and a half break with the next race weekend that will take place at Luskville Dragway in early August as part of the prestigious Bracket Bonanza.
Afterwards, the racers will start the final stretch towards the end of the season with the Super Tour Luskville presented by Speedy Auto Gatineau on the first weekend of September and the Canadian Bracket Finals presented by PARA Performance on September 28 and 29 in Mirabel. The postponed Napierville Super Tour will take place somewhere in August or September, the new date will be announced soon.
The Napierville track will have time runs with glue this weekend if the weather allows it. For more information, contact Ronald Brunet at 450-245-7574
Do not miss out on the Bracket Super Tour on Facebook or visit www.BracketSuperTour.ca