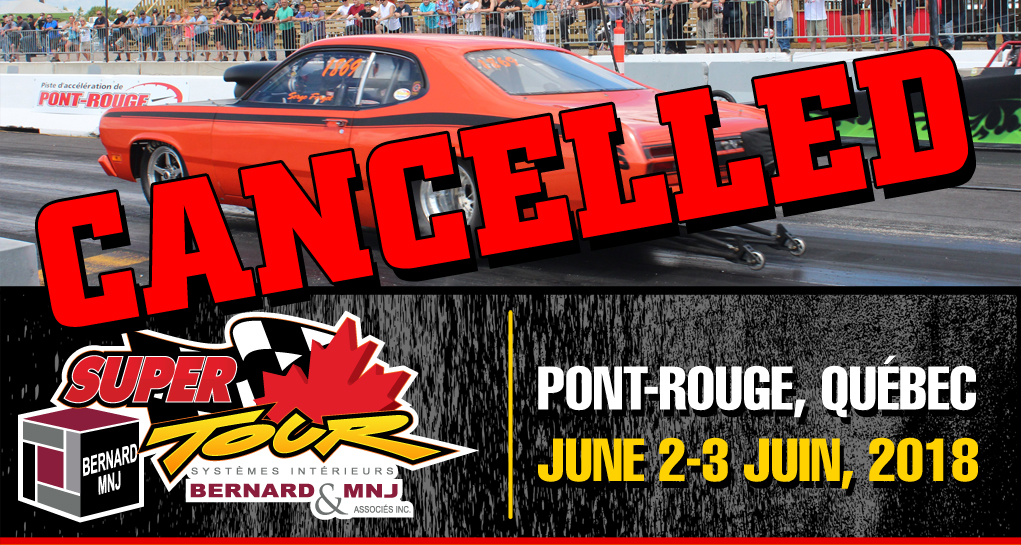 Unfortunately, track promoter Jacques Lebel and the Bracket Super Tour organization are obliged to cancel the racing weekend scheduled on June 2nd and 3rd at Pont-Rouge Dragway.

"Due to legal constraints and to not undermine the tranquility of the residents from the City of Pont-Rouge, we are forced to postpone the Super Tour drag racing event scheduled on June 2nd and 3rd to a later date" says promoter Lebel joined on the phone earlier today.
"This race was eagerly awaited by a lot of racers who planned to make the trip to Quebec City and participate in their first event at the famous Pont-Rouge track. We are extremely disappointed to have to cancel this event, but the situation is out of our control, " explains Fred Angers, Super Tour event director.
Even if the legal conflict could be settled during the season, the Super Tour Pont-Rouge will be canceled because of schedule constraints that will not allow to present the event at a later date.
The organizers of the Bracket Super Tour react to the situation by modifying the National Championship Points Races schedule. The 2018 championship will count 7 rounds with the addition of the Saturday's race at Bracket Finals which will be compiled.
The 2018 Super Tour will be:
June 16-17 Napierville Dragway
August 4-5 Luskville Dragway
September 1-2 Luskville Dragway
September 22 ICAR Mirabel (September 23 out of championship)
Due to the cancellation, Napierville Dragway's Brunet family steps up and offer a 2,000$ to win guarantee payout on Saturday, June 2 for the Super Pro category. Sunday is a special Honda Day, but racers interested in participating in a Quick 16 must call Ronald Brunet at 450-245-7574.
More details on the changes that the conflict brings to Pont-Rouge Dragway will be available on the track's Facebook page soon.