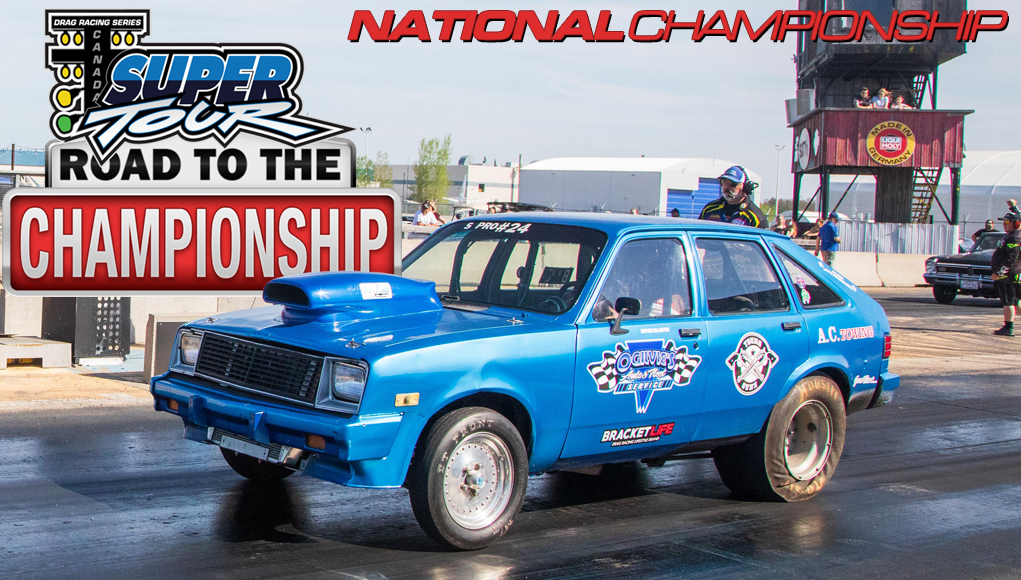 With only a weekend and two more races to go this season, Super Tour National Championship Ranking in both Pro and Super Pro are very tight and 2022 Champions will sure be decided at the last race of the Canadian Bracket Finals in a couple of weeks.
In Super Pro, Dave Rennie from Ottawa is the actual leader with 7,200 points. He is the only driver to cumulate two wins this season. In second place, cumulating 6,500 points is the most recent winner on the Super Tour circuit, Phil Harvey from Terrebonne. Young Brody Bellefeuille from Greely, Ontario who delivered a solid performance at the Bracket Bonanza, is tied with Mike Chénier from Gatineau on Corvette. The two racers cumulate 6,100 points. These last three are less than three round wins from the current leader.
In fifth position, we find three racers equal at 6,100 points, Newcomer Remi Boisclair from St-Elisabeth and two former series champions Fred Angers from Laval and Dale Gauthier from Belleville. These three racers are within four winning rounds of the leader.
The top 10 is completed by Bill Harling from Sudbury, Brandon Barker from Belleville who have cumulated 5,600 points as well as Kyle Jessup from Renfrew at 5,500 points.
Several racers could finish in the top 10 with a good performance at the last two races of the season with less than five winning rounds separating the 40th from the 10th position in the Super Pro National Championship.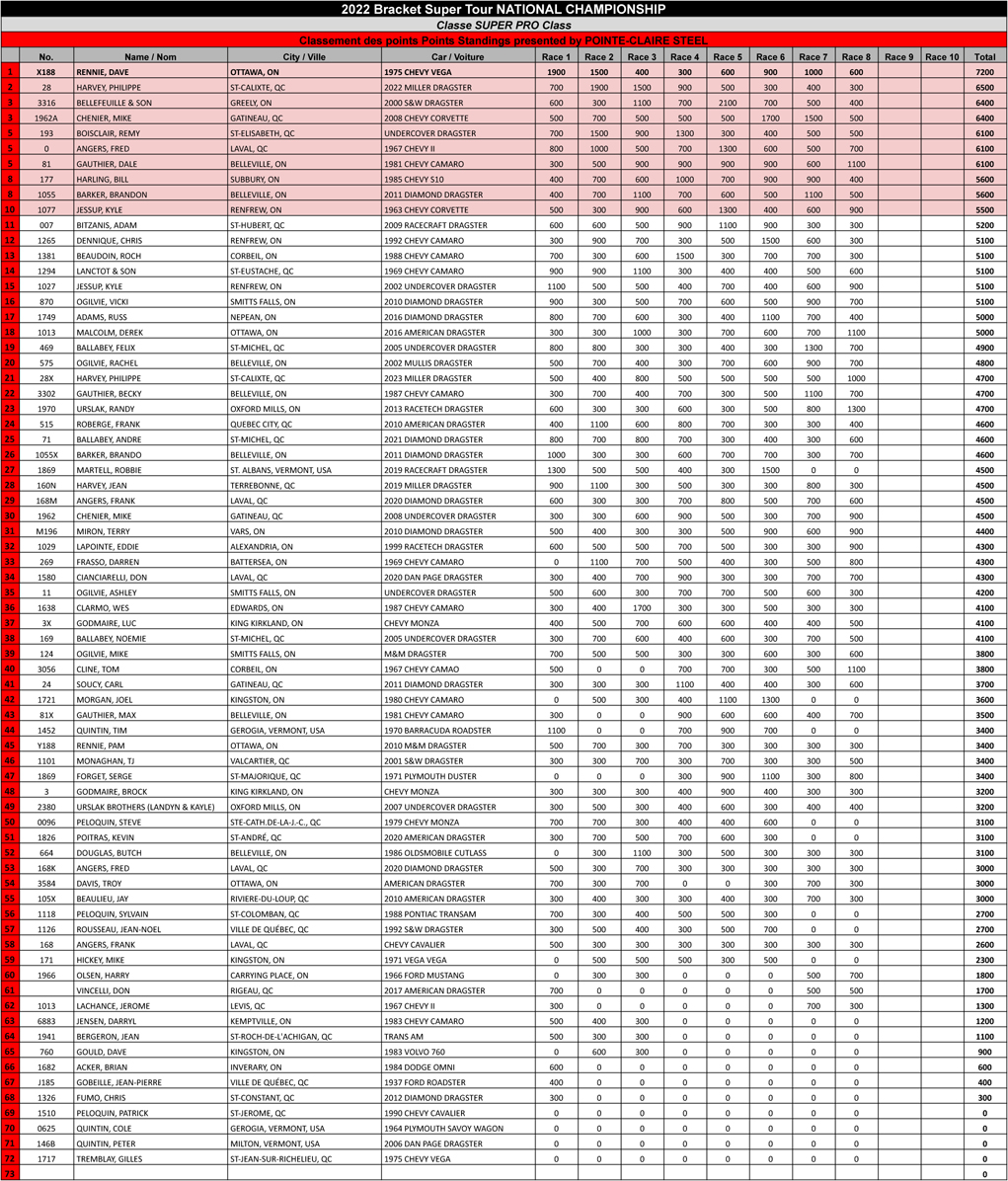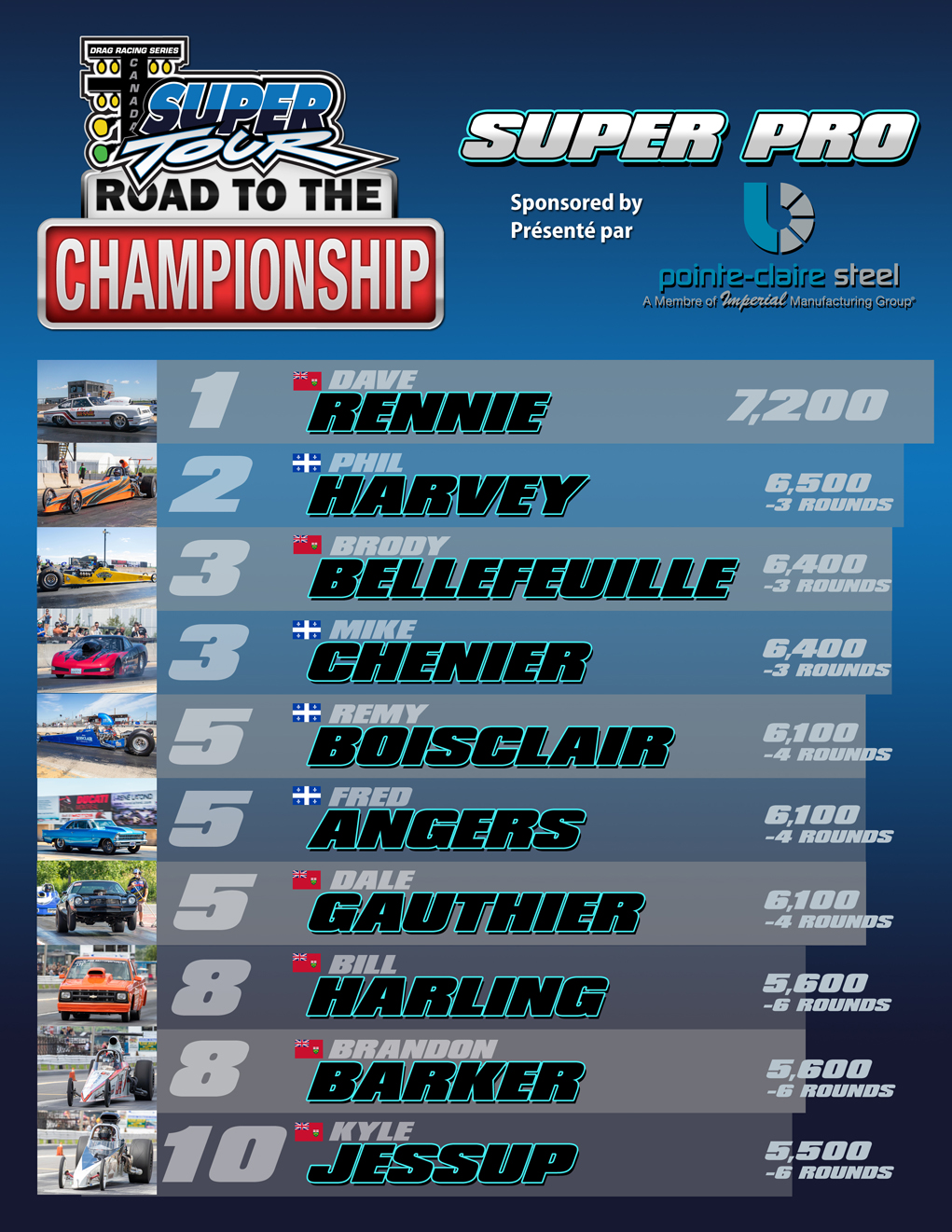 In the Pro class, last year's Championship Runner-up Stephen Ballantyne from Gatineau once again finds himself in the lead with two races to go. He is tied with Richard Miller from Ottawa. Both combines 7,200 points each. Nepean's Jim Hewitt is third with 6,500 points less than two rounds behind the lead. Eric Monaghan from Valcartier is in fourth place with 6,300 points followed by former class champion Martin Lassisaseraye from Quebec who is tied with Larry Lepine from Ottawa. Gab Jensen from Kemptville is seventh with 5,700 points and François Rondeau from Sainte-Julie is tied with Russ Fraser from Brockville at 5,500 points. Nepean's Mark Thompson rounds out the top 10 at 5,300 points.
Just like in the Super Pro class, the Pro ranking is very tight and the battle for the championship title this season will be fought until the last elimination round.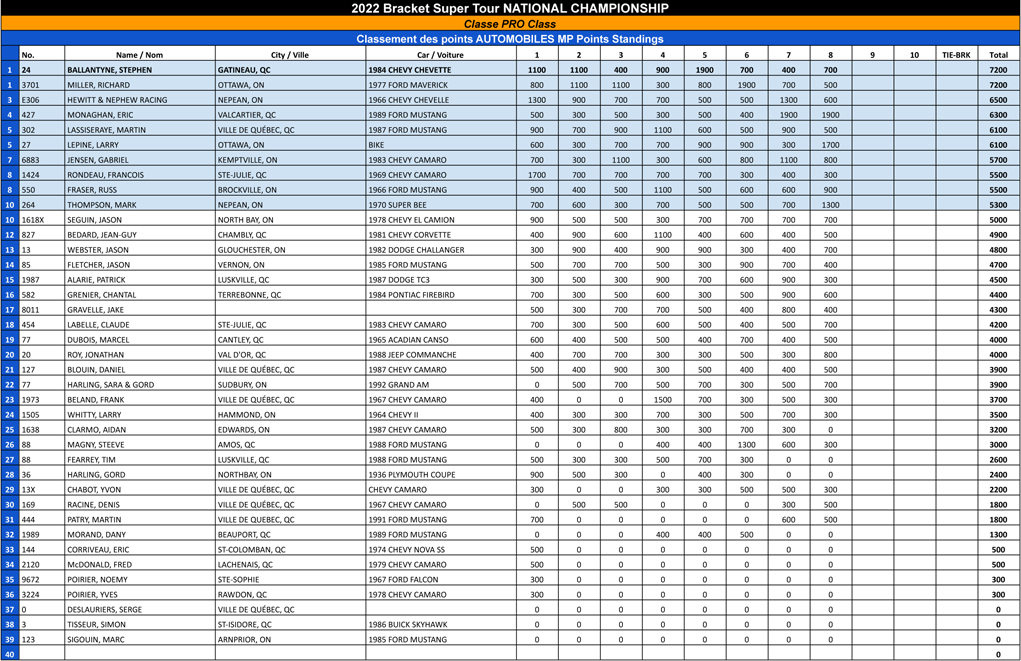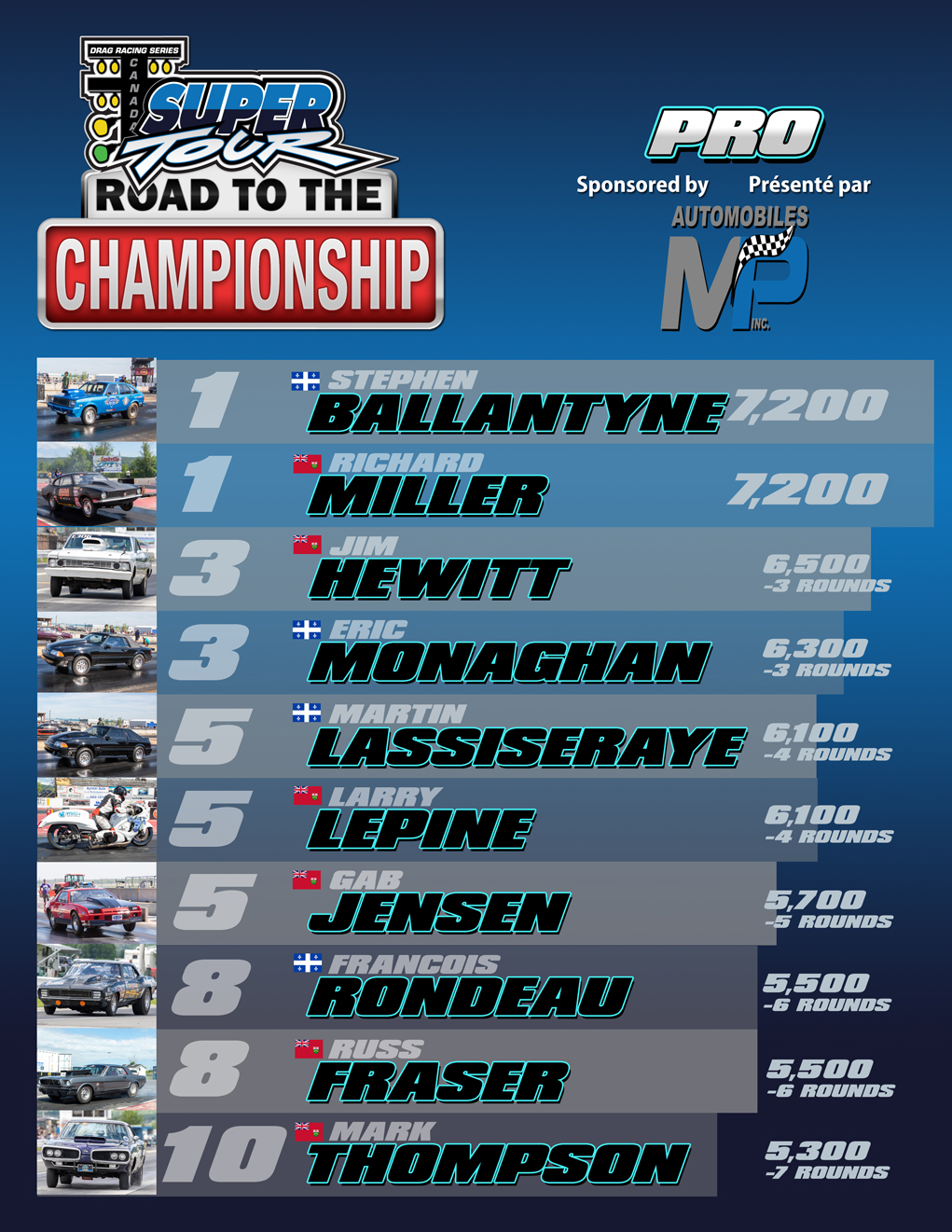 Contenders for the Pro 1 Safety Canada Most Improved Racer title are Brody Bellefeuille and Remy Boisclair in Super Pro and Richard Miller and Larry Lepine in Pro.
The Bracket Super Tour season finale will be presented on October 1 and 2 as part of the 8th annual Canadian Bracket Finals at Luskville Dragway.