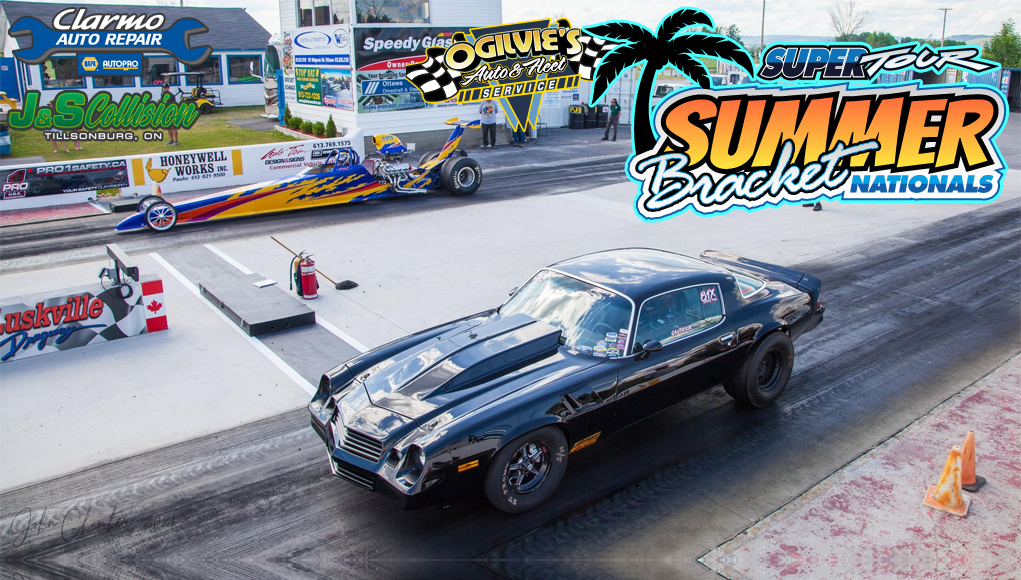 The first edition of the Bernard MNJ Super Tour Summer Bracket Nationals will take place next weekend, July 2-4 at Luskville Dragway. The first big race on the all new concrete pavement is presented by Ogilvie Auto & Fleet Service in collaboration with Clarmo Auto Repair, J&S Collision, CLR Performance and Brossard Performance.
Pits will open on Friday at noon. Time runs from 2pm to 5pm followed by Gambler's Races elimination. Friday entry fees are $100 for Super Pro and $50 for Pro. Entry fees are 100% Payback in payouts.
Be ready at 9am on Saturday morning for two time runs in all categories. Full weekend entry fees are $350 for Super Pros, $175 for Pros and $100 for Juniors.
All Payouts are 100% guaranteed and are as follows:
Super Pro: $5,000 to win, $ 1,000 to the runner-up, $ 500 to the semis, $ 125 for the round of 8 and $ 75 for the round of 16 cars.
Pro: $ 2,000 to win, $ 400 to the runner-up, $200 to semis, $75 for the round of 8 and $50 for the round of 16 cars.
On Saturday evening, the Invitational Race of Champions will be held, with racers who have financially participated in the repaving battling for $2,500. Also on Saturday evening, during the MRA Angers Party, the Stag&Doe Party of Brandon Barker and Rachel Ogilvie will take place.
It's very important for racers to Sign up for the championship before the start of the first race. You must go to www.bracketsupertour.ca/membership
On Saturday morning before first round, the Super Tour Team will proceed with the draw of the NAPA Carlyle toolbox courtesy of Atelier Mécanique Roberge which will be randomly given away to a participant in the 2021 Championship.
As a member, here are all the prizes you could win this season.
– A set of PRO1 PRO ELITE belts to most improved racer this season. Sponsored by Pro1Safety.ca
– A complete SFI-1 PRO 1 Junior Suit randomly drawn from junior racers who will participate to all races. Sponsored by Atelier Mécanique Roberge.
– 15 sets of NAPA BodyPro cleaning products for the best appearing cars. Sponsored by B&W Race Cars.
– 10 Bracket Life Brand Shirts to racers who takes out Saturday's winner on Sunday.S
– 5 prepaid credit cards drawn among racers who will not win a round during the same weekend. Sponsored by Précision Mécanique Yvon Chabot.
– 5 pressure machines for the M.V.P's of each weekend. Sponsored by Canadian Tire Magog
– 5 NAPA battery chargers for the fastest racers in each event. Sponsored by Automobiles MP
– 5 cases of Valvoline VR-1 engine oil to the racers covering the most millage to get to the track. Sponsored by Valvoline Canada
– 20 Free tickets to second round (Buy-Backs) drawn among first round losers. Sponsored by Speedy Auto Gatineau
– 10 Flexzilla hoses to the first racer to run dead-on zero in the Pro category. Sponsored by Pointe-Claire Steel
– 5 Jackpots of $ 1,000 each to the first racers to achieve a perfect in Pro or Super Pro. One per weekend. Sponsored by Octane Performance
– 10 thumb gates to the racer with the worst reaction time in the Super Pro class. Sponsored by Polymer Racing Products.
– The 2021 champions will each receive a personalized Bracket Super Tour coat. Sponsored by Bernard MNJ
– Winners of every race will receive an aluminum winner's plaque. Sponsored by EML Mécanique
– Each Member will receive a Super Tour Cap and a Lanyard. Sponsored by DragRaceQuebec.com
To have a chance to get your hands on these giveaways, you must be a member of the Super Tour by signing up at www.bracketsupertour.ca/membership
For more information, visit BracketSuperTour.ca or subscribe to the Bracket Super Tour on Facebook!