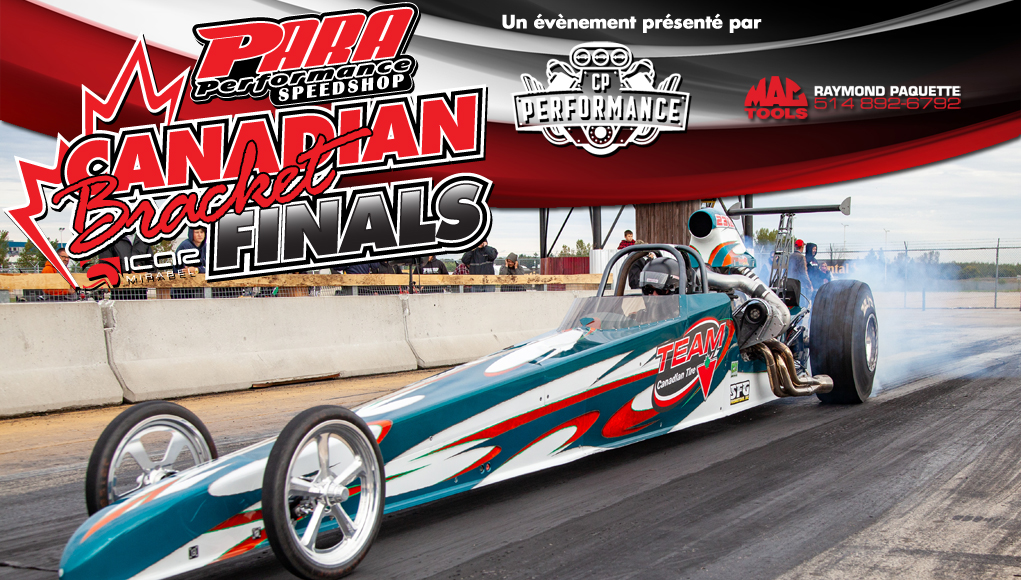 The Bernard MNJ Bracket Super Tour is launching today the official PARA Performance Canadian Bracket Finals flyer. The event presented by Atelier CP Performance and Ray Paquette Mac Tools will take place from September 27 to 29 at ICAR Mirabel and will offer more than $ 45,000 in payouts and racer appreciation giveaways. A first in the province of Quebec!
In addition to cash prizes to the best performers, $10,000 in giveaways and raffles will be distributed during this 3-day weekend thanks to Bracket Super Tour partners.
Here's exemples of what racers attending this race will be allowed to win
The first racer to complete a perfect run will win a 54-inch MAC Tools Edge Series toolbox courtesy of Ray Paquette, Mac Tools agent based in Laval, Quebec.
The racer who wins the most rounds during the weekend will win the M.V.P title and a BE Pressure washing pressure machine.
On Saturday, the first racer in the Pro class and the Super Pro class to put it Dead-on zero will receive a NAPA Carlyle booster.
On Saturday, the first racers to achieve perfect lights will receive a NAPA Blue Fuel work lamp courtesy of Brossard Performance.
The Best Apprearing Door Car and Dragster will each receive a Car Care kit from the folks at NAPA BodyPro.
The two racers traveling the longest distance to participate will receive two Valvoline VR-1 Racing 20W-50 oil cases each.
The fastest Dragster and fastest Door Car in competition will each receive a 12v battery charger from NAPA.
Free buy-backs will be offered by the Beaulieu-Poitras Racing. One draw per class per day among the losers of first round.
On Saturday, the racer with the best reaction time of the last time run will receive $200 cash from Quick Blade Wipers.
Racers who do not win any round of the weekend will receive a B&G Sunoco Race Fuels Gift certificate.
All 3rd round losers from Saturday in both classes classes will receive a surprise gift from Canadian Tire Magog.
Not to mention the Angers Twins Epic Party with live DJ and the free dinner with grilled bacon, hot dogs and corn cooked by Chef André from Remorques Montreal.
Gates open Friday at noon. Time trials starts at 4pm and Octane Performance High Roller eliminations at 7 pm. Entry is $200. Last year over $ 3,000 was up for grabs. Footbrake cars will be separated from Box cars for as long as possible.
The weekend's Main Event will be on Saturday while $ 10,000 will go to the winner of the Super Pro category. In the Pro category, the winner will cash $ 2,000. Three rounds of Top Sportsman qualifications are also planned.
On Sunday, $5,000 will be up for grabs in Super Pro and $ 2,000 in Pro. Top Sportsman cars will race for $ 1,000 to win.
As for the Top Sportsman cars, the maximum dial is 5.20, a 16-car field based on qualifying spots and no buy-back for this category.
Weekend entry for the full weekend is $400 in Super Pro, $175 in Pro and only $100 in Top Sportsman if the racer is also entered in the Super Pro program as well.
The Junior class will be on track both days.
Time runs begins at 9 in the morning followed by eliminations after lunch.
Spectators fee is $60 for the full weekend or $35 per day. 12 years and under free. Racers are admitted for free with their weekend entry.
Follow the Bracket Super Tour Facebook page to find out everything about this event not to be missed!