The last two races of the Canadian Bracket Super Tour will take place this weekend in Luskville Dragway. The three-day event presented by NAPA will start on Friday September 2nd.

After four races, Kyle Jessup from Renfrew Ontario is holding the top two positions of the Super Pro class with 600 points ahead of his nearest rival. Jessup is literally on fire, everywhere he goes, he just seems to win it all. He's in a position to achieve the impossible and become champion and runner-up of the same series in the same class!
The Mac Tools power ranking is tightening up bellow the leader. Frank Angers is in third position 700 points behind the leader, Andre Ballabey is fouth 770 points behind the leader. Dale Gauthier, who won the second race is tied with Derek Malcolm at 1,000 points behind the leader. The seventh place is occupied by Troy Davis at 1,370 points behind the leader and Terry Miron, Fred Angers and Eddie Lapointe all equal in 8th place at 1,400 points behind the leader.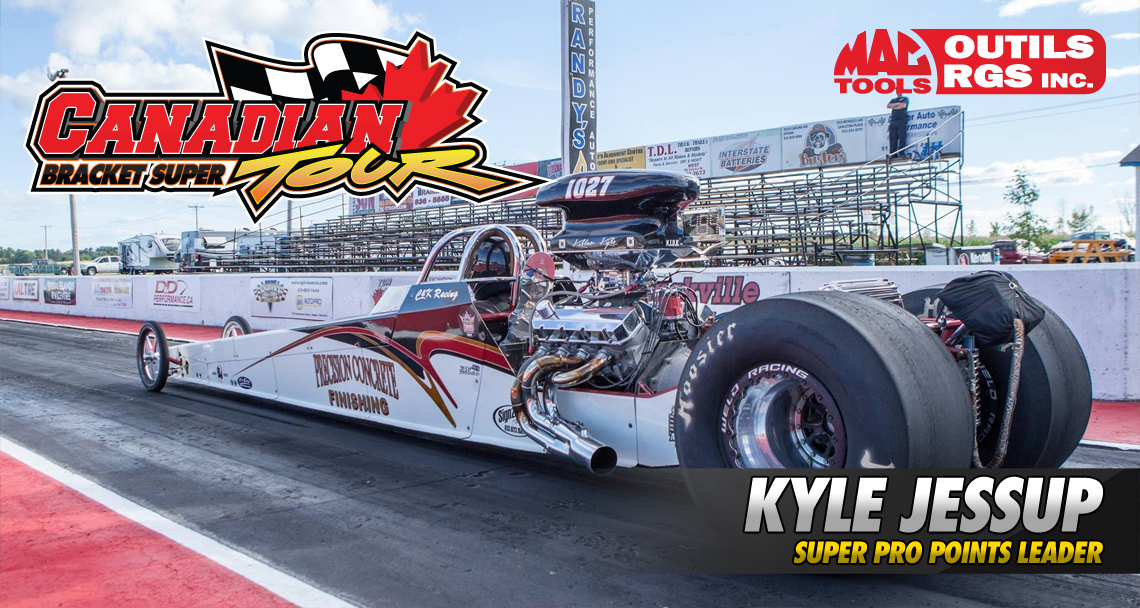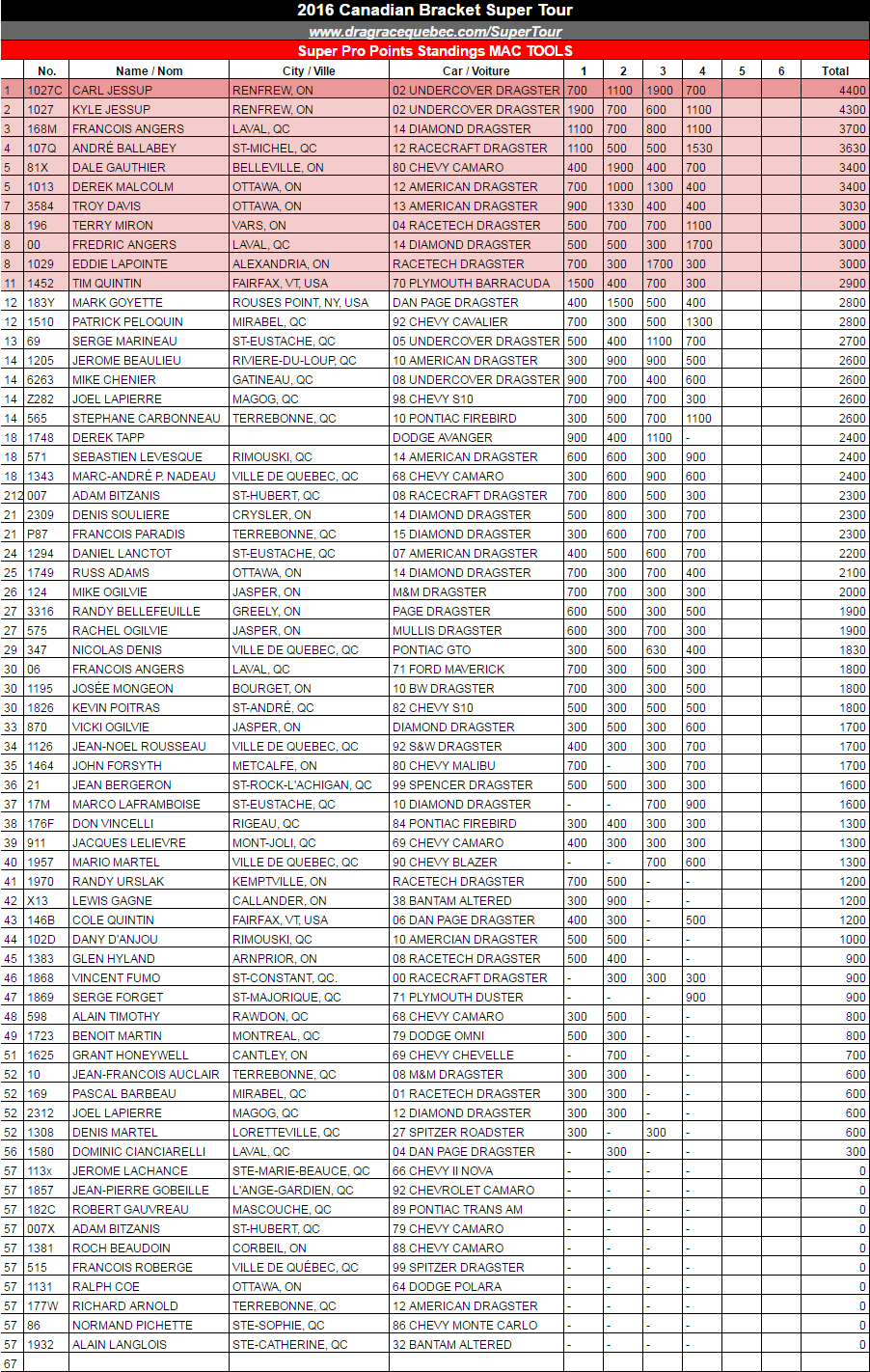 A total of seven Ontario racers are in the top 10 ranking in Super Pro and only 3 Quebecers!
In the Sunoco Pro Ranking, the winner of the first round, Fred McDonald has a thin lead of 70 points on Cyrille Laflamme who won the 4th race. Rob Graveline follows with 300 points behind the leader. Yves Poirier is in 4th place, 400 points behind the leader and Eric Corriveau in 5th place 470 points behind the leader. Eric Monaghan and Darryl Jensen are tied for 6th position at 500 points behind the leader. Guy Mondou, Kevin Ouellette, Bob Savard and Patrick Alarie complete the top 10 at 800 points behind the leader.
The Sunoco Power Ranking is dominated by the Quebec contingent while only 2 Ontario drivers are into the top 10.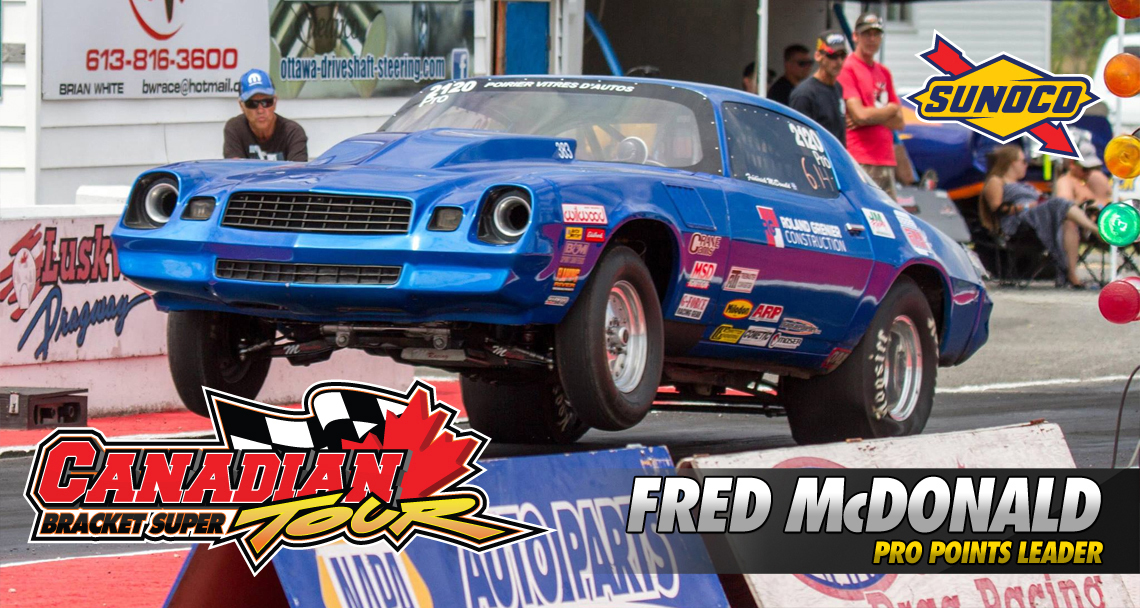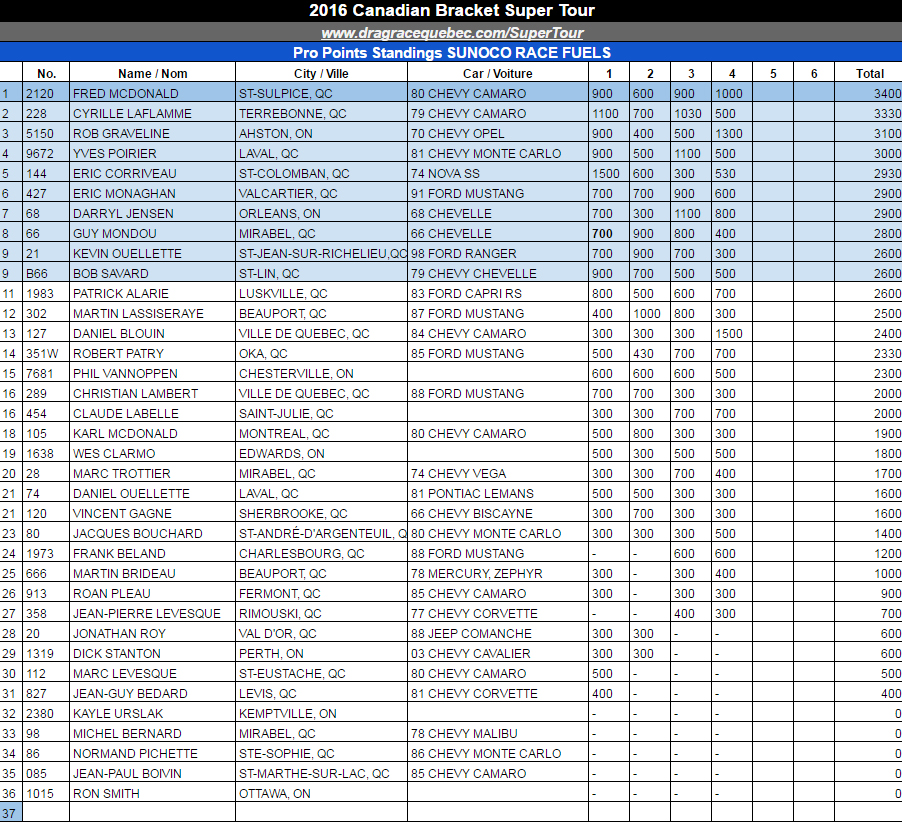 The Super Tour point distributions goes as follows. 300 points for registration, 200 points per round win without buy-back by 100 points per win round after taking a buy-back. 30 points are added for the bounty bonus.
The activities of this Super Tour weekend start Friday at 4:00pm with time trials for the Gambler's Race followed by eliminations at 7:00pm
Saturday and Sunday tests start at 8:30am and eliminations are starting at noon.
The traditional Racers Party will be on Saturday at around 7:30pm
For more information, contact Fred Angers at 514 909-7108 or Arnie Malcolm at 613 715-1029