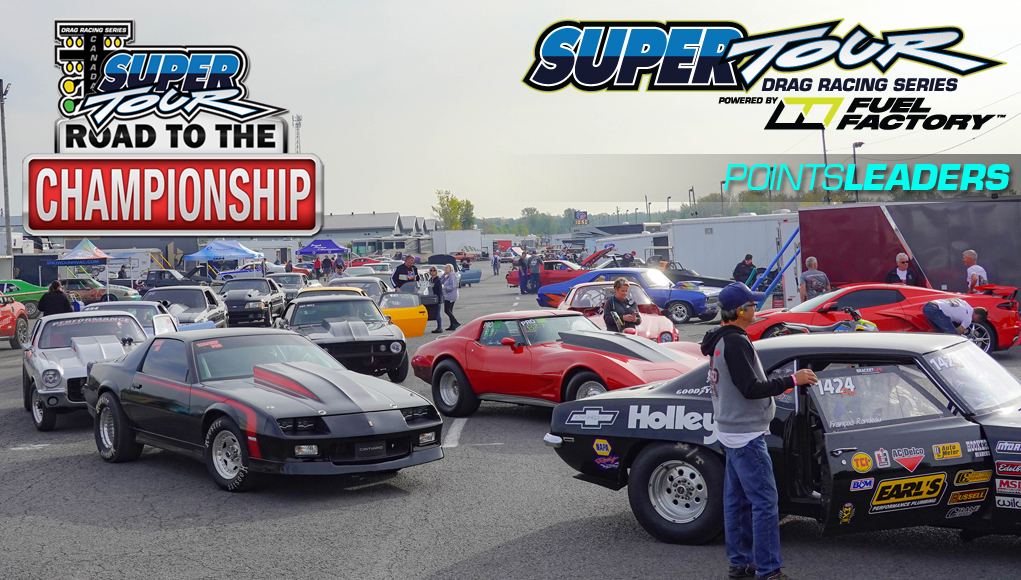 The Canadian Bracket Finals will take place in two weeks at Napierville Dragway. The event, presented by PARA Performance in collaboration with Atelier Mécanique CLR, S.M. Transport, and Transport B Leblanc, will mark the end of an eighth season of activities for the Bracket Super Tour.
The upcoming will be the 35th event presented by the Super Tour series. Over these 35 race weekends, a total of 133 national championship race winners (excluding gambler's race and special races) were crowned.
Throughout these years, certain racers have stood out by winning multiple Super Tour events. The one with the most wins is none other than our soon-to-be-crowned 2023 Pro champion, Mike Reynolds from Hun Club Park, Ontario, who has a total of eight victories on the Super Tour circuit.
Two drivers are tied with six victories each with Derek Malcolm from Ottawa and Kyle Jessup from Renfrew, Ontario. Malcolm has secured at least one victory every season since 2019 but has yet to visit the winner's circle this season. Jessup's last victory dates back to the 2020 Bracket Bonanza.
Three other drivers have cumulated five wins each. Brandon Barker from Belleville, Phil Harvey from Saint-Calixte, and Stephen Ballantyne from Gatineau. Barker's last big win was in 2019 at the Canadian Bracket Finals, while all of Harvey's wins have occurred in the last three seasons. Harvey clinched the Dragsters Championship last year and is the favorite to score back-to-back this year. He would be the first to do so.
Ballantyne is one of the most consistent drivers in Super Tour racing. Despite never winning a national championship, he has finished in the top 10 of the Pro category every season, securing at least one win in every season except for one in 2017.
Three drivers have clinched four victories each. Fred Angers from Laval, Jim Hewitt from Neapen, and Fred McDonald from Saint-Sulpice. Angers and McDonald are former Super Tour champions as well.
Twenty drivers have accumulated two or three victories, and forty racers have won one race to bring the grand total to 69 racers who have won a Super Tour National Championship race since 2017.
These seven years of activity have also crowned 18 national champions, 11 in the Super Pro category and eight in the Pro category.
Fred McDonald is the only racer to have won a championship twice, in 2016 and 2021. Mike Reynolds will add this achievement this season with a score that is practically unbeatable for his competitors.
In the Super Pro category, no racer has yet achieved this feat, but the defending Dragster champion, Phil Harvey, is in a pretty good position to defend his title.
The list of Super Pro national champions includes: Kyle Jessup in 2016, Fred Angers in 2017, Brandon Barker in 2018, Derek Malcolm and Butch Douglas in 2019, Brian Acker and Adam Bitzanis in 2020, Dale Gauthier and Terry Miron in 2021, as well as Phil Harvey and Dave Rennie in 2022.
In the Pro category, past champions are Fred McDonald in 2016 and 2021, Mike Reynolds in 2017, Jonathan Roy in 2019, Martin Lassiseraye in 2019, Dick Stanton in 2020, and Jim Giff in 2022.
This season, the Super Pro standings are once again very close. Brock Godmaire from Kirkland Lake, Ontario took over the lead with a win at the last race. He has a three-round lead over Becky Gauthier from Belleville, Ontario. Phil Harvey from Saint-Calixte is in third position and is the leader among the Dragsters with a slim lead of less than one round over Frank Angers from Laval.
Nothing is decided in the Super Pros, with over 20 racers still having mathematical chances to win the National Title.
In the Pro category, it's a formality to crown Mike Reynolds from Hun Club Park as the 2023 champion. He has a 19 rounds lead over his closest rivals. To be defeated, Reynolds would have to not show up the final event, and one of either Chantal Grenier from Terrebonne or François Rondeau from Sainte-Julie, who are currently tied for second place, would have to win the last two events back-to-back with over 100 entries to get the necessary points.
However, the battle is fierce between second and tenth place. With a good performance at the Bracket Finals, several racers could finish the season at the top of the standings.
Championship points are calculated as follows:
300 points for registering for a race, 200 points for each round won without a buy-back or 100 points for each round won after using a buy-back. The top 10 scores for each racer out of 11 races will be compiled.
The last event of the season will be held on October 7th and 8th at Napierville Dragway. The Canadian Bracket Finals presented by PARA Performance in collaboration with Atelier Mécanique CLR, S.M. Transport, and Transport B Leblanc will conclude the 2023 season of the Bracket Super Tour.