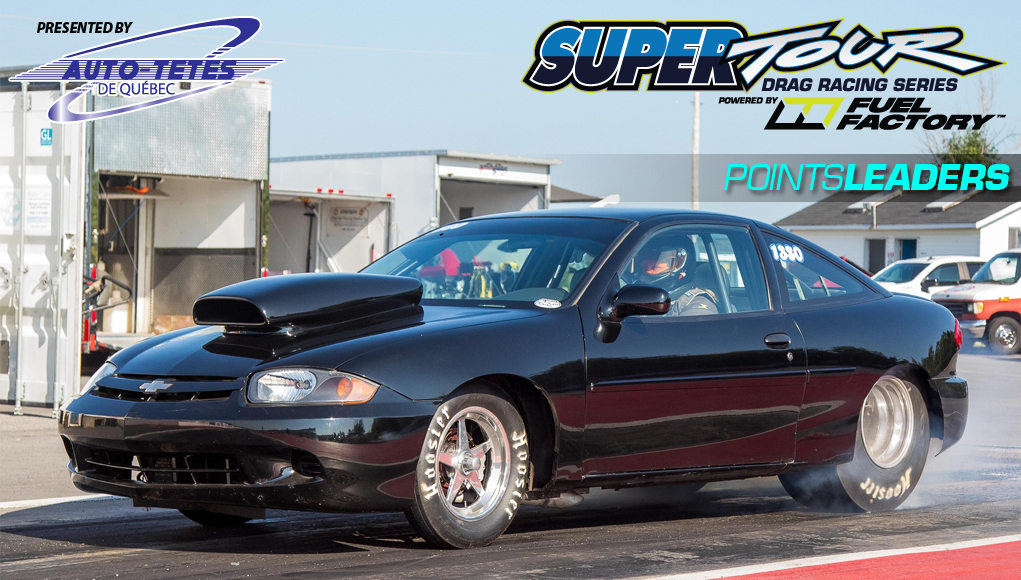 As we approach the final stretch of the road to the Super Tour national championship in a few weeks, Becky Gauthier from Belleville, Ontario has taken the lead in the Super Pro standings, becoming the first woman in Super Tour history to achieve that. Gauthier has cumulated 6,200 points and holds a small lead of 100 points over Roch Beaudoin from Corbeil, Ontario in a Door Cars battle at the top of the Super Pro rankings.
We have three drivers tied for third position, all accumulating 5,700 points, which is less than two elimination rounds behind the leader: François Roberge from Quebec City, Brock Godmaire from Kirkland Lake, Ontario, and Landyn Urslak from Oxford Mills, Ontario.
Frank Angers from Laval, along with the defending champion, Phil Harvey, are tied for sixth position with 5,600 points. The Super Pro top 10 is completed by Mike Chenier from Gatineau with 5,500 points, Dale Gauthier from Belleville with 5,400 points, and Andrew Stirk from Amaranth, Ontario with 5,200 points.
The ranking is once again very tight this season, with fewer than four elimination rounds separating the leader from the tenth position, and four additional rounds separating the 24th position from the top 10!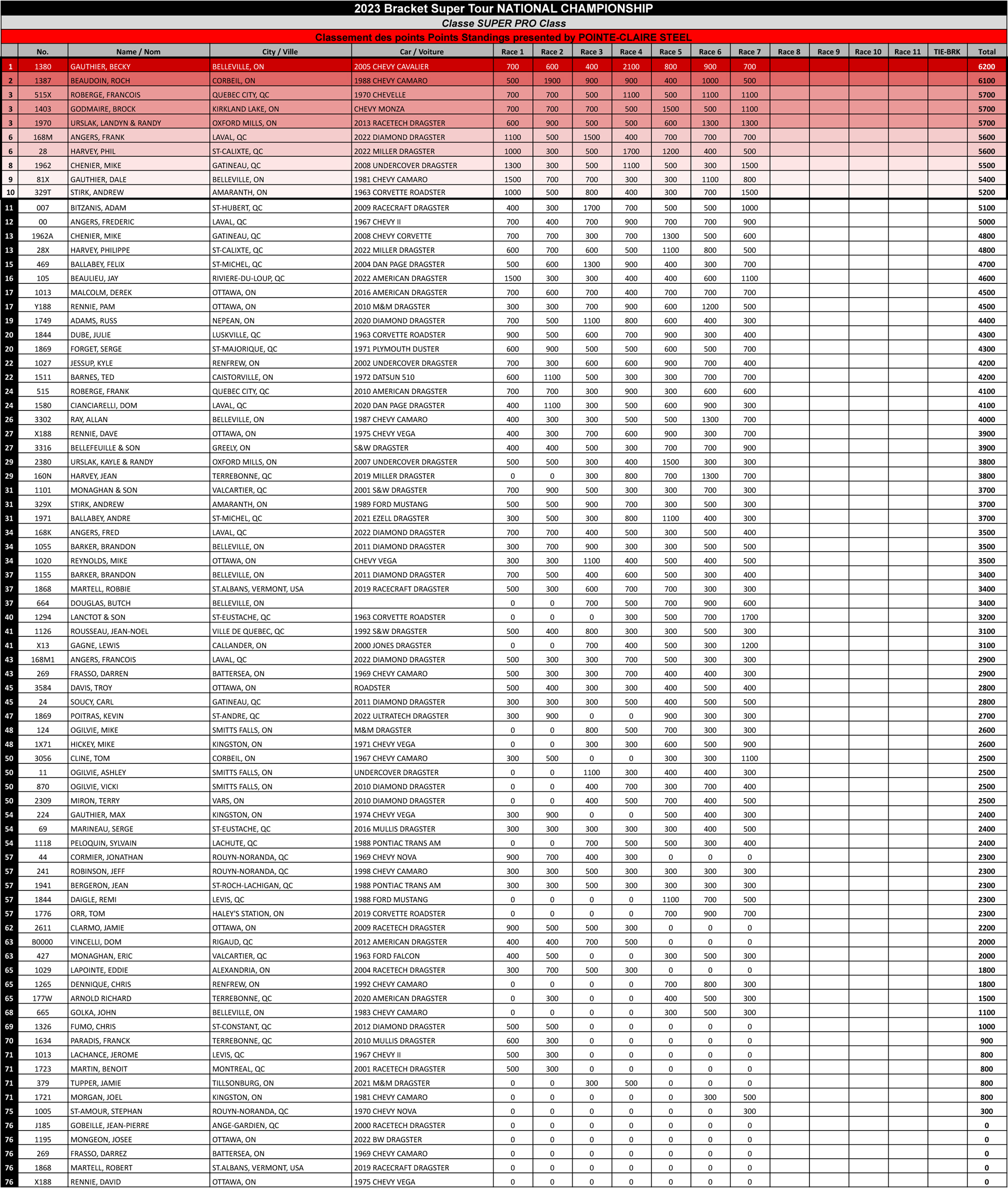 ---
REYNOLDS HEADING TO A SECOND TITLE
With strong performances this season, Mike Reynolds from Hun Club Park, Ontario has cumulated an incredible score of 9,800 points. With three more races to improve his standing, that score is already higher than that of all previous champions, including his own score when he won that same championship in t2020.
With that MASSIVE score, Reynolds is comfortably sitting at the top with an almost insurmountable lead of 4,400 points over François Rondeau from Sainte-Julie, who has an excellent score of 5,400 points.
The competition is fierce between the third and seventh positions, as only 600 points, equivalent to two elimination rounds, separate five racers. Team Jensen Jensen from Kemptville, Ontario is in third place, Jean-Guy Bédard from Chambly is in fourth place, Keith White from Kahnawake and Larry Lepine Jr. from Gatineau are tied for fifth place, and Chantal Grenier from Terrebonne is performing well in seventh position.
The top 10 in the Pro category is completed by Pat Alarie from Luskville, Martin Lassiseraye from Quebec, Mark Thompson from Nepean, Ontario, as well as the Team Hewitt, also from Neapean.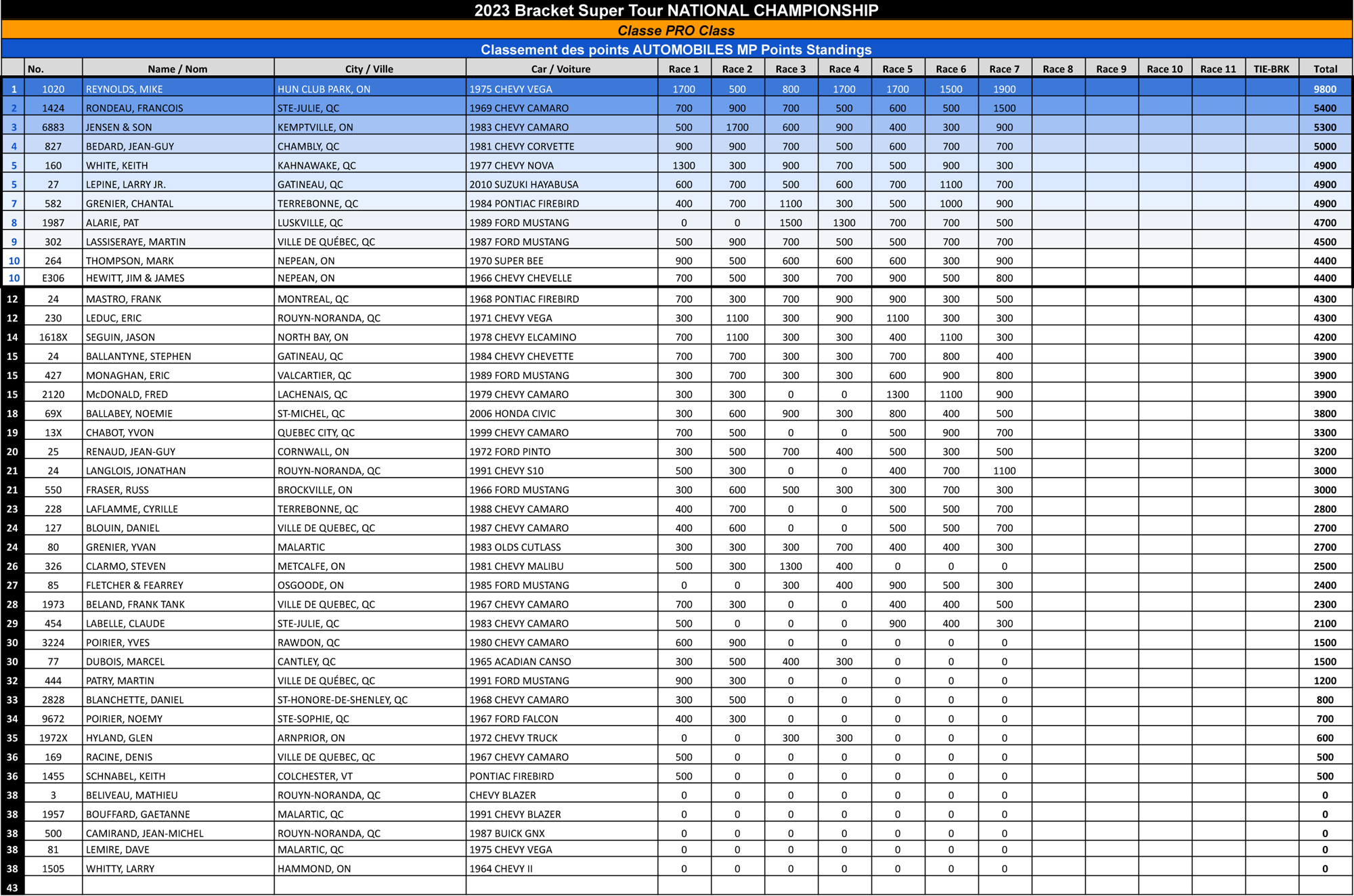 ---
LEA MONAGHAN LEADS THE WAY
Miss Lea Monaghan from Valcartier is leading in the Junior Dragster category with 5,600 points. Katie Adams, Mavrik Angers, Parker Seguin, and Annabelle Soucy complete the top 5!